In my constant search and need for mastering cookies, I made these Oatmeal Cookies last week that disappeared all too soon. Crunchy and chewy with a good dose of oatmeal and cinnamon, these cookies make the perfect snack and a great filler for school boxes. Ten on ten for taste and texture.
Making these cookies is quite simple. A dough that comes together rather quickly, you can bake these immediately or make the dough in advance, chill it overnight and bake the next day. These spread quite a bit while baking, so it's important to keep enough space between the cookies.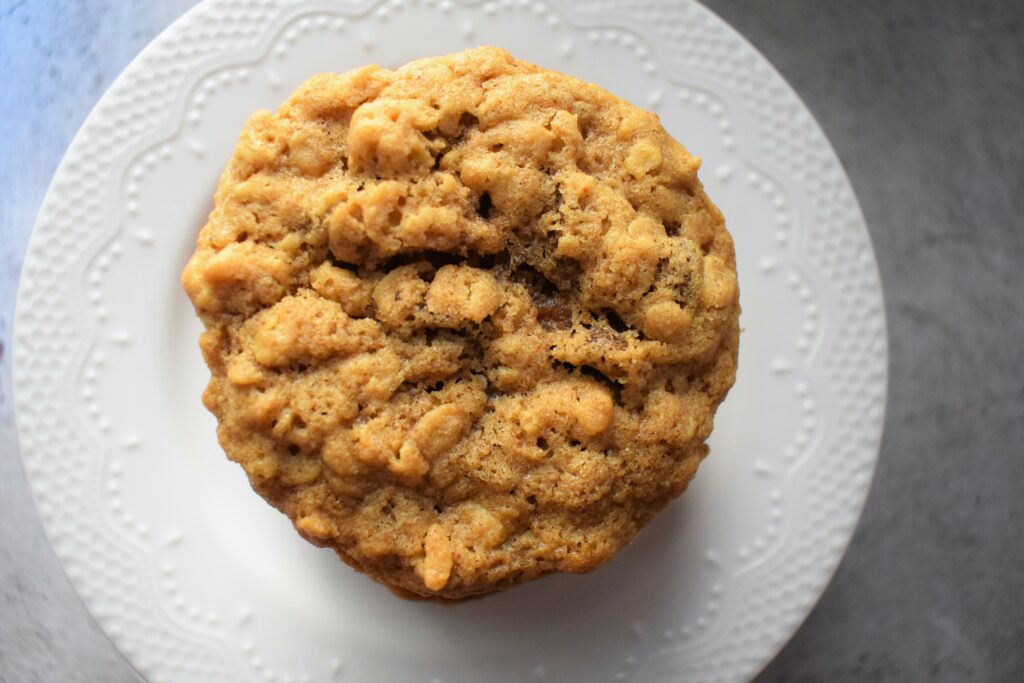 Recipes With Oatmeal
I love baking with Oatmeal, mostly because it lets me believe my treats just got healthier while they stayed just as tasty. Also, oats give a great texture and crunch to almost any bake you add it to. I love making bars with Oatmeal, my favourites being these Breakfast Bars, made with muesli and Oats and these Oat bars, I posted earlier this month. They are delicious with a good sprinkling of dry fruits. And if you're looking to bake cookies with oats, I totally recommend these Granola cookies made with the goodness of seeds, oats and muesli and remain a favourite with my boys and of course these Christmas cookies that are actually great for any time of the year.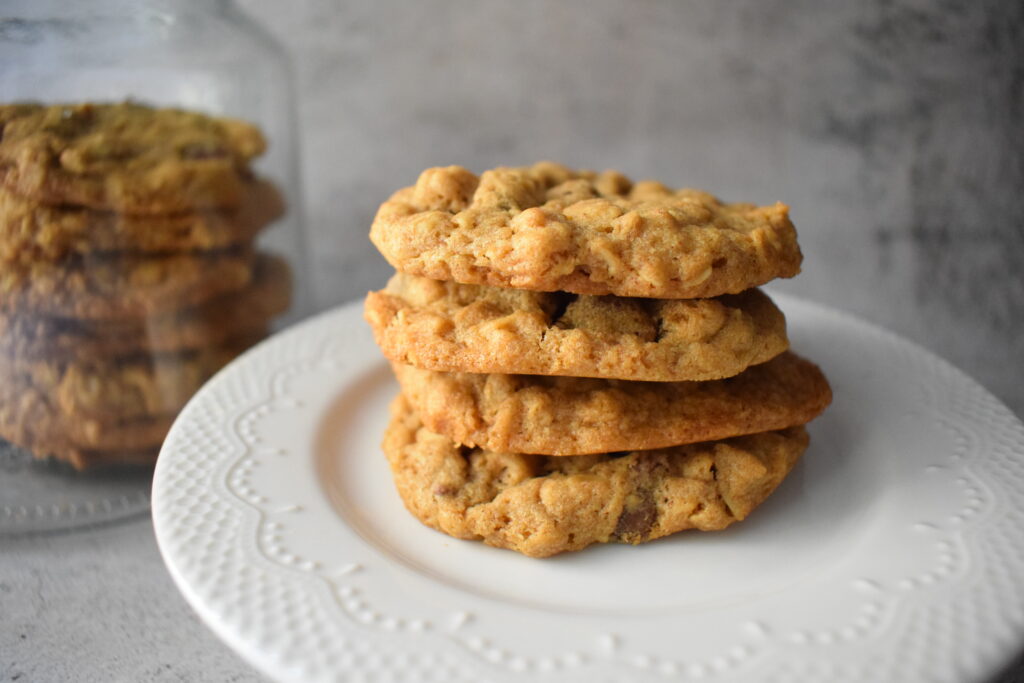 Where to Find Rolled Oats for Baking
I love using the rolled oats from True Elements in all my bakes and you can find them easily on Amazon, and for Muesli, that I also often use in my cookie and bar recipes, I always keep a pack of gluten free mix, from 8AM that I buy on Amazon. Both products are very reasonably priced and work very well for baking. In almost any recipe that uses Oatmeal, I prefer using rolled oats, although some no bake bars can be made with instant oats too.
This recipe also uses peanut butter and chunky or smooth peanut butter, both work well. I prefer using the unsweetened Peanut butter now, in fact it's the only kind I keep at home now and I can't imagine going back to peanut butter with added sugar. After trying many brands of unsweetened butter, I'd go with the one from Sundrop. Click here for the link.
Follow me on Instagram for regular updates from my kitchen.
Oatmeal Choco Chip Cookies
1/2 cup/1 stick/115gms butter, softened
1/2 cup peanut butter (chunky or smooth, either works, I prefer using the unsweetened one)
1/2 cup sugar
1/2 cup brown sugar
1 egg
1 tsp vanilla extract
1 1/2 cup rolled oats
1/2 cup flour
1/2 tsp baking soda
2 tsp cinnamon
1/2 cup chocolate chips
Preheat the oven to 175 C and line a baking tray with butter paper.
In a large bowl, beat the butter, peanut butter, sugar and brown sugar using an electric cake mixer.
Add the egg and vanilla. Mix well.
Add the oats, flour, cinnamon and baking soda. Mix just until incorporated on low speed.
Toss in the chocolate chips and fold them in using a spatula. At this point you can chill the entire dough for about 2 hours or upto 1 day and bake later. If not chilling the dough, proceed to bake the cookies immediately.
Using two spoons, drop rounded tablespoonsful of dough on the baking sheet, placing them at least 2 inches apart, as these cookies spread while baking. Chill the remaining dough in the fridge until the cookies bake.
Bake for 13-15 minutes. The cookies will be firm only around the edges at this time but will firm up completely and turn chewy as they cool down. Don't move the cookies, when they're just out of the oven and still soft.
Repeat with the rest of the dough.
Cool completely and store in an airtight container for up to 5 days.