My new year has started with a new obsession; baking bread. And these dinner rolls turned out so good that I can't wait to try more. I love the idea of making bread at home, the only put off being the time and kneading involved. But this recipe for dinner rolls takes care of both, as the dough barely needs any kneading and just minimum time to rise. Could it get any easier?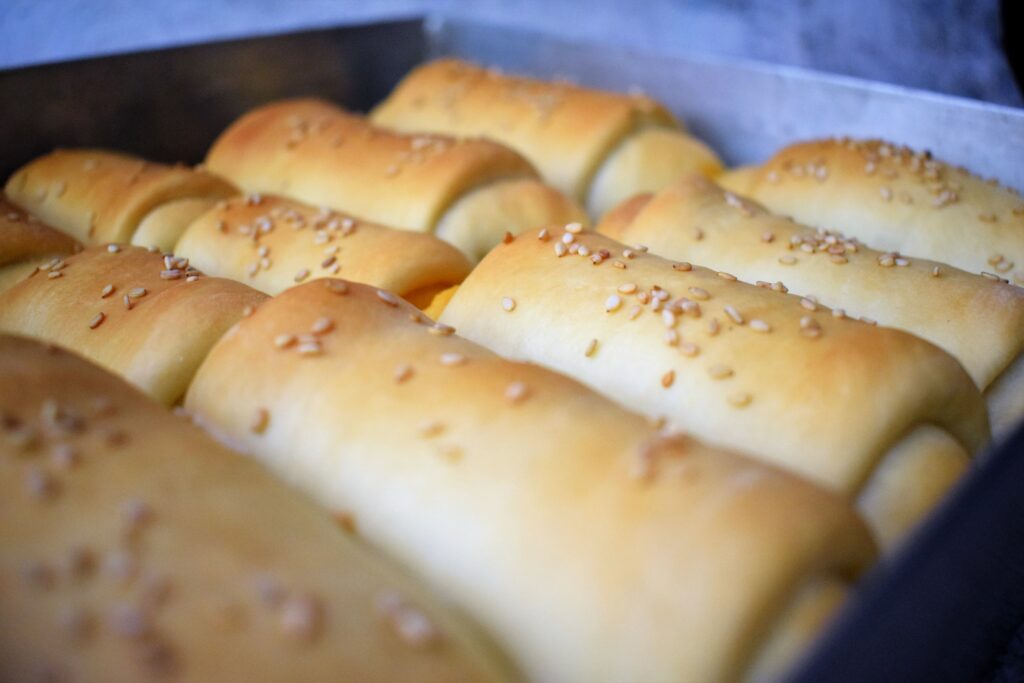 Using Yeast in Baking
These rolls need regular baking ingredients; flour, salt, milk, eggs and of course yeast. Using good quality yeast is irreplaceable in baking. The quality of the yeast you use will largely determine the success of your bread. Make sure to use the best quality yeast available even if it is an expensive brand. You'll need small quantities for each recipe, so a small box will last you well.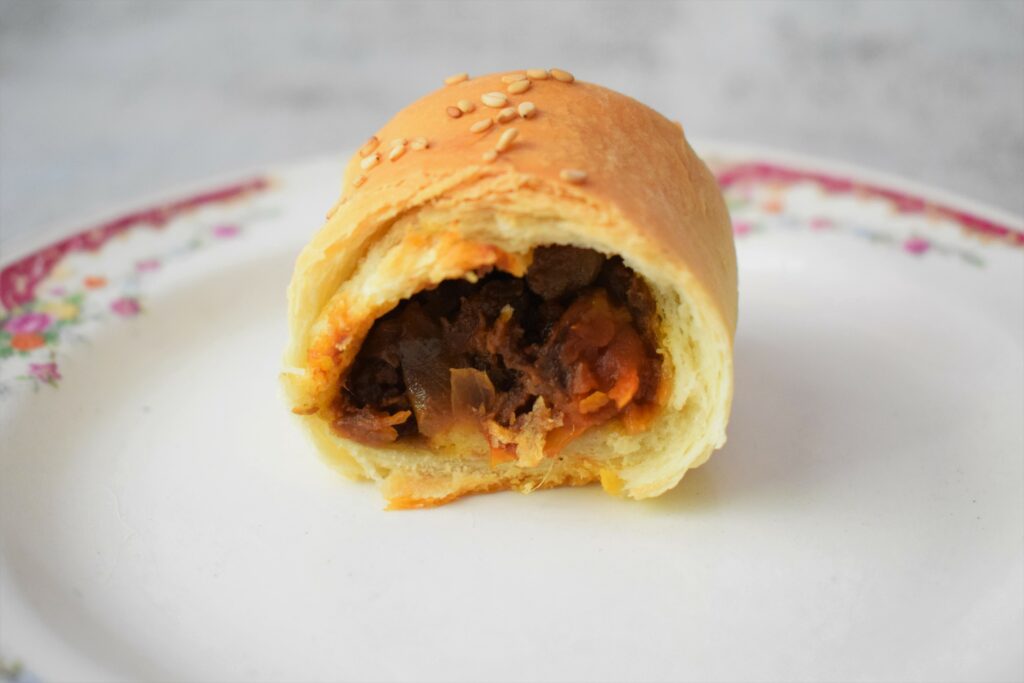 How to use Yeast Properly in Baking
Active/Instant dry yeast which is used in most baking recipes needs to be activated before you add it the dough or batter. Here's a couple of tips to keep in mind while using yeast. To activate the yeast, it needs to be mixed with some warm water or milk(as the recipe says) and a little bit of sugar. The temperature of the liquid shouldn't be too hot or cold but just about warm. Once you mix the yeast with the warm liquid and sugar, set it aside and let it stand for about 10 minutes. The mixture should turn bubbly and frothy, indicating that the yeast is active and good to use. If the mixture doesn't turn frothy, you'll need to make a fresh batch.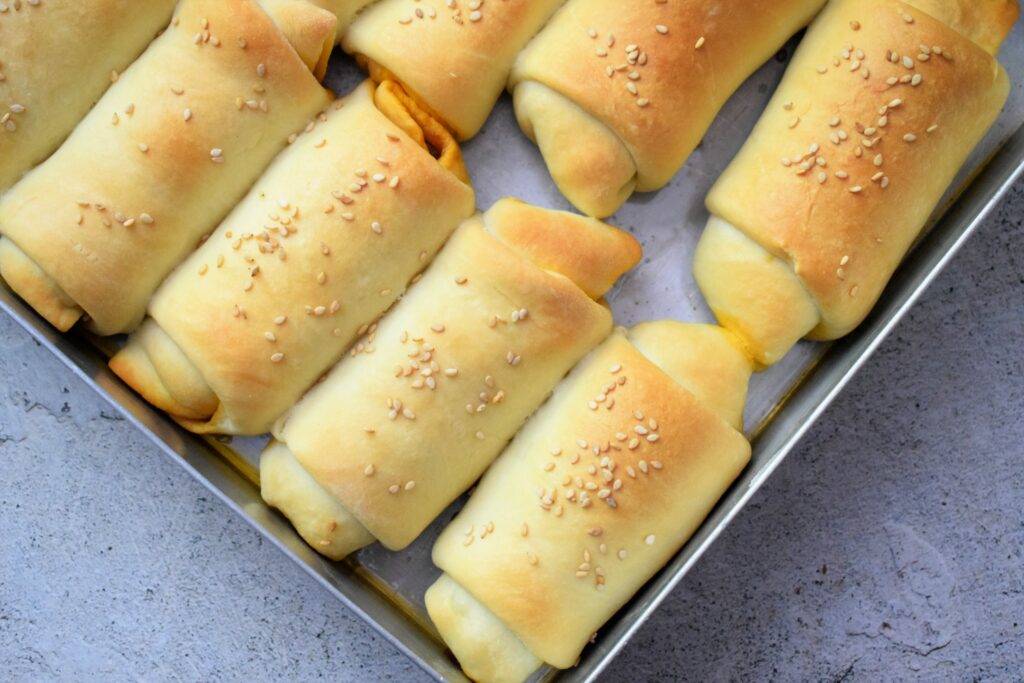 Stuffing for the dinner rolls
I went a step ahead with these rolls and made them with stuffing. You can try any kind of stuffing you want; the easiest one being using half a cube of cheese or shredded cheese that will melt as you bake. You'll bite into warm melted cheese when the rolls have baked. I made some of the rolls with cheese and the others I stuffed with some goan sausage mix. You can make your own stuffing like using shredded chicken in white sauce, or use leftover cooked kheema or paneer or even jam if you're in the mood for something sweet. Who says you can't have dessert for dinner. The options are endless.
Dinner Rolls
Ingredients:
For the rolls:
1 tbsp sugar
1/2 cup warm milk
1 tsp instant dry yeast
2 cups flour
1 tsp salt
1 large egg, beaten
3 tbsp melted butter
For the filling:
6 cheese cubes, each cut into half
or cooked mince/Goan sausages (See notes above)
In a small heat proof bowl, mix the warm milk, yeast and sugar. Stir well and set aside for 10 mins. The mixture should turn frothy and bubbly.( Read notes)
In a separate large bowl, mix the flour, salt, melted butter and the egg, reserving one tbsp to glaze the rolls later. Mix using a wooden spoon, then add the yeast mixture that should be frothy. You'll end up with a slightly crumbly mixture.
Gently bring the dough together in the bowl using your hands, until it forms a rough ball of dough. Place in an oiled bowl, cover with cling film and leave in a warm place for 60-90 mins until the dough doubles up in size.
When the dough has risen, turn it onto to a floured surface, and cut into 10 equal portions.
Flatten each portion, roll into a flat rectangle, of medium thickness, place half a cube of cheese and shape into a roll. For this, roll the dough around the cheese once, then fold in the long ends of the rectangle towards the center and then roll from the short end. (You can see more of this on my Instagram where I've posted a reel).
Alternatively, you can also use a meat based stuffing of cooked mince, shredded chicken or some goan sausage mixture like I did)
Once you've rolled all the portions, place the rolls in a baking tray and leave it to rise for about 30 minutes.
Once risen, glaze the top of the rolls with the reserved beaten egg. You can optionally top with some sesame seeds.
Bake in a preheated oven at180C for 25-30 minutes. Serve warm.