I'm slowly overcoming my anxiety of baking cookies and the latest encouragement has come from these delicious Christmas cookies. The dough is rather easy to put together. Throw in a few Christmas sprinkles and white chocolate for good measure, scoop them into little bits and bake them in the oven. 20 minutes later, lo and behold, these pale gold cookies sprinkled with bits of white, red and gold will have you lost deep in the cheer of Christmas.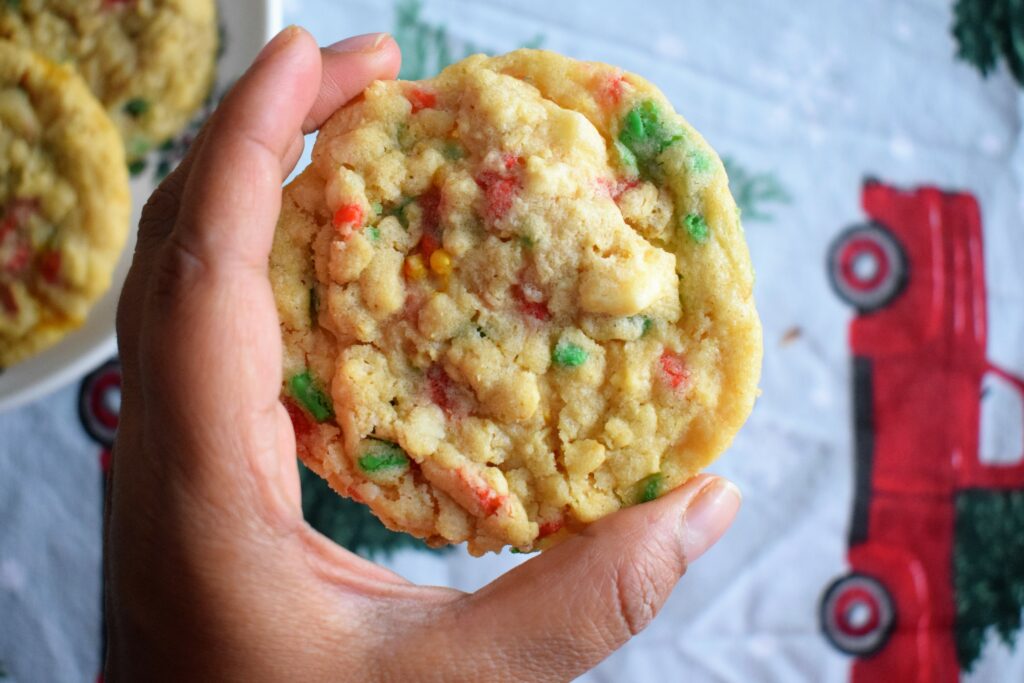 Using White Chocolate
As much as I love using dark or milk chocolate, using white chocolate for these just seemed like the right thing to do. While you still can go ahead with using dark or milk chocolate, there is just something so Christmassy about biting into chunks of white chocolate. I prefer chopping up a bar of white chocolate to use in cookies instead of using choco-chips, for a chunkier bite of melted chocolate once the cookies are baked. However, chocolate chips will work just as fine. Its best to use white chocolate but white compound will work just fine. I'm leaving links to both, if you need a guide.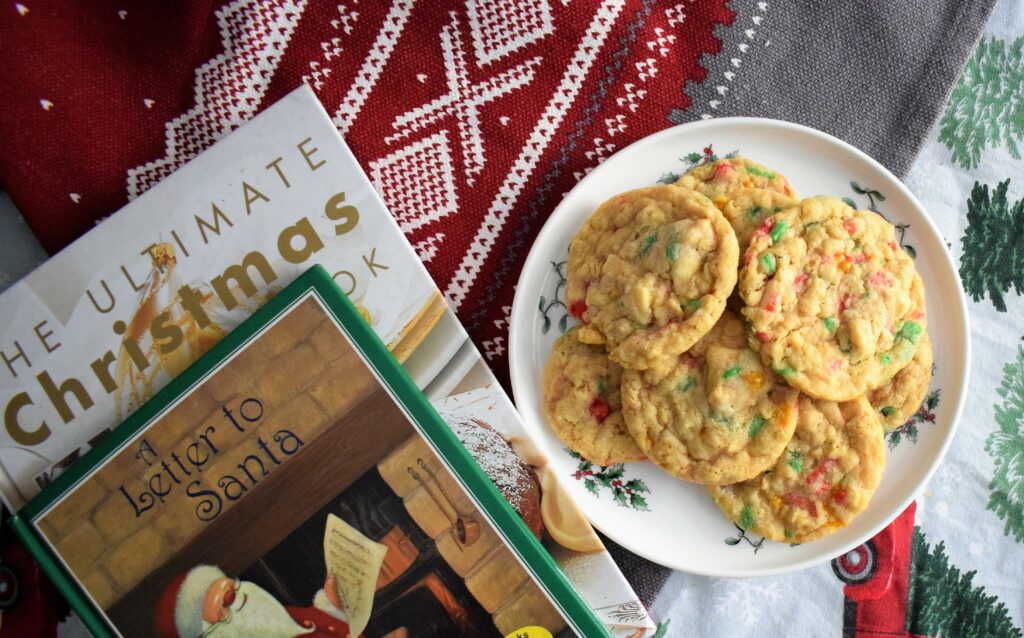 Baking ahead
You can bake these cookies ahead of time. To store them, bake, cool and store in an airtight container for up to 5 days. If you want to store them longer, put them in a zip lock bag and toss them in the freezer where they'll stay good for over a month.
Christmas Cookies
1/2 cup /113 gms/1 stick of butter, at room temperature
1/2 cup sugar
1/3 cup brown sugar
1 egg
1 tbsp vanilla essence
1/2 cup rolled oats
1 cup flour
1/2 tsp baking powder
150 gms white chocolate, roughly chopped
1/3 cup red, green and gold sprinkles/Christmas themed sprinkles
Preheat the oven to 180 C. Line a baking tray with butter paper.
In a large bowl, beat the butter and sugars together using an electric mixer, until it is creamy and fluffy.
Add the egg, beat lightly and then add the vanilla essence. Mix well. Add the oats, combine.
Sift in the flour and baking powder. Mix on the lowest speed. Finally add the sprinkles and the chopped white chocolate. Mix in using a spatula.
Roll tablespoons of dough into balls with your hands and place on the prepared baking tray. Make sure to space them well apart as these will spread quite a bit while baking.
Bake in the preheated oven for 15 minutes at 180 C. They will be soft and pliable when done, so let them cool on the tray and move them only once they have cooled down and firmed up.