This Moist Chocolate Cake is so good, you might never go back to baking a regular chocolate cake in your life. It is very easy to put together, tastes ridiculously good and stays moist for days. Deviating from classic recipes doesn't always sound like a good idea but replacing the diary in this cake with Coconut milk works wonders here. Yes, that's the magic ingredient in this recipe; coconut milk.
Using Coconut Milk in Baking
Got to be honest here; this probably is the first time I've used coconut milk to make a cake and definitely the first time I've used it to make ganache. You read that right, delicious coconut milk ganache, that tasted just like regular ganache that's made with chocolate and cream. I've used readymade coconut milk in this recipe and it definitely is a safer bet than using freshly made coconut milk in baking. You can find tinned/tetra pack coconut milk on Amazon or any grocery store.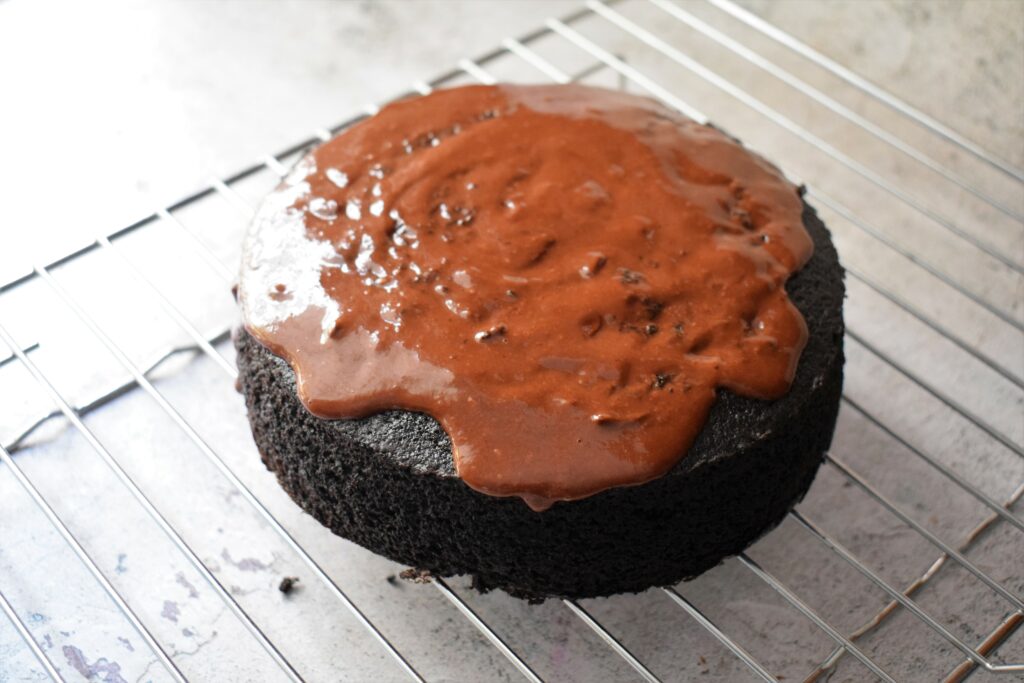 Making the Icing
To keep the cake dairy free, I've used coconut milk to make the icing as well. The process to make the icing is similar to making regular ganache, the only difference being using coconut milk in place of milk cream. The ganache will be quite thin at first, but you can leave it in the fridge to thicken and later spread it over the cake using an offset spatula. You can use choco chips of your choice but I prefer using a bar of baking chocolate like the Vanhouten one that's easily available online .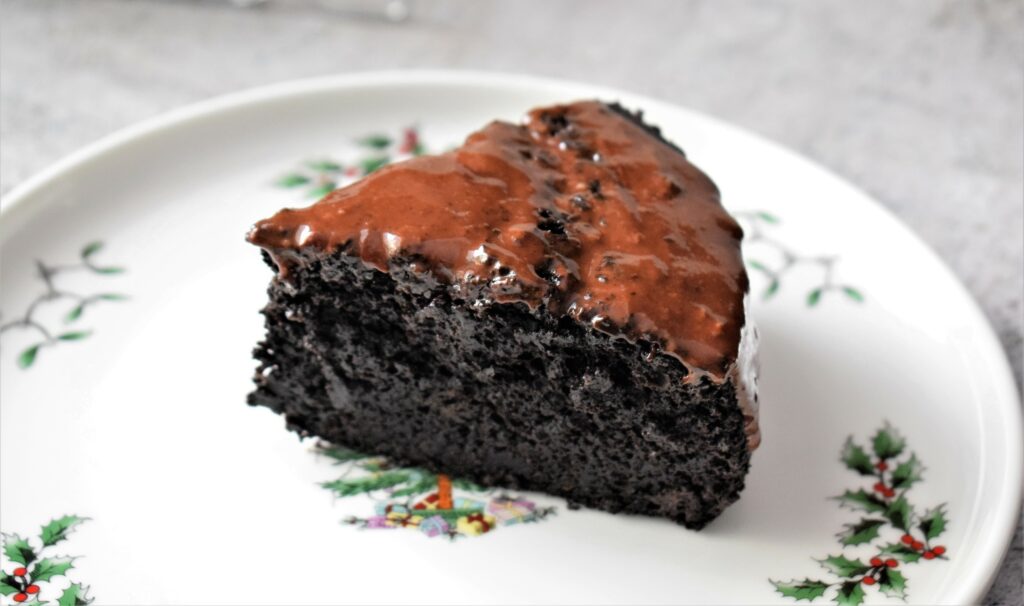 Moist Chocolate Cupcakes
You can use the same recipe to make cupcakes as well. Everything about the recipe to make the batter remains the same. Just at baking time, divide the batter equally into paper cases and bake the cupcakes for about 40 mins. Once cooled, you can top the cupcakes with the ganache. This recipe makes a large batch, so prepare to bake almost 2 dozen cupcakes.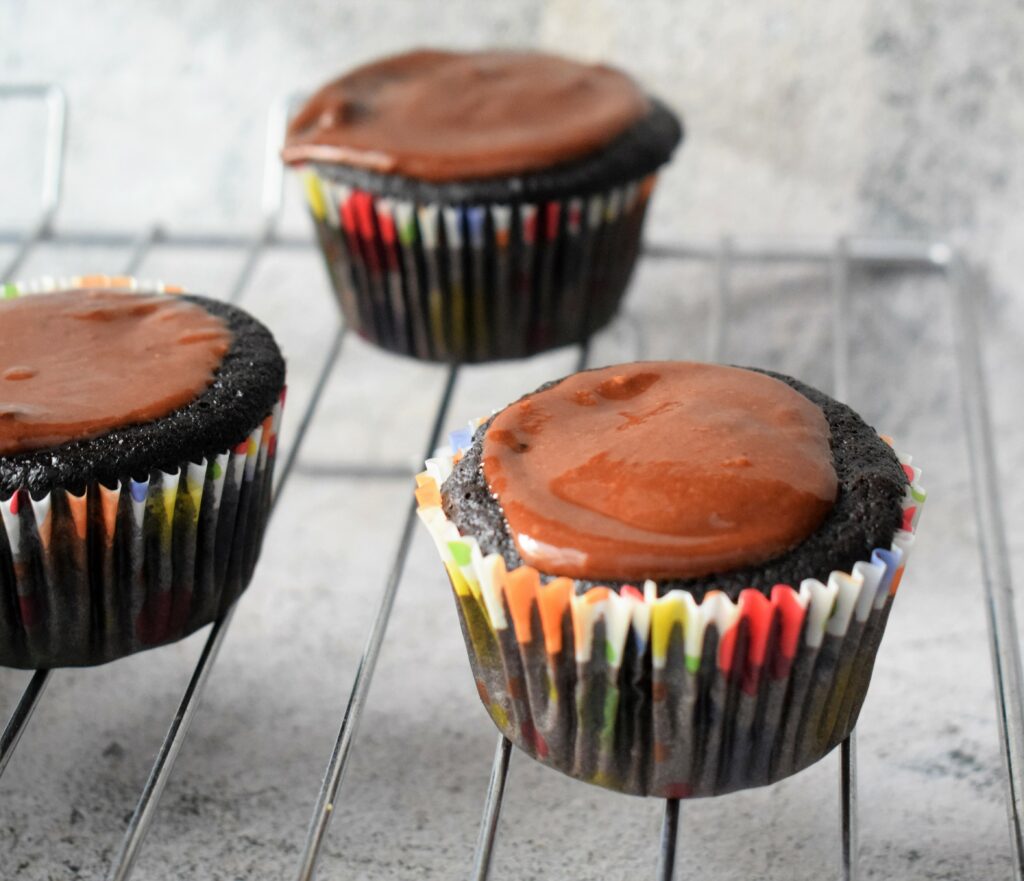 Moist Chocolate Cake
Ingredients:
For the cake:
2/3 cup cocoa
1 tbsp instant coffee powder
1/4 cup chocolate, roughly chopped
3/4 cup hot water
1/4 cup brown sugar
3/4 cup castor sugar
2 eggs
5 tbsp oil
1 cup coconut milk
1 cup flour
1/2 tsp baking soda
1 tsp baking powder
For the Ganache:
1/2 cup chocolate chips
1/2 cup coconut milk
Preheat the oven to 180 C. Line and grease a 9 inch round cake tin. If you plan to use this recipe to make cupcakes, line two cupcake trays with paper liners. Set aside.
In a heatproof bowl, mix the roughly chopped chocolate, coffee powder and cocoa. Mix using a whisk. Add the hot water, let it sit for a minute. Then whisk until almost all the chocolate has melted and you have a smooth mixture. Keep aside
In a separate large bowl, mix the brown sugar and castor sugar. Add the eggs. Beat well using a whisk, until the mixture turns pale and creamy. Then add the oil, whisk.
Add the melted chocolate and coffee mixture, whisk to combine.
Next, add the coconut milk and mix well.
Sift in the flour, baking soda and baking powder. Whisk until you have a smooth batter, which will be quite thin. Don't worry, you are right on track.
Pour the mixture into the prepared cake tin. If you're making cupcakes, use an ice cream scoop to fill the liners just about half way.
Bake in a preheated oven at 180 C for 50 mins for the cake and for 40 mins if you are baking cupcakes.
Once baked, allow the cake to completely cool, before topping with the ganache.
To make the ganache, mix the chocolate and coconut milk in a heatproof bowl. Heat in the microwave in two, 20 second spurts, stirring the mixture in between. Ensure all the chocolate has melted and you have a smooth icing.
Leave in the fridge to firm up as the cake bakes and cools down.