I had never heard of Panforte before, I'll be honest. And now that I've discovered how easy it to make, I am quite certain, Panforte will be a Christmas staple in our home. Panforte is an Italian chewy and nutty sweet, made with almonds, figs and of course sugar. Although it is not a cake, it is baked in the oven like one.
Delicately flavoured with honey, cinnamon and a hint of white pepper, this sweet is really well balanced. It has the texture of halwa and isn't as sweet, although slightly more chewy. Either ways, it makes a great edible gift, it lasts long, so you can make it in advance and it is very simple to put together.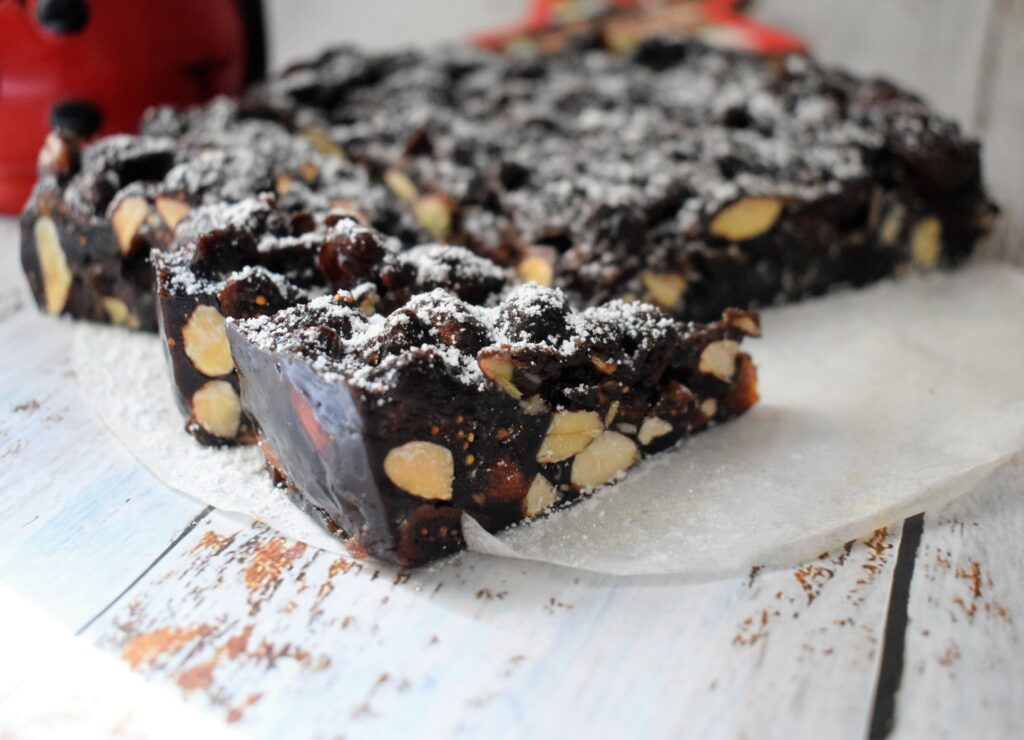 Ingredients for the Panforte.
To make Panforte, all you need to do is first mix the dry fruits. I've used almonds and figs, you can also replace half the almonds with hazelnuts. It is perfectly okay to use un-blanched almonds. Roughly chop them so it is easier to cut the panforte into portions once baked. Once the dry fruits are ready, you need to add the spices; cinnamon, nutmeg and a hint of white pepper. Flour and cocoa are also added at this point.
Separately, sugar, honey and butter are melted together and then added to the dry fruit and spices mixture. Expect a thick paste-like mixture that'll melt as it bakes.
Make sure you flatten out the mixture once it is the baking dish. This is best done with a rubber spatula. I love the ones I got from Amazon, as they are flexible while still firm, plus the handle isn't detachable, which means you don't need to worry about batter and food getting stuck in crevices. These have lasted me a long time and survived even daily washes in the dishwasher. I'm leaving a link for you here.
Once the Panforte has cooked, leave it in the tin to cool down completely for it to firm up. You'll need to use a really sharp knife and cut clean slices by pushing the knife straight down into the cake.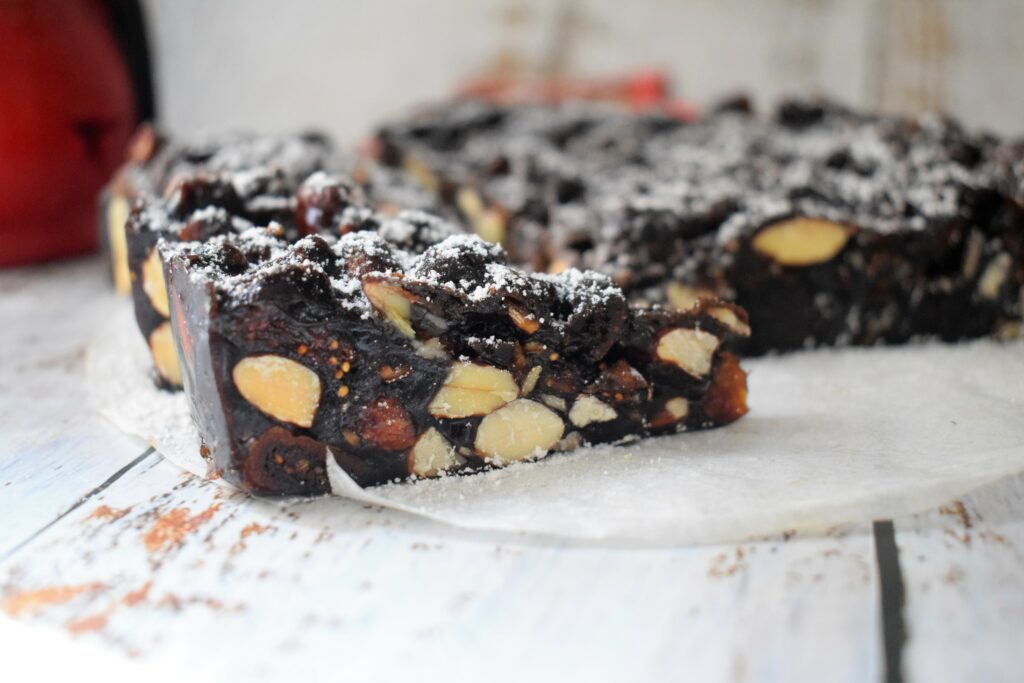 Notes about Panforte.
The process is fairly simple. First you mix the dry ingredients, then you melt the wet ingredients and finally mix the two.
When the panforte is done baking in the oven, the mixture will still be bubbly and look like it isn't done. However, turn the oven off at the mentioned time and let the mixture completely cool down. It will firm up as it cools.
Panforte is quite sticky, so make sure, you line your baking tin well with parchment paper. Line the bottom and the sides of the pan with enough baking paper, so it is easy for you to take it out when it is done.
You can make Panforte ahead of time, cut into pieces and store in an airtight container for up to two weeks. Do not refrigerate as this will change its texture.
Panforte
250 gms almonds, roughly chopped, you can leave some whole
100 gms dried figs, snipped into pieces with a scissors
1 tsp cinnamon powder
1/2 tsp nutmeg powder
1/4 tsp white pepper
1 tbsp cocoa
1/2 cup flour
1 cup sugar
1/2 cup honey
30 gms butter
2 tbsp icing sugar to dust
Preheat the oven to 170 C. Line the sides and bottom of an 8 inch cake tin with baking paper.
In a heatproof bowl, mix the almonds and cut figs. To this add the cinnamon, nutmeg and white pepper powders. Then add the flour and cocoa powder. Mix well using a spatula. Set aside.
Separately, in a saucepan, mix the sugar, honey and butter. Melt together on a low flame, stirring continously.
When the sugar and butter have melted, take the mixture off the heat and add to the fruit and spice mixture.
Using a silicone spatula, stir everything together, until all the fruits have been coated with the melted liquid. You will end up with a rather thick paste-like mixture coating the fruits.
Scrape this mix into the prepared cake tin. Using a silicone spatula, flatten the mixture gently to get as smooth a mixture as you can.
Put to bake in a preheated oven for 40 minutes at 170 C
At the end of 40 mins, the top of the cake will still be bubbly but the cake is ready. Turn off the oven and allow the cake to cool completely in the tin.
Once completely cooled, take the cake out of the tin, peel off the baking paper. Use a sharp knife to cut clean slices. Push the icing sugar through a sieve over the pieces and serve.
You can store Panforte in an airtight container for over 2 weeks.