This treacle pudding is the easiest Christmas recipe I've tried this season and might just be my favourite discovery of the year. It's so simple to make, very quick to put together and with a dash of caramel sauce and a scoop of ice cream, this easily transforms itself into the ultimate dessert.
This treacle pudding has a lovely spongy and moist texture, so it's perfectly fine on its own, delicious in every bite. It is best served warm and with a bit of caramel sauce and some vanilla ice cream, you are in for a treat. I love making my own caramel sauce but I also keep a bottle of caramel from Sprig handy. It's my go to readymade caramel sauce and it doesn't disappoint. I'm leaving the link for you here.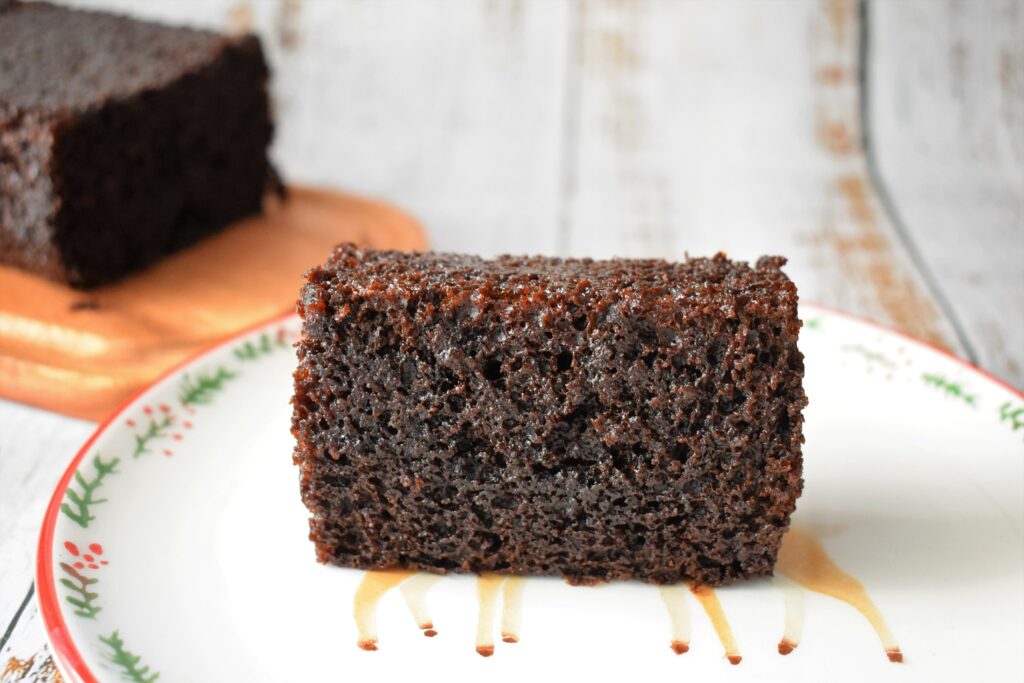 Using Treacle
I first tasted treacle on a trip to Sri Lanka, where it is popularly served with curd for breakfast. It made such a fantastic combination and tasted so good that I just had to carry a bottle home. Using it place of caramel for my fruitcakes also made a big difference. Treacle is used in many Christmas recipes, especially fruit cake. It is what gives fruitcake its dark brown colour. I keep a bottle of treacle handy, especially at Christmas time and most recipes usually require a very small amount of it. But it also lasts really well and for long, so you don't have to worry about any leftover treacle going bad.
There are many kinds of treacle but for my fruitcakes and any recipe that calls for treacle, I use this one. It is easily available on Amazon and comes in a small bottle of 500gms. It works really well for my cakes and worked great for this pudding too.
Ingredients for this pudding
Apart from the treacle, all ingredients for this pudding are regular baking ingredients. Apart from that you'll only need some cinnamon and nutmeg powders to give this pudding a hint of spice and of course the aroma has Christmas written all over it.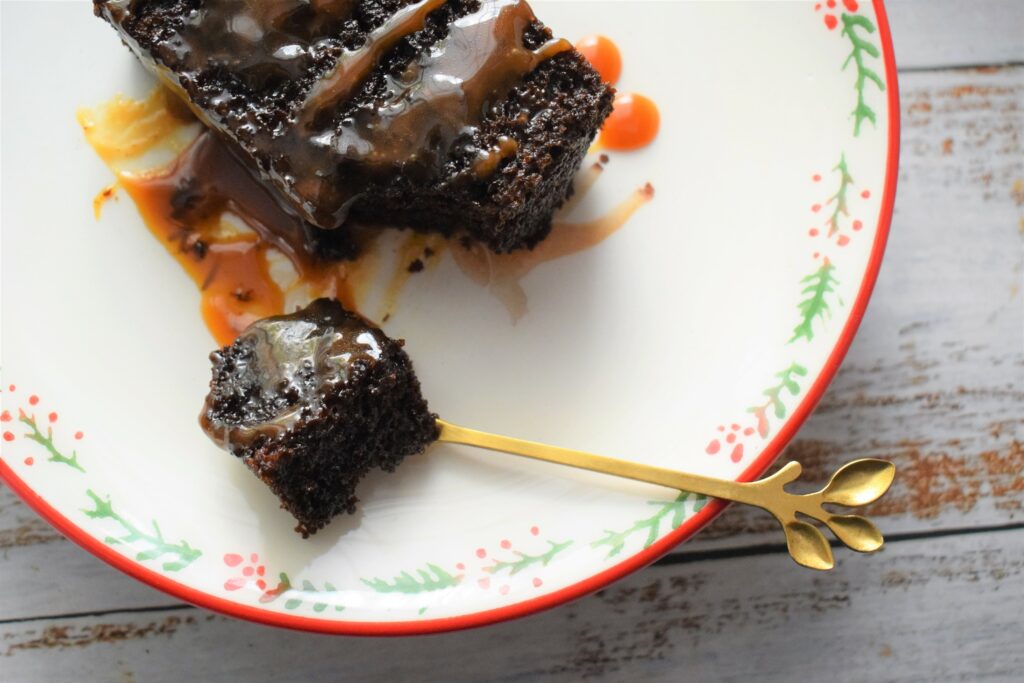 Treacle Pudding
50 gms butter
1/2 cup brown sugar
1 egg, beaten
1/3 cup treacle
1/2 cup milk
1/2 cup flour
1/2 tsp baking soda
1 tsp cinnamon powder
1/2 tsp nutmeg powder
Caramel sauce and Vanilla ice cream to serve
Preheat the oven to 180 C. Grease and line a 1 kg loaf tin with baking paper.
Put the butter in a large heatproof bowl. Melt in 10 seconds spurts in the microwave until just melted. Cool for a minute. Add the sugar and treacle and whisk well. Then add the milk and egg. Beat until combined.
Sift in the flour, baking soda, cinnamon, nutmeg in a large bowl. Using a spatula, mix well until there are no lumps in the mixture.
Pour the mixture into the prepared loaf tin. The batter won't fill more than half the tin but will rise as it bakes.
Bake in the preheated oven at 180 C for about 30-35 minutes until it turns a dark colour and shrinks away from the sides of the tin.
If at any point, the pudding turns too dark, cover it loosely with some foil.
Serve the pudding warm on its own or with some caramel sauce and vanilla ice cream.