I love a good crumble and could there by anything more magical than putting a Christmas spin to this holiday favourite? This Christmas crumble just exudes warmth, cheer and all things Christmassy with its gorgeous pink shades and caramel flavour, topped with marzipan and almonds.
What I love about this Christmas crumble is how effortless it is to make. You can put it together in less than 30 mins from start to end. Serve it warm with a scoop of vanilla ice cream and you have just the perfect party dessert. I've yet to come across someone who won't fall prey to a crumble, have you?
Fruits for this Crumble
I've used apples and blueberries for the filling in the crumble. You can completely skip the berries, especially if they are hard to find. It won't change the taste too much but you might miss the hues of pink, the blueberries bring to the dish. Even better than skipping the berries, is to use fresh strawberries, if you can find any. They are as perfect a combination for the apples as the blueberries are. Talking of strawberries, this cobbler recipe is the ultimate.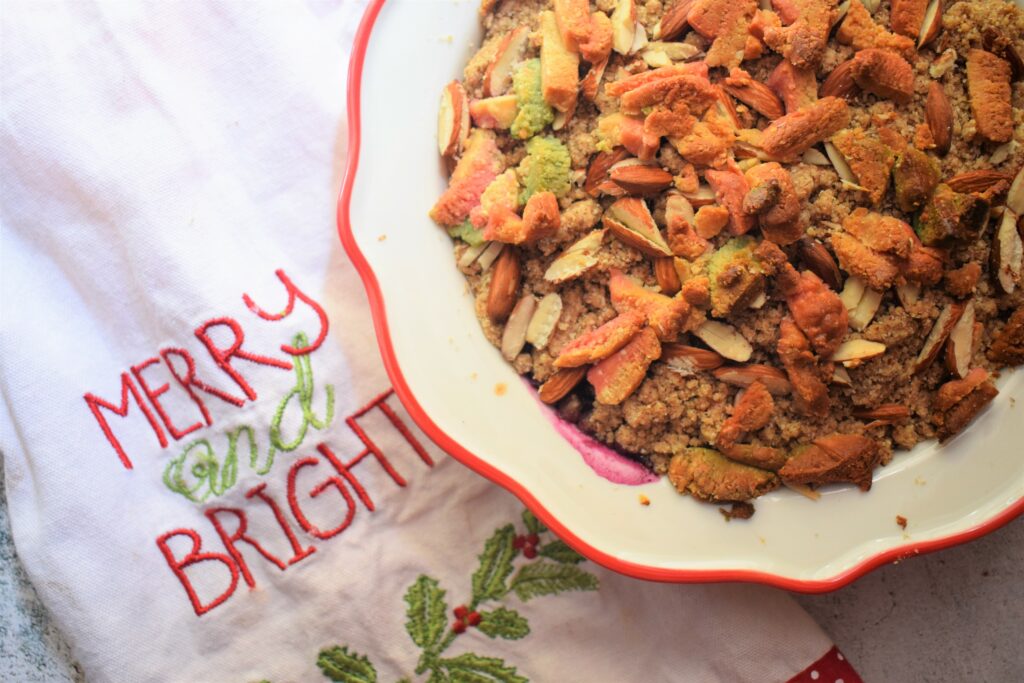 Ingredients for this crumble
Apart from the fruit filling, the crumble needs very few ingredients. The crumble is almost like any other, made with butter, sugar and flour. However two special ingredients lift this crumble from ordinary to festive and those are almonds and marzipan. The crumble will need some almond flour and it's completely okay to use un-blanched almond meal or almond flour made at home. And while it might be a bit of a task to find Marzipan, it is worth the effort. When you bite into the crumble and find those toasty, chewy, baked bits of marzipan, there's nothing quite like it.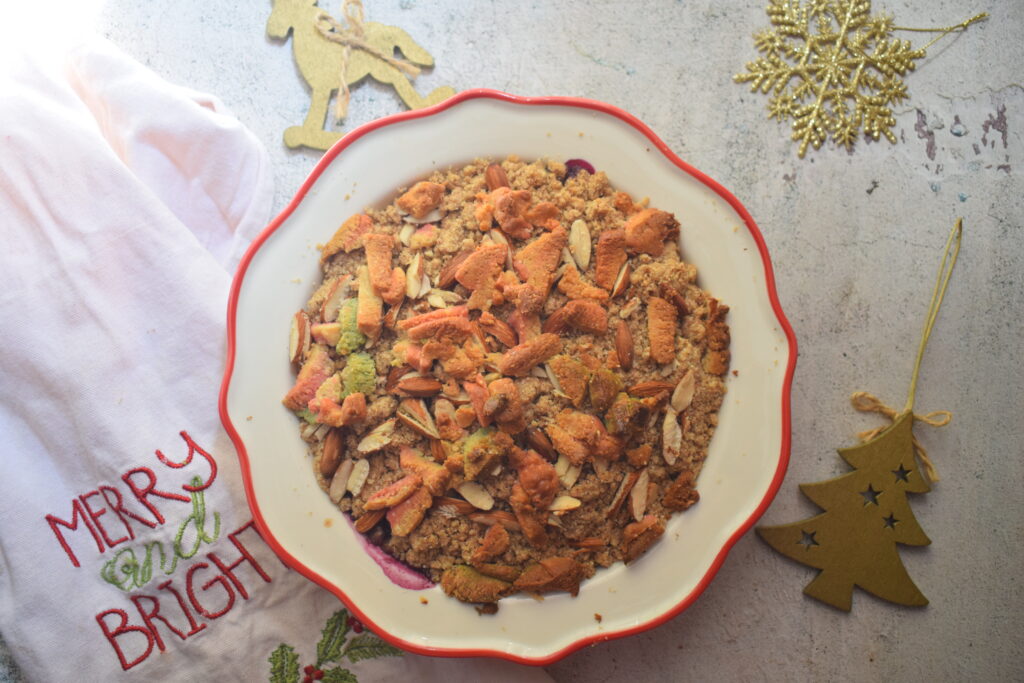 Christmas Crumble
3 apples, peeled, cored and chopped into bite sized pieces
100 gms blueberries
1 tsp vanilla
For the Crumble
1/2 cup brown sugar
1 cup almond flour
3/4 cup flour
100 gms butter, cold, cubed
a pinch of salt
2 tbsp almonds, slivered
50gms marzipan, roughly crumbled
Preheat the oven to 180 C. Set aside an ovenproof deep dish.
In a saucepan, mix the apples, blueberries and vanilla. Add a splash of water and cook the mixture on a medium flame, until the fruits are soft. This should take about ten mins.
Once the fruits are cooked, tip the mixture into the baking dish.
Mix together the butter, sugar, flour, almond flour and salt. Tip the mixture into a food processor and pulse in short spurts until the mixture resembles crumbs.
Top the fruits with the crumb mixture and then sprinkle the chopped marzipan and slivered almonds all over.
Bake for 25 mins in a preheated oven. Serve warm with some vanilla ice cream.