You know how big I am on Christmas, I always go into overdrive this time of the year. Although I've already posted my go to fruitcake recipe before, this Holiday Fruitcake is a close contender and perfect for any last minute fruitcake demands. You can make it just about a week in advance and be ready to be blown away by the flavour and moistness of this showstopper.
Ingredients for this Holiday Fruitcake
The fruit mix for this cake is similar to what I typically use for my Christmas cake, except for the addition of prunes and dates. These two fruits make the cake exceptionally moist and almost like gooey fudge to bite into. Like most fruitcakes, this recipe also uses rum. Although, orange juice can be used as a substitute in most fruitcakes, I haven't experimented with that yet.
Do not be put off by the long list of ingredients. Apart from the fruit mix the rest of the ingredients are regular baking ingredients so you can get started on this cake right away.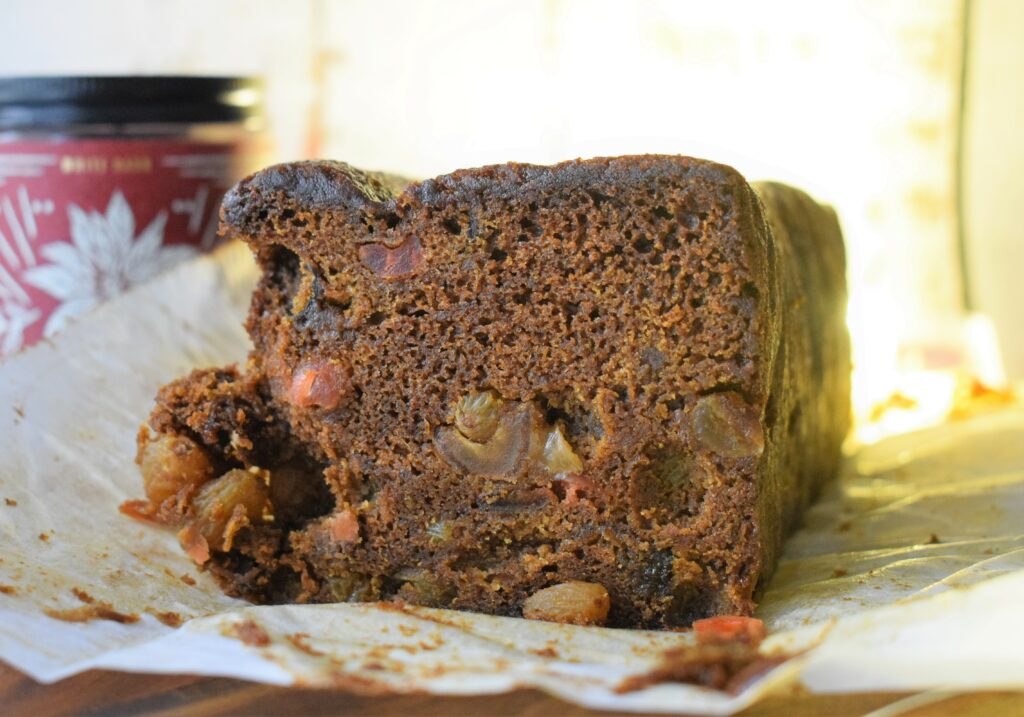 Serving this Cake
As a rule, most fruitcakes aren't served or cut into right after they've been baked. One reason for this, is to allow the flavours to develop over a week or two. And the other, more importantly, is to give the cake some stability. Since the cake is full of soaked fruits, cutting into the cake right away, can result in a very crumbly cake. Letting it rest can help you slice some firm slices, that don't fall apart easily. So, once the cake is baked, let it cool, pour a little rum over it, (this acts as a preservative) wrap in cling film and let the cake rest in a cool place for at least a week. Also, a sharp knife is your best friend while you need to cut fruit cake.
If you haven't been following me on Instagram yet, make sure you do, so you can catch some super easy recipes I've been posting there as well.
Holiday Fruitcake
Ingredients
For the fruit mix
125 gms dates, pitted and roughly chopped
100 gms prunes, chopped
200 gms raisins
100 gms cherries, halved
350 ml dark rum
For the cake
150 gms butter, softened
1 cup brown sugar
3 eggs
1/4 cup treacle
2 tsp vanilla essence
2 cups flour
2 tsp baking soda
1 tsp cinnamon powder
3/4 tsp nutmeg powder
1/4 cup walnuts, chopped
1/4 cup dark rum for pouring
In a large glass jar or Tupperware box, combine all the ingredients for the fruit mix with the rum. Cover and keep at room temperature for 2 days. If you have more time, you can keep it up to 6 weeks.
To make the cake, preheat the oven to 150 C. Grease and line two medium sized loaf tins, with little butter and baking paper. Set aside. You can also use one 10 inch tin instead.
In a large bowl, cream the butter and sugar, using a cake mixer, until the butter is light and pale. Add the eggs, one by one, mixing after each addition. To this add the treacle and vanilla essence. Mix until incorporated.
Sift in the flour, baking soda, cinnamon and nutmeg powders, mixing on low speed.
Lastly add the soaked fruit, with any remaining liquid and the chopped walnuts. Mix gently using a spatula.
Spoon the batter into the prepared tins and bake in a pre-heated oven at 150 C for about 1 hr 40 minutes or until a toothpick inserted in the cake comes out clean.
Once the cake has baked, let it cool in the tin. Then pour the rum all over the cake. Once all the liquid has been absorbed, take the cake out the tin, wrap in cling film and store at room temperature for at least a week before cutting into it.