Earlier this month, I posted a reminder on Instagram about soaking fruits for your Christmas cake. Yes, I know we are only in September, but it's never too early to get your Christmas cake fruit mix together. I had a lot of questions about what fruits to soak and what alcohol to soak it in, so I thought I'd quickly write a post about it with all the tips and tricks I could think of.
Also , if you don't have the time or aren't in the mood to make an elaborate Christmas fruit mix and cake, check out my recipe for Beer cake. It's half the trouble and almost as good. Almost!!
What fruits to use:
Christmas cakes are made with a delicate mix of dry fruits. Considering they are made even weeks in advance and only get better with time, it's important to use dry fruits in the mix, to ensure the cake stays good and doesn't go rancid, which is also why alcohol is used to make the fruit mix and that acts a preservative.
Scroll down to see the usual fruits I use to make my Christmas fruit cake. You can add other dry fruits as well, depending on what is easily available to you. I love using a mix of raisins, black raisins, almonds, orange peel (available online or in baking stores) and cashew nuts. You can also add prunes, dates, glace cherries, but add these to the mix about a couple of days (or even hours will do) before baking the cake.
If you have picked up fruit cakes from the store, you will find that a lot of them use candied dry fruit, what we call Tutti fruity. Nothing wrong in using them, especially if you enjoy them, but they don't really belong in an authentic fruit cake. If you don't mind, skip using them. Although I must confess, I learnt about this only after a decade of using them in my Christmas fruit cakes. But, hey, you learn something new every day, or decade huh.
You can put the raisins whole since they soften and plump up soaking in the rum. All the nuts; almonds, cashew nuts, walnuts etc will need to roughly chopped. Not my favourite part for sure. You can make your life easier a bit by buying broken cashew nuts. One less fruit to chop, I'll take that.
What quantity of fruit mix will I need :
Fruit cakes are made using a huge quantity of dry fruits that are held together by barely any flour. This is what makes them utterly moist and rich. The quantities I've mentioned below are used to make one large 9-inch cake. Don't be alarmed by the quantity of the fruits, I promise you, the cake will be worth it.
If you plan to make large batches of cakes or more than one large cake, double or multiply the quantities of the dry fruits accordingly. There is no rule about the quantities you can use and what I've mentioned below are approximates. Just make sure your mix has a good balance of raisins and nuts.
Why does a fruitcake/fruit mix need alcohol:
A properly made fruitcake can be stored frozen for even up to a year or more. As Johnny Carson joked "There is only one fruitcake in the entire world, and people keep sending it to each other, year after year." Alcohol is used not only while making the fruit mix for the cake but also used to "feed" the cake once it is baked. This is the reason, a fruit cake is made days in advance before serving so that the cake can mature and let the flavours and texture improve with age.
I use dark rum to soak the fruit mix, some prefer brandy. I don't really have a particular quantity of rum I use, but enough to cover all the fruits. I generally soak the fruits in a glass or ceramic jar.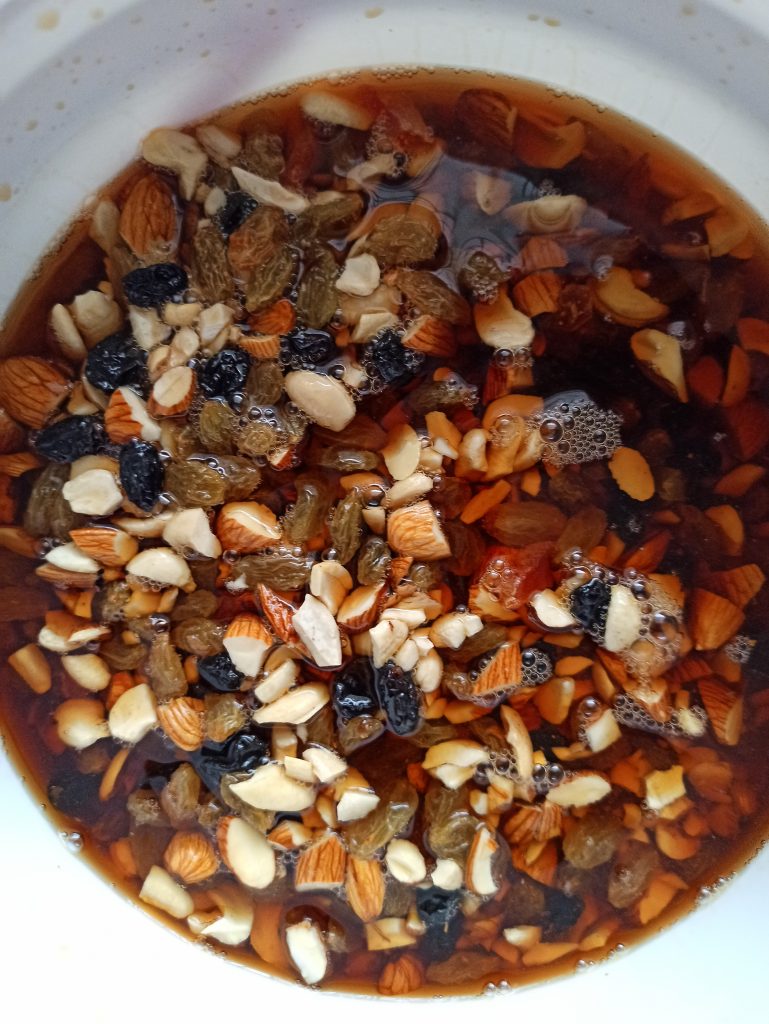 Making a fruit cake without alcohol
If you're making a fruit cake for a younger or different audience and need to make it alcohol-free, fret not. For an alcohol-free fruitcake, orange juice is used in place of alcohol to soak the fruits. As orange juice doesn't preserve fruits the same way as alcohol, this fruit mix needs to be made a day or two in advance before baking the cake. Also, this cake will need to be consumed within a week unless you "feed" it with rum or brandy after baking. So if you are going completely alcohol-free, hang on till mid-December to make your fruit mix and bake your cake.
Christmas Cake Fruit Mix:
Cashew Nuts 250 gms
Almonds 150 gms
Raisins 250 gms
Black Raisins 100 gms
Orange Peel
Dark Rum : Approximately 300-400 ml.
Roughly chop the almonds, orange peel and cashew nuts. Mix with the rest of the ingredients and put in a glass/clay or ceramic jar. Make sure to add enough rum to cover the fruits. Cover the jar and place in a cool place/ on your kitchen counter.
I'll post the recipe for the fruit cake in a few weeks. Happy September!!!