Gluten free and with a burst of strawberry flavour, this is just the kind of cake you need on a summery day. This Strawberry Almond Cake needs no milk, no all purpose flour and comes together real quick.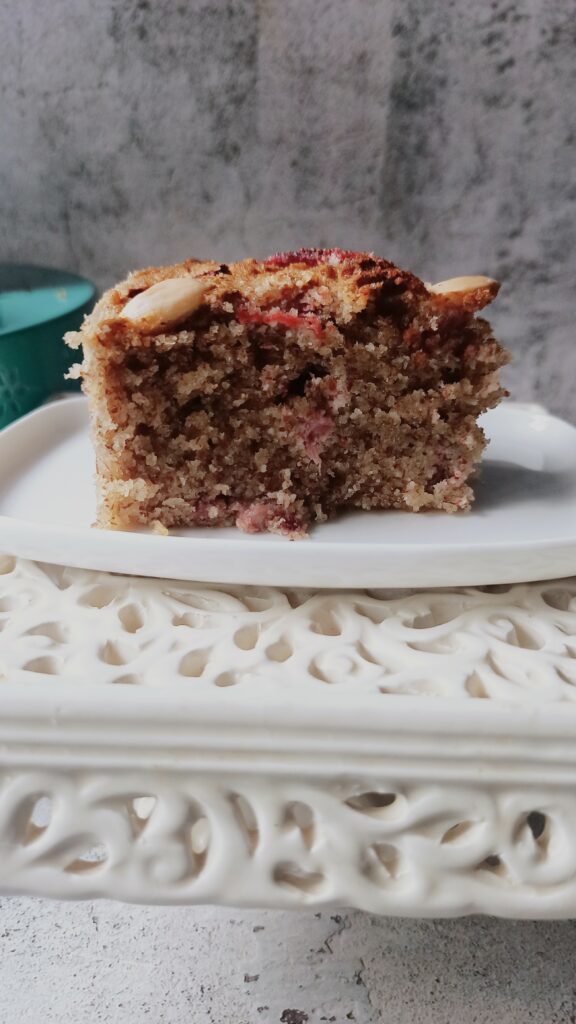 Using Fruit in this Cake
I've used strawberries because they are in season. I've chopped some of the strawberries and added them to the batter and used the rest to decorate the top of the cake. You can add all of the fruit chopped to the batter. You can also use blueberries instead of strawberries with everything else in the recipe staying the same.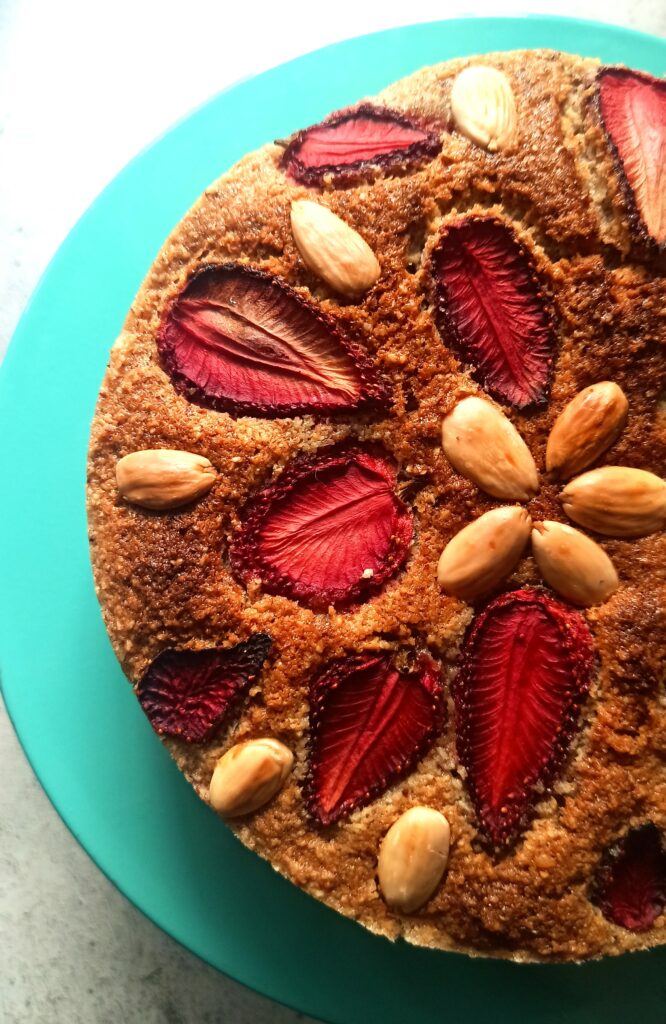 Using Almond Flour in Baking
I've been making quite a few cakes these days with almond flour. I always stick to buying unblanched almond flour as this works perfectly well for all cake recipes. I've used almond flour by Urban platter and it works really well. You can easily find it on Amazon. Reasonably priced and great for bakes.
If you are experimenting with using Almond flour for bakes, you will enjoy this Whole orange and Almond cake, that is unique in so many ways. If you need a versatile recipe with almond flour to use as a base for many other cakes, you can't go wrong with this Almond Flour Cake that I used to make a gluten and dairy free birthday cake.
Follow me on Instagram for more updates
Strawberry Almond Cake
150 gms butter, melted
4 eggs
1/2 cup sugar
1 tsp vanilla
1 1/2 cup almond flour
1 tsp baking powder
3/4 cup desiccated coconut
200 gms strawberries.
15 whole almonds, blanched, for decorating
Preheat the oven to 180 C. Grease and line an 8 inch baking tin with butter paper. Set aside.
Add the melted butter to a large mixing bowl. Add the eggs, one by one, whisking well after each addition, with a hand held whisk Then add the sugar and mix well.
Mix in the vanilla. Add the almond flour, baking powder and desiccated coconut. Mix first with the whisk and then fold well using a spatula.
Roughly chop the strawberries, reserving a few to slice and decorate the top. Add the chopped strawberries to the batter. Mix well with a spatula and then spoon the batter into the prepared tin.
Decorate the top with sliced strawberries and blanched almonds.
Bake in a preheated oven for 55-60 minutes or until a toothpick inserted into the center of the cake comes out clean.
Let the cake cool in the tin before you take it out and cut into slices