These Coconut & Jam Squares are the real deal. Super simple to put together, low on effort, big on results. Absolutely my kind of recipe. You can use this basic recipe and try variations with the filling and toppings.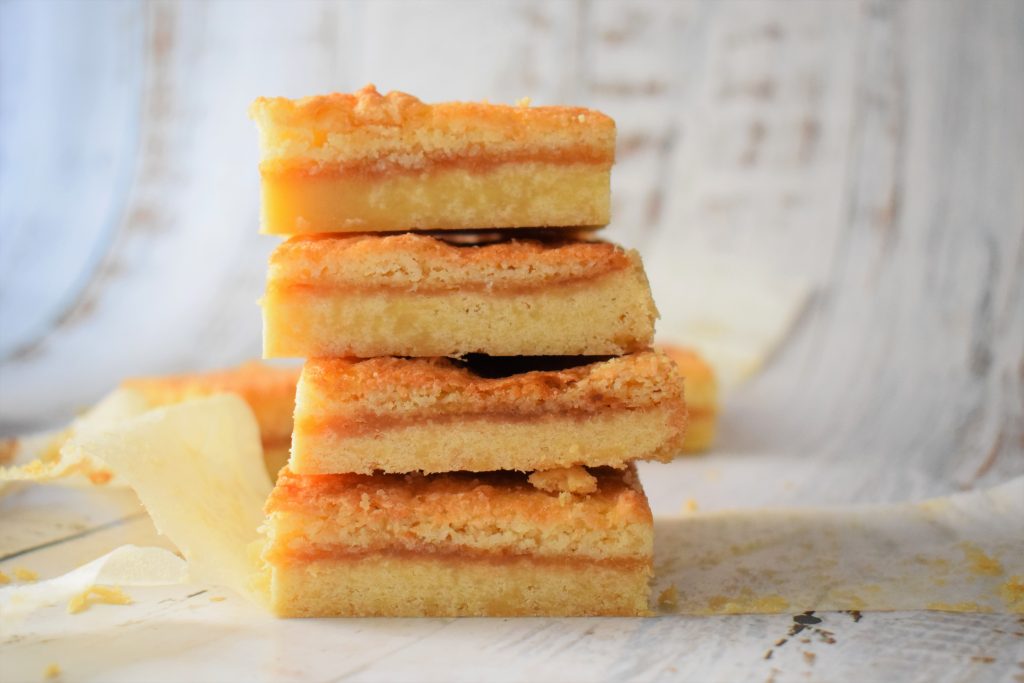 How To Make These Squares
These Coconut & Jam Squares have three layers to them, of which only the first layers need a little work. The bottom layer is butter and flour, like a shortcrust pastry. Before you let that bit put you off, I got to tell you, I found a way around it. Half the work with the same results. Next, goes a layer of jam. I've used apricot, but go with your favourite one. You can use marmalade, strawberry, anything you think will make a great combination with coconut. The top layer and my favourite bit is the chewy coconut layer. This is made by simply mixing coconut and egg together. I've to desiccated coconut in this recipe, which is the best kind to use in desserts and baking, instead of fresh coconut.
The baking is done in two parts. First, you bake the butter and flour, shortcrust layer. Then, while it's still warm, you spread the jam over it, top it with the coconut filling and put it back in the oven to bake. And these babies are ready.
Baking With Coconut
If you enjoy the flavour of coconut in your desserts, you'll love trying these recipes. Starting with this Coconut & Pineapple cake that is just addictive. For an easy dessert, try these Coconut & Lemon Truffles, which make an absolutely fantastic combination. If you want to go with something classic and old school, you can't go wrong with Lamingtons.
Follow me on Instagram for more kitchen updates.
Let's get baking.
Ingredients:
For the shortbread base:
1 1/2 cups flour
160gms butter, chilled, cut into cubes
1/2 cup castor sugar
For the topping:
2 eggs
1 1/2 cups desiccated coconut
1/4 cup sugar
2/3 cup Apricot Jam
Start by greasing an 8 inch square pan. Line with baking paper. Set aside.
Pre-heat the oven to 180 C.
First, make the shortbread base. To make this add the butter, sugar and flour in a blender/Mixer. Pulse in 2-3 seconds spurts, until you end up with a rough crumb like mixture.
Press this crumb mixture into the base of the preapred cake tin. Using the back of a spoon, spread the mixture out and even the mix to form a base. Bake in the prehated oven for 15 minutes.
While the shortbread base bakes, make the filling.
In a bowl mix the eggs and sugar. Using a whisk, beat the mixture until it turns frothy and pale. Then stir in the coconut. Set aside.
When the shortbread has baked for 15 minutes, take it out of the oven. Leave the oven on. Spread the jam all over the shortbread base. You can do this while it is still warm as it will help to soften the jam and spread it evenly.
Next spoon the coconut topping over the jam. Press down the filling a bit to make an even layer.
Put it back in the oven to bake for another 20 minutes, or until it turns a golden brown.
Once baked and cooled, cut into 2-inch sqaures.