No fuss, no mess, just a whole lot of deliciousness. This coconut pineapple is like nothing you've had before. The ingredients do feel like a recipe for a pina colada, and OMG, this cake is annoyingly tasty.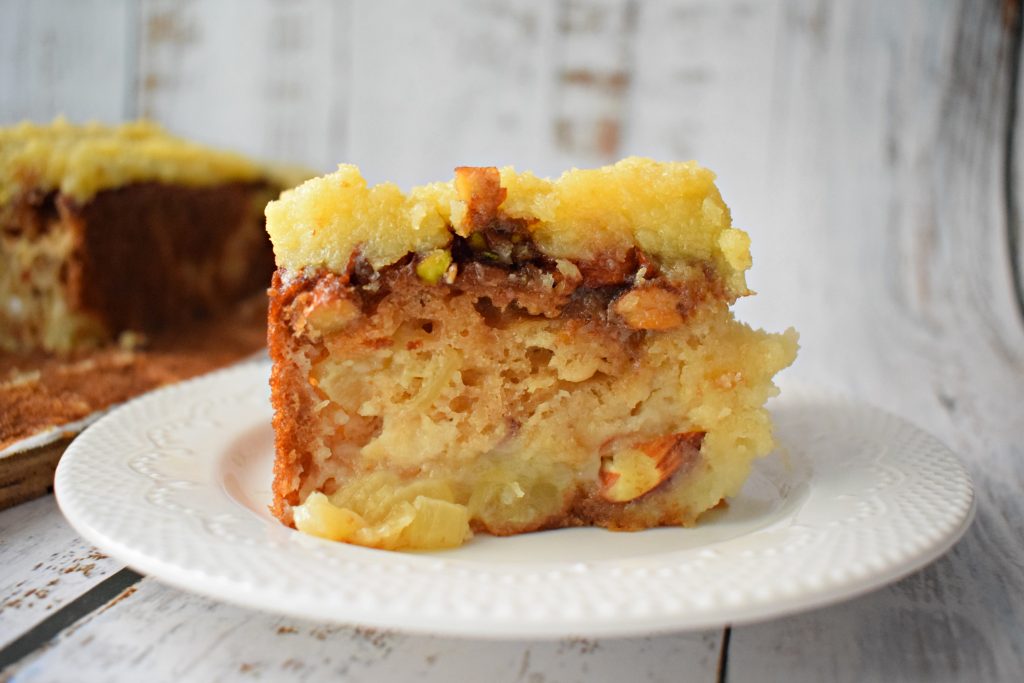 This coconut pineapple cake screams tropical flavours and each bite can literally transport you to a sunny and sandy beach. And yes please, I'd like some of that now. I can't nudge you enough to give this recipe a try. It's super fun to make, easy to put together and thoroughly yummy. If you check my Instagram highlights, you'll see that my two boys had a complete blast baking this cake with me.
Making a coconut pineapple cake:
This cake has 3 layers to it and still will take minimum effort and time to come together. The first layer is the sponge, that includes the pineapple. The second layer is a mix of nuts and this gives the cake such a lovely crunch. The top layer and my favourite part is the coconut icing. I could eat a bowl of it on its own. So good.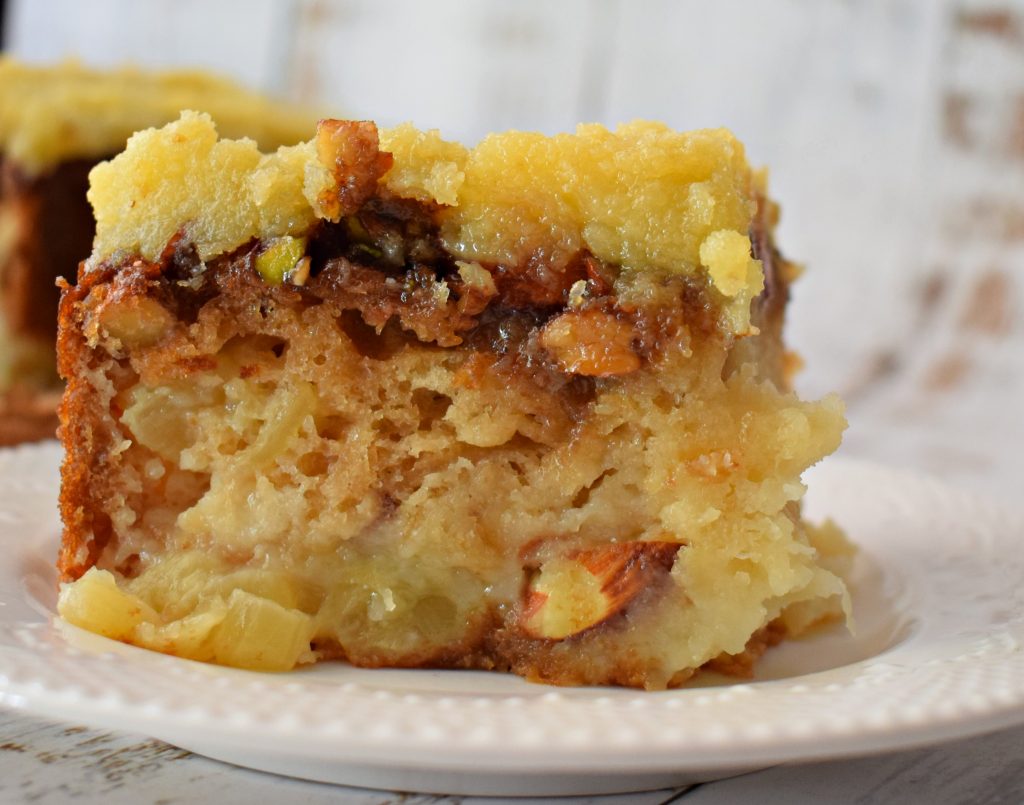 What fruits to use :
Although I've used tinned pineapple in this cake, you can also make this cake with other tinned fruits, like a fruit cocktail. You'll need to use tinned fruit as the cake batter is made using the tinned fruit syrup. I'd like to think that this is where the cake gets its moist texture from, apart from its sweetness.
Whatever fruit you are using, ensure you chop it finely. If the fruit is too chunky, the cake will crumble when you cut into it.
Also, if you like using coconut in desserts, check out my recipes for Lamingtons and Coconut truffles. I couldn't pick a favourite, I enjoy them both.
Coconut Pineapple Cake:
Ingredients:
For the cake :
1 can (800 gms ) pineapple (do not drain)
1/2 cup castor sugar
2 eggs
2 cups flour
2 tsp baking soda
2 tsp vanilla essence
For the nut topping:
1 cup roughly chopped nuts (mix of pistachios, almonds, cashew nuts)
1/4 cup brown sugar
For the coconut icing :
1 tsp vanilla
1/2 cup/1 stick/113 gms butter
1 cup desiccated coconut
1/4 cup condensed milk
2-4 tbsp milk
Start by lining a rectangular cake tin with butter and baking paper. Keep aside. Preheat the oven to 170 C.
Finely chop the tinned pineapple, reserving all the syrup.
In a large bowl, mix the chopped pineapple, the fruit syrup with all the ingredients for the cake.
Using a whisk, beat the ingredients together just until it comes together.
Pour into the prepared cake tin.
Mix the chopped nuts and brown sugar in a separate bowl. Sprinkle over the batter.
Bake in a preheated oven for 35- 40 minutes, or until a toothpick inserted in the centre of the cake comes out clean.
While the cake bakes, make the icing.
In a saucepan, mix all the ingredients for the icing, except the milk.
Heat on a low flame, until all the butter has melted.
Add 2 tbsp of the milk and stir well. Add the rest of the milk, until you have a paste of a spreadable consistency.
When the cake has baked, take it out the oven and while it still warm, add the coconut icing all over, spreading it over the cake using a spatula.
When the cake has completely cooled down, cut into squares and serve.