If you ever felt like an almond flour cake needed too much work and a bunch of unfamiliar ingredients, I've found a recipe that needs neither. A simple cake with just 6 ingredients which works as a lovely base that you can upgrade with toppings of your choice. Moist, delicate and incredibly delicious, I might just switch to almond cakes hereafter.
Almond Flour or Almond Meal?
First things first, almond flour isn't cheap. Neither is it quick to make, if you have to blanch those almonds yourself. Here are two options to choose from. Either order Almond flour online(I found plenty of options on Amazon) that's un-blanched, or make almond flour at home, using un-blanched almonds. You do not need to blend the almonds to a super fine powder, a roughly ground flour will do, and the few stray crunchy bits will add a nice bite to your cake. Remember these Low Carb Brownies? Almond Flour worked really well with those.
Jaggery, Honey, Sugar or Stevia?
You can go ahead with Stevia or a keto-friendly sweetener of your choice, if you want to keep the cake keto-friendly. I didn't and instead went ahead with powdered jaggery. It gave a good amount of sweetness to the cake and I didn't need to use too much either.
Nuts
I've used a mix of almonds, pistachios and cashews, simply because I had them at home. Use what you have lying around, a mix of nuts, or a favourite one of your choice. They add a great crunch to the cake and also a pleasant pop of colour.
Topping
I first topped this almond flour cake with an assortment of nuts, but you can also go with berries if you want to fancy it up. The cake by itself is free from dairy and you can stick to these toppings if you want to keep the cake that way. If not, go ahead with a topping of your choice. Whipped cream, ganache? you pick.
Follow me on Instagram for more updates.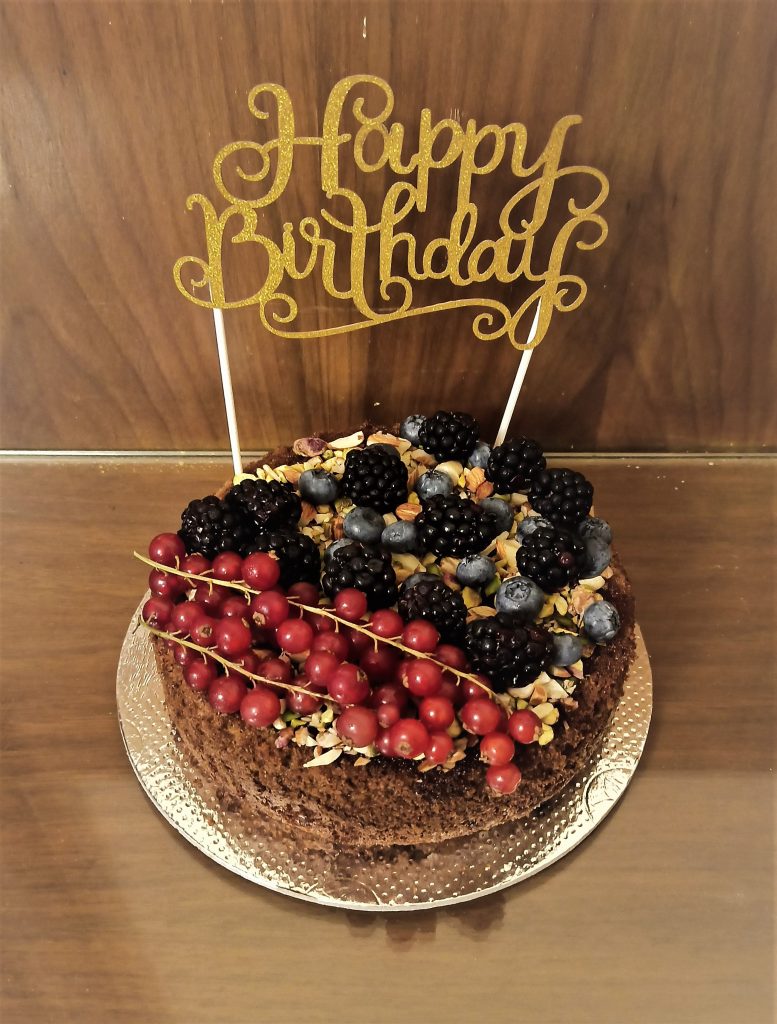 Almond Flour Cake
2 cups almond flour
1/2 cup jaggery powder
1 tsp baking powder
1/2 tsp baking soda
4 eggs
1/4 oil
1/4 cup mixed nuts, chopped
To decorate
1/2 chopped nuts
1 cup mixed berries

Grease an 8 inch cake tin and line with baking paper. Preheat the oven to 180 C
In a large bowl, mix the almond flour, baking powder, baking soda and jaggery. Mix using a whisk. Keep aside
In a separate bowl, mix the oil and eggs. Add to the flour mixture. Whisk to a smooth batter. Fold in the nuts.
Pour the batter into the prepared cake tin and bake for 35-40 minutes.
If you find that the top of the cake is browning too quickly, cover the top of the cake loosely with some foil paper.
To decorate the cake, let the cake cool down completely. Spread the berries and the nuts all over the top of the cake.