Move over cookies and brookies, cookie bars are the new best thing. These are insanely good and a perfect combination of cookie goodness and snack bar deliciousness. Needless to say, I couldn't stop at one. What makes them even more endearing is that they are super easy to make. Nothing fancy or laborious, just a regular batter that feels like dough and we're good to go.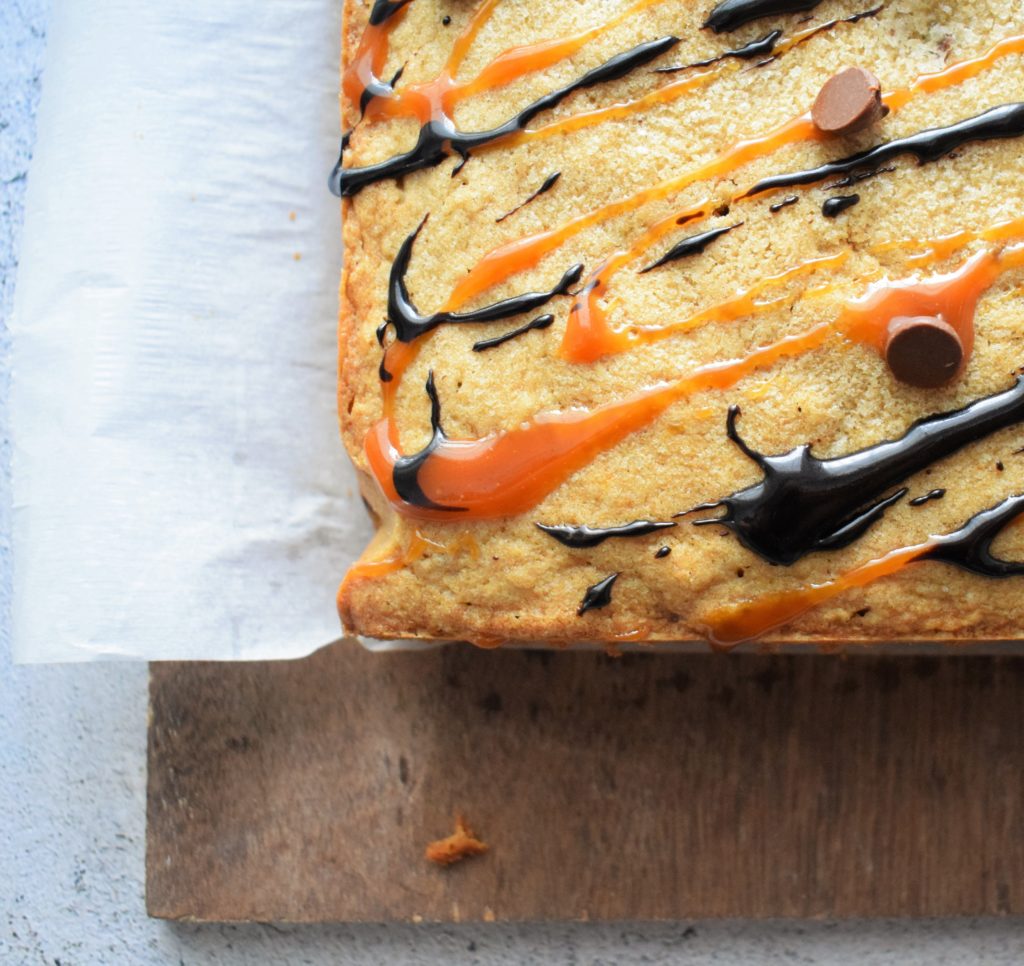 The best thing about these cookie bars is that they need just regular cake ingredients but there's some magic in the proportions used that give them an interesting texture and firmness while also being soft and pillowy. I topped them with some caramel sauce and ganache which definitely takes them up to a whole level of indulgence.
Other Tray Bakes
If you like the idea of traybakes, because they are so fuss-free, you'll surely love making these pumpkin caramel bars. And if you want to team that up with a love for baking with bananas, these Banana bars are the most delicious banana bars you'll ever bake. Of course, if you want to chuck all of that and try out brookies, I've got a fairly simple recipe for those too.
Chocolate Cookie Bars
300 gms butter
2 cups brown sugar
4 eggs
2 tsp vanilla
2 1/2 cups flour
1 tsp baking powder
1 cup chocolate chips
2 tbsp caramel sauce to drizzle on the top
Line a rectangular baking tin with baking paper, with some paper overhanging on the sides. This will make it easy to take out the bars later.
Preheat the oven to a 180 C.
In a large bowl, beat the butter and the brown sugar, with an electric cake beater, until the mixture is light and fluffy. This should take a good 5 minutes.
Then add the eggs, one by one, beating only until incorporated. Then, the vanilla.
Sift in the flour and baking powder. Mix on a low speed, until just combined.
Add the chocolate chips and fold in using a spatula.
Spoon the mixture into the prepared cake tin and spread it evenly using a spatula.
Bake in a preheated oven for 35-40 minutes or until a skewer inserted into the middle of the bake comes out clean
Let the cookie bars cool down completely before cutting them into smaller bars. You can drizzle a bit of caramel sauce, ganache or both on the top before serving.