This spiced oatmeal cake ticks off all the boxes for a memorable cake; easy to make, incredibly delicious and a great combination of flavours. A simple unassuming cake that you can bring together in minutes and it's pretty great on texture and taste.
This spiced oatmeal cake is different from the usual ones. For starters, it has partially cooked oats in the batter. A moist sponge delicately flavoured , topped with a lovely coconut and nutty topping, which although optional, I would recommend you should definitely include.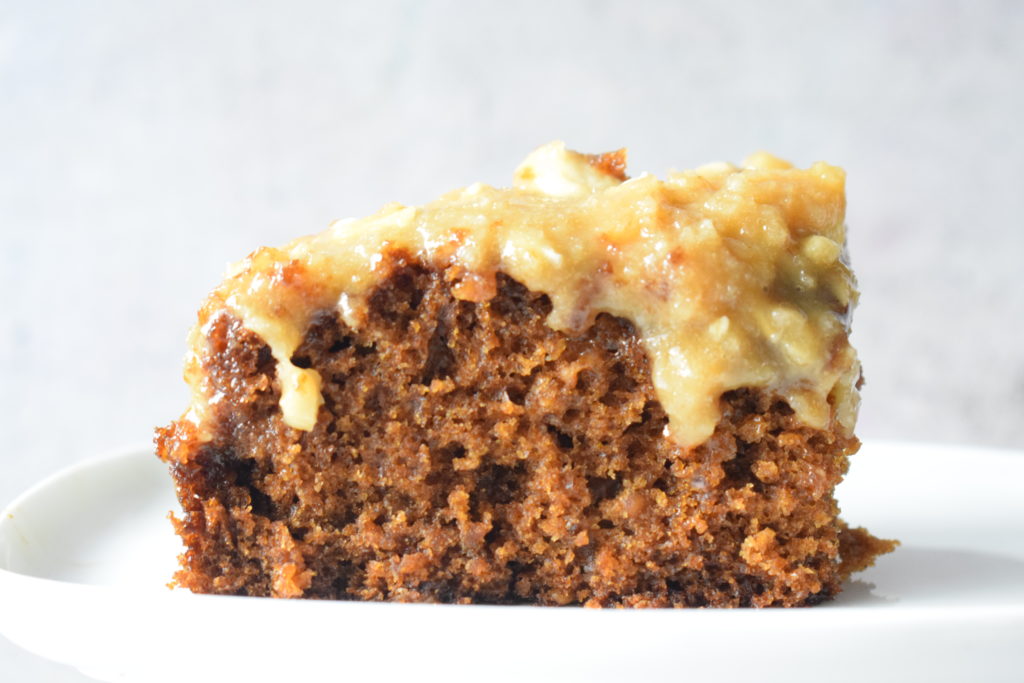 The topping in this cake reminded me of the Coconut Pineapple cake I posted earlier. Familiar tropical flavours that make a crunchy and moist cake.
Spiced Oatmeal Cake
For the cake:
1 1/2 cups boiling water
1/2 cup rolled oats
1/2 cup/113 gms /1 stick butter
1 cup brown sugar
1/2 cup castor sugar
2 eggs
2 tbsp treacle
1 tsp cinnamon
1 1/2 tsp baking soda
1/2 tsp nutmeg powder
1 1/4 cups flour
For the topping:
55 gms butter
1/2 cup brown sugar
1/2 cup cream
1/2 cup desiccated coconut
Begin by preheating the oven to a 180 C. Line a square baking dish with baking paper. Let the paper overhang on the sides of the cake. This will make it easier to take the cake out later.
In a small bowl, mix the oats and boiling water. Set aside.
In a large bowl, mix the butter and the sugars. Beat together using an electric cake beater until the mixture is pale and creamy.
Add the eggs one at a time and then the treacle. Mix well.
Add the nutmeg, cinnamon powder, baking soda and the flour in batches. Mix on low speed. Lastly add the oats mixture and combine using a spatula.
Pour the batter into the prepared cake tin and bake in a preheated oven at 180 C for 45-5o minutes or until a toothpick inserted into the center of the cake comes out clean.
Once done, leave the cake in the tin and allow the cake to cool down for at least an hour.
Make the topping by heating the butter, sugar and cream in a saucepan on a low flame. Once the sugar dissolves, add the desiccated coconut. Spread the topping over the cake and put back in a hot oven with the grill option on for 2-3 minutes. Do not let it burn
Let the topping and cake completely cool down before you take it out of the oven. Take the cake out of the tin by lifting it by the baking paper on the sides.
You can store the cake in an airtight box in the fridge for up to a week.