Call them banana bars, energy bars, post-workout snack, healthy bars or what pleases you, but these are simply amazing!!!! Not only are they crazy delicious, but these are also super easy to make. Apart from tossing the ingredients together and putting them into an oven, you don't really have much else to do.
I couldn't stop at 1 with these banana bars. Baking the bananas caramelizes them beyond tasty and the oats and choco chips add a fantastic crunch. I could make these every week!!! They also double up as a great treat in your snack box, kids and adults, both, just like these avocado brownies I posted a while ago.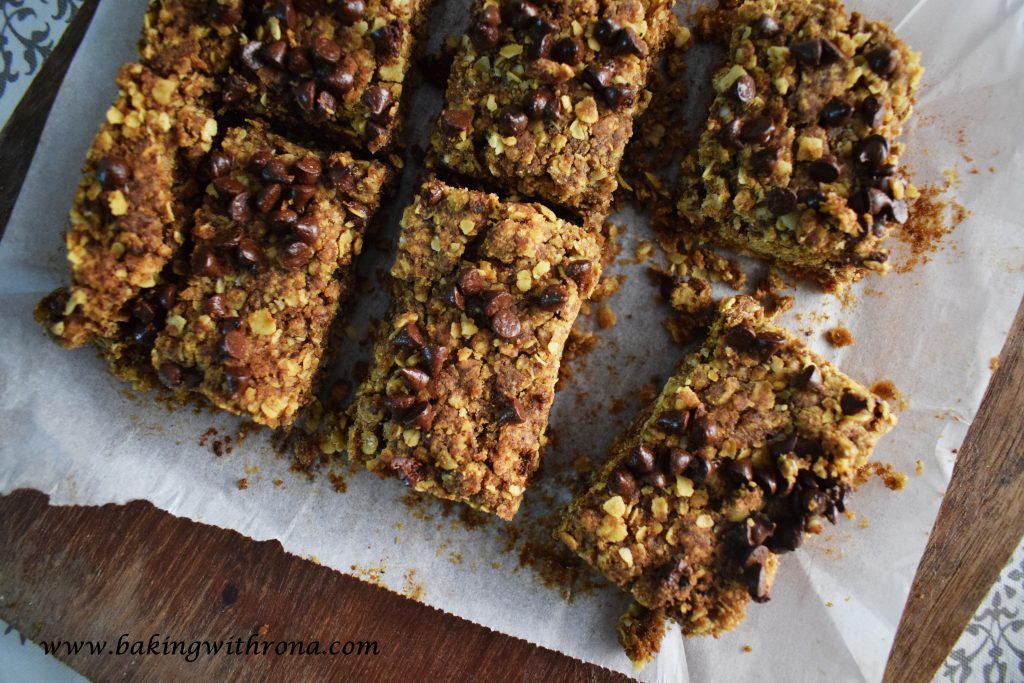 These banana bars require just 5 mins to put together and about 20 minutes in the oven. You then have little bites of heaven on your plate. I baked them in two rectangular pans that I had, but you could use a tray tin of any size or even a brownie pan.
If you like baking with fruits as much as I do, check out the recipe for these apple cinnamon muffins, they make just as great a snack. Leaving you with the recipe for these banana bars now. Thank me later.
Make sure you are following me on Instagram and on Facebook. See you there.
Happy Baking!!!!
Banana Bars :
Adapted from Mary Berry's recipe for Banana and Chocolate Chip Bars.
Ingredients:
80gms wheat flour
1/2 tsp baking soda
1/2 tsp baking powder
80 gms oats
80 gms brown sugar
100 gms butter
2 bananas ripe, slices
1/4 cup chocolate chips
Method:
Line a rectangular tray with grease paper. Preheat the oven to a 180 C
In a large bowl, measure the oats, flour, baking soda, baking powder and sugar.
Rub in the butter with your fingertips till the mix resembles coarse breadcrumbs.
Spread half the mixture over the base of the prepared tin. Then put a layer of the sliced bananas.
Top with the remaining crumb mixture. Press down with fingertips or using the back of a spoon. Sprinkle the chocolate chips all over.
Bake in the preheated oven for about 25 minutes, until golden brown.
Let it completely cool in the tin before you cut it into bars.