I love lemon cake because I love all things lemon. This cake is the easiest lemon loaf I ever made. A one-bowl cake, that needed me to just toss all the ingredients together and beat in one go. Approximately took me 7 mins to get the batter ready. To a mommy of two smallies, recipes like these are a treasure.
If you love baking with lemon, you should definitely try this Orange and Lemon cake l I posted years ago on my previous blog. And if you're up for baking a lemon bundt, this recipe is the easiest I've tried. Baking simple loaves is your thing? Then give this semolina and yoghurt cake a try
To make this lemon loaf, I added a good amount of lemon juice, although the real flavour of lemon in this cake, comes from its icing. I would call it more of a glaze than an icing. The icing requires only 2 ingredients, lemon juice and icing sugar. TADAAA!!! . See I told you, this was the easiest loaf I ever made.
This cake is perfect as a loaf, but you can also bake it in a rectangular or square tin too. Just adjust the baking duration accordingly and you're good. I skipped adding lemon zest to the batter. Although it gives extra flavour to the cake, many people don't enjoy biting into zest while biting into the cake.
Serve this cake while it's still bit warm and there's nothing you'd enjoy better with your evening cup of tea. Happy Baking!!!!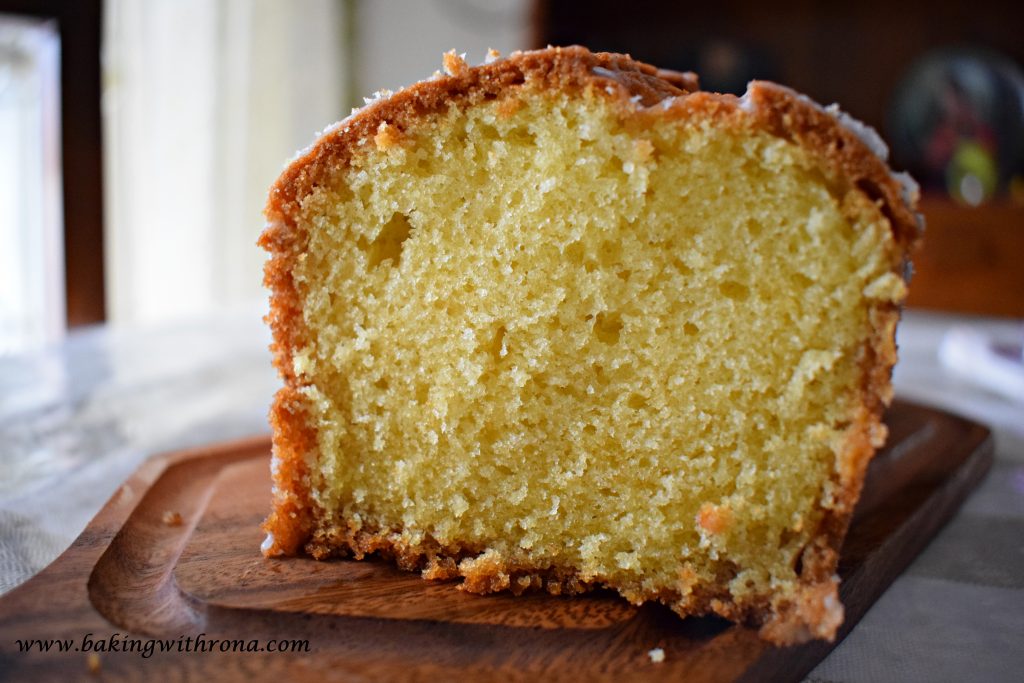 Lemon Cake
Ingredients:
For the cake:
2 sticks /1 cup/225 gms butter, softened
150gms castor sugar
275 gms flour
2 tsp baking powder
1/2 tsp baking soda
4 large eggs
4 tbsp milk
Juice of 2 lemons
For the icing
Juice of 2 limes
3/4 cup icing sugar
Method:
Preheat the oven to 180 C.
Grease a large loaf tin with butter and line it with parchment paper. Let the sides overhang a bit, so when the cake is done, you can lift the loaf out with ease.
Measure all the ingredients for the cake and add to a large bowl.
Using a cake beater or a whisk, beat all the ingredients together till it forms a smooth batter.
Pour into the prepared cake tin and let the cake bake for about 45-50 minutes.
The loaf is done when a toothpick inserted in the centre of the cake comes out clean or with dry crumbs.
While the loaf cools, making the icing. Simply mix the lemon juice and the icing sugar till it forms a runny syrup. Pour over the cake, while the cake is still in the tin.
When the cake has cooled down a bit, lift it out of the tin and cut into slices.