Brownie cookies or Brookies solve unique problems. Can't decide between a brownie or a cookie? Don't. I got you, these are both. These Brownie cookies trump every other cookie I've ever made, ever ever ever. They are cookies that feel like brownies.
Trust me, in my great quest to find the perfect half chewy half fudgy, slightly crisp cookies that bake into a perfect circle I've tried a gaziliion cookie recipes. So when I say, these are the best ever, they really are. Perfect circles, a match of chewy insides, crispy tops and fudgy centres, these are a dream.
It's time we saw a cookie recipe here. I have a confession to make though, I've not always had great luck with cookies. When I do get them right, I post them almost immediately after my little victory dance. Out of the cookies I've tried, the ones I'm most proud of are these Eggless peanut butter cookies, these Chunky chocolate cookies and these healthy-ish Oatmeal Peanut butter cookies.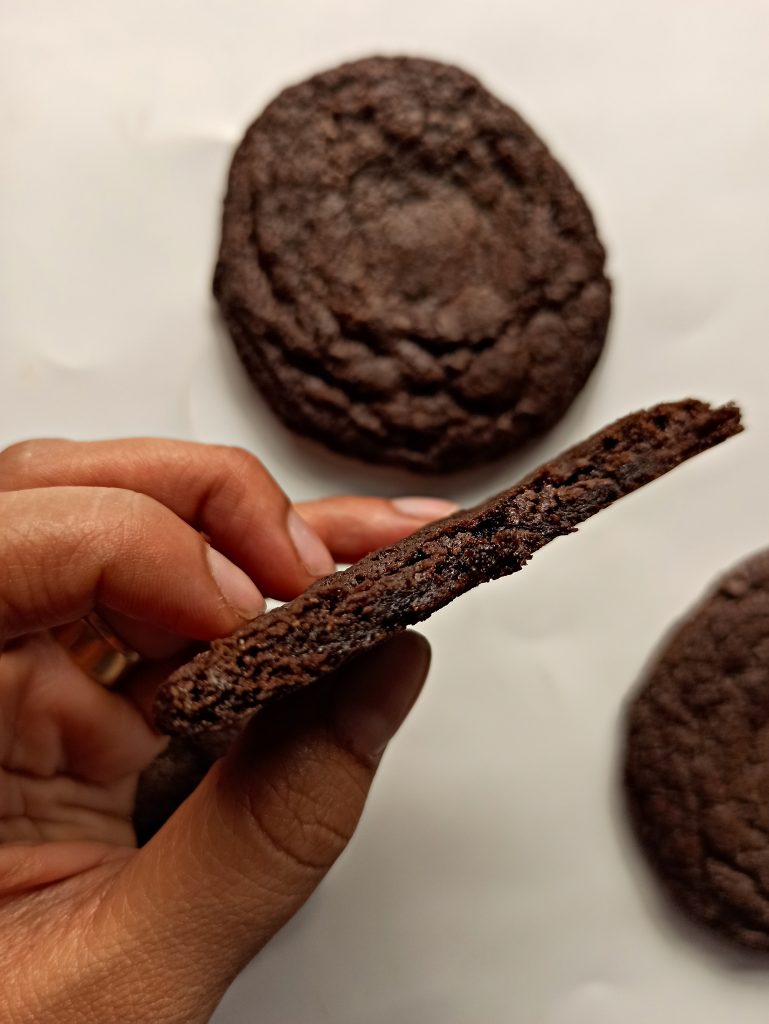 Ingredients for these Brownie Cookies.
Interestingly these brookies use two sugars; brown and castor sugar. The brown sugar gives them that slightly nutty flavour and also makes them chewy. Next, the chocolate. I used milk chocolate for these, but you can use dark chocolate too. The rest is butter, flour, vanilla and cocoa powder.
How to make these brownie cookies.
To make these brookies, the most important and the only bit that needs a bit of effort is mixing the egg and the sugars. Trust me, the rest is supremely easy, The first step is to beat the egg and sugars together until the mixture turns pale and creamy. I used a cake beater to do this, but you could also use a wooden spoon or a whisk.
Everything else will literally take a couple of minutes. However, the brookie dough will need some time in the fridge to firm up. Once firm, you can use an ice cream scoop to make the brownie cookies or roll them out with your hands. Bake them for less than 15 minutes and they are ready to rock and roll.
You don't need more convincing to make these, so please just get on with these.
Brownie Cookies : Brookies
Ingredients:
1/2 cup chopped chocolate
1/4 cup /55 gms butter
1/4 cup brown sugar
1/4 cup white sugar
1 egg
1 tsp vanilla
1/2 cup flour
2 tbsp cocoa powder
1/2 tsp baking powder.
Roughly chop the butter and the chocolate. Place both in a microwave-safe bowl. Melt the two in a microwave, heating it first for 30 seconds followed by 20 seconds and stirring the mixture in between.
Make sure the butter and chocolate have melted completely and you have a smooth mixture. Set aside.
In a separate bowl, mix the sugars and the egg. Using a handheld mixer or a wooden spoon/whisk, beat the egg and sugars together until the mixture turns pale and creamy, beating the mixture for about 4-5 minutes.
Add in the vanilla and the butter-chocolate mixture. Mix using a spatula.
To this sift in the flour, cocoa and baking powder. Fold it in until it is just mixed.
Refrigerate the dough for 30 minutes.
Preheat you own to 180 C and line a baking tray with baking paper.
Take the dough out of the fridge after 30 minutes.
Using a small ice cream scoop, place a heap full of dough for each brookie, placing each far apart, because these cookies spread quite a bit.
You can shape each heap of dough into a ball, or leave the dough as it is.
If you don't have an ice cream scoop, place a heap full of dough using two tablespoons.
Put the brookies to bake in a preheated oven for 12-13 minutes at 180C
At the end of 12 minutes, take the tray out of the oven. Leave the cookies on the baking sheet, they will still be soft and will firm up as they cool.
Repeat the baking with the rest of the dough.