I loved making these peanut butter cookies. Not only were they eggless, but they were also made with whole wheat. The cookie mania is real. I've been obsessed with trying out different batches of cookies every other day. With two toddlers on hand, one who is a seasoned cookie eater and the other a beginner who was gifted his first two teeth for Christmas just months ago, cookies seem to be a convenient snack for those occasional days. As a mother, I'd definitely want my children to snack only on fruits and healthier options, but being a real mom, I also want them to enjoy treats every now and then and I surely don't mind when they've been made at home.
The nicest part of these cookies is how simple the dough was to make. No beater butter and adding eggs and sifting flour, these were all about measure your ingredients, beat them together and then roll into cookies. Tada!!!!! My favourite kind then. As much as I love baking. I really am not a big fan of laborious baking procedures. Remember easy and simple does it, and more so if you have two smallies around. It took about 7 minutes to get the dough together and 12 minutes to roll them out and bake them. So that's about 20 mins and that's almost exactly how much time moms of toddlers have.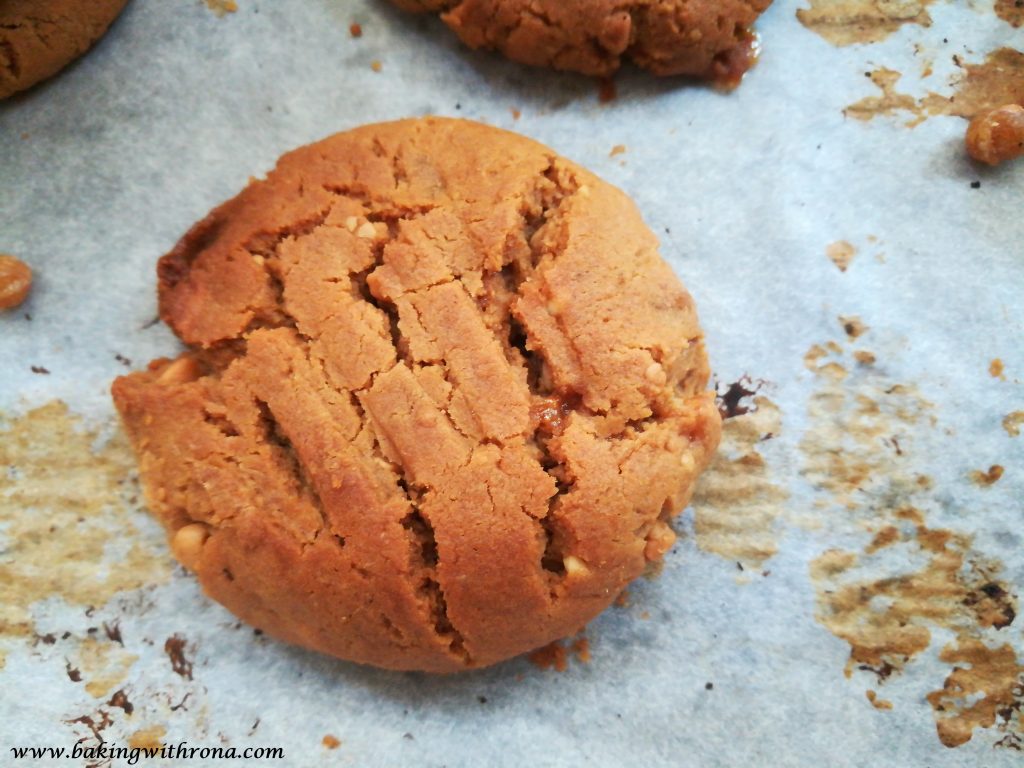 This recipe was also perfect for the day because it let me bake with my two year old around. He has recently discovered the joy of spinning around a cake beater in his hand and I'm more than willing to let him have that thrill. One of my earliest memories of baking is helping mum beat the butter for her sponge cake. Although we didn't have one of those electric beaters, considering how rarely available they were back then, I still enjoyed beating the butter with a wooden spoon with great earnestness. Making batters seemed magical to me, so I'm eager to let my two year old make countertop memories like this one.
Now, on which peanut butter to use; Crunchy or creamy. I almost always go with crunchy. It adds some extra texture, crunch and just seems more inviting. I also added some extra crunch to these cookies by adding a good portion of butterscotch chips. In retrospect, I'm glad I did. Turned out to be a great combination. You could also try white chocolate chips, I'm pretty sure those will be a great decision too. I must insist, the best part about these cookies; they are made with whole wheat. Don't they sound perfect already? And if you have dietary restrictions, these are eggless too. Couldn't be more convenient then, could they?
Texture wise, these are more crisp than fudgy with a little bit of chewy in them. Would you like to give this recipe a go?
Eggless Peanut Butter Cookies
Ingredients:
1/2 cup crunchy peanut butter
1/4 cup sugar
2 tbsp honey
2 tbsp milk
1 tbsp vanilla essence
1/4 cup whole wheat flour
1/4 tsp baking soda
1/3 cup butterscotch cookies
Method:
1. This recipe has very little prep to do, so you can get that done and start on the dough. Preheat the oven to 170 C and line a baking tray with parchment paper. Keep aside.
2. Measure out your ingredients one by one and add them to a large bowl. I started off with the peanut butter, then added my sugar, followed by the honey, milk and vanilla essence. 1 tbsp of essence might seem like quite a bit, but I do feel vanilla makes everything better in baking. Add the flour and baking soda and toss in the butterscotch chips.
3. If you aren't a big fan of butterscotch, feel free to skip them, the crunchy peanut butter will keep the cookies crunchy anyway.
4. Once you have all your ingredients measured, using an electric beater, beat them together for about 2 – 3 minutes, or till they resemble crumbs. Don't worry about not getting the dough together yet. It definitely won't look a conventional cookie dough.
5. Turn off the beater, pick handfuls of crumbs and roll them into little cookies and place them on the baking mat. The dough won't be sticky, so it's easy to shape these. Use a fork and press down on the cookie slightly on the top.
6. Make sure to place the cookies a little apart on the mat, to give them space to spread a little while they bake.
7. Bake the cookies in the preheated oven for about 12 minutes. They will look a bit cracked on top and feel a bit crisp to touch. They might look a bit undone but they actually are baked. Let them cool completely before you move them out of the tray. because they might break if you try to move them while they are still warm. The cookies will firm up as they cool down.