There's something so charming about having cake at tea time. Although I'm a "tea"totaller, I love tea time with all my conviction. Freshly brewed tea sitting in a kettle, warm cake slices lying beside, and a good conversation to accompany, sound like an evening well spent.
My conversations at tea time on most evenings are with my 2-year-old. We mostly talk about what I made him that evening, what cars people are driving and who the president of the United States is and where he lives. He also wants to know when Santa Claus's birthday is and where his parents live. Thank god for google and smartphones, I usually can carry on some conversation with this curious little bunny.
I didn't think twice about trying this Walnut Cake recipe simply because it was a perfect tea time cake. It was a quick toss and beat together method to make the batter and a quick look at the ingredients, I realised I had everything already sitting in my pantry. I absolutely love Mary Berry and have adapted this recipe from her Ultimate Cake Book.
My lil man Zi, has recently developed a love for baking. I might be largely responsible for that. Well, children ape what they see and my little one watches me bake a lot. I measure, he tosses, he beats, I fold. It makes me happy that we are making memories together, and many around food. I treasure these times already and hopefully, he will, in time.
Baking with kids does involve a little more mess and cleaning but that pales in comparison to the smile and innocent joy it brings my little boy. Cracking the eggs for a cake is his favourite part.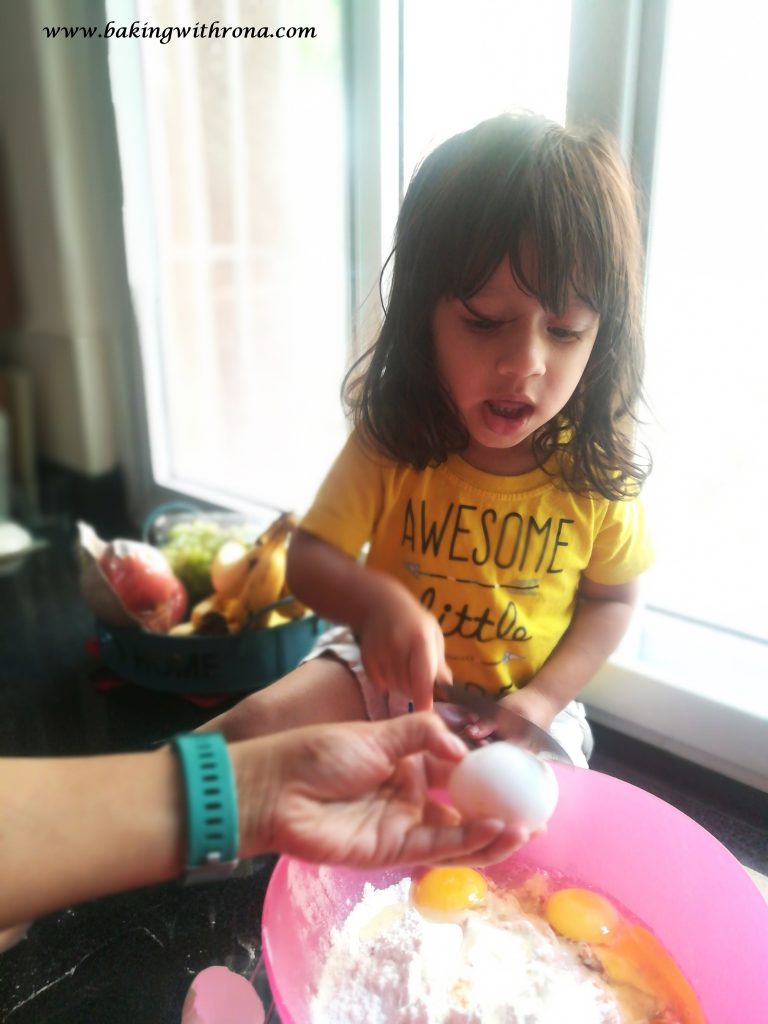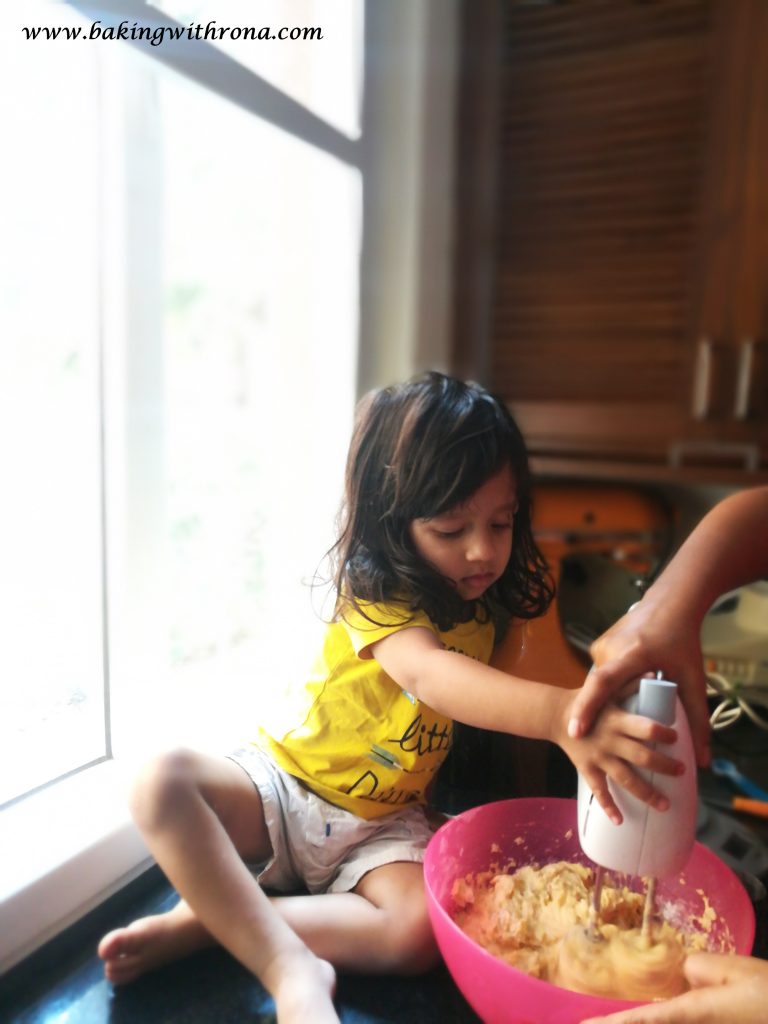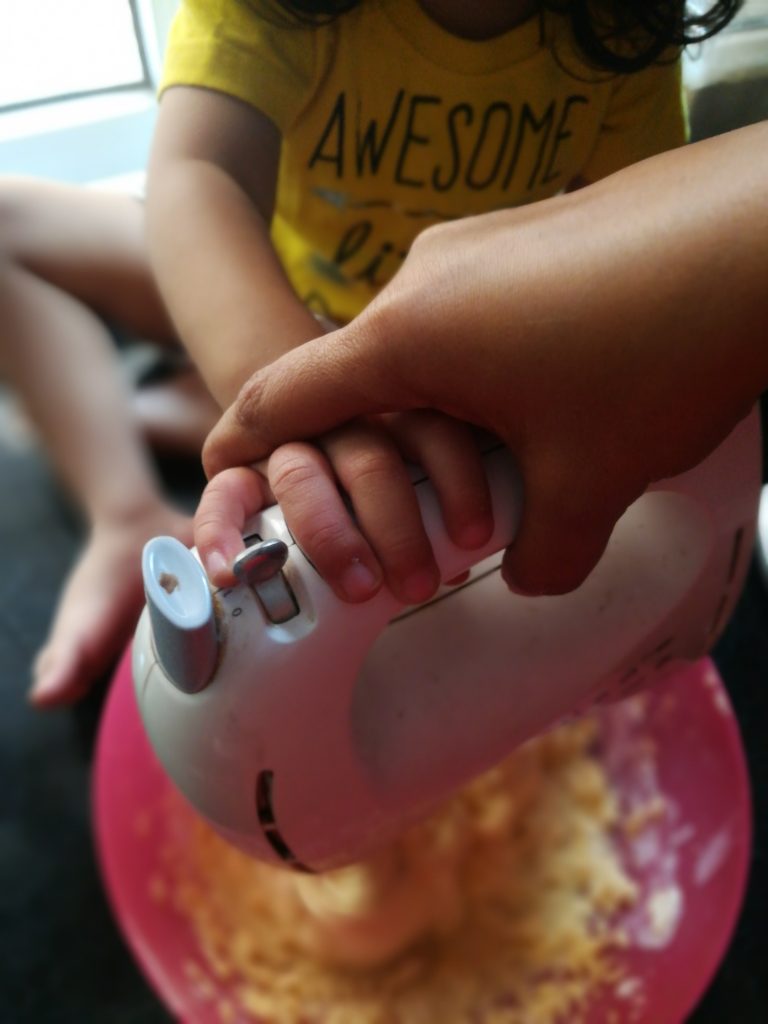 Everyday is a perfect day to bake this lovely, moist and buttery cake. I'd love to hear how this turned out for you. Leave me a comment below.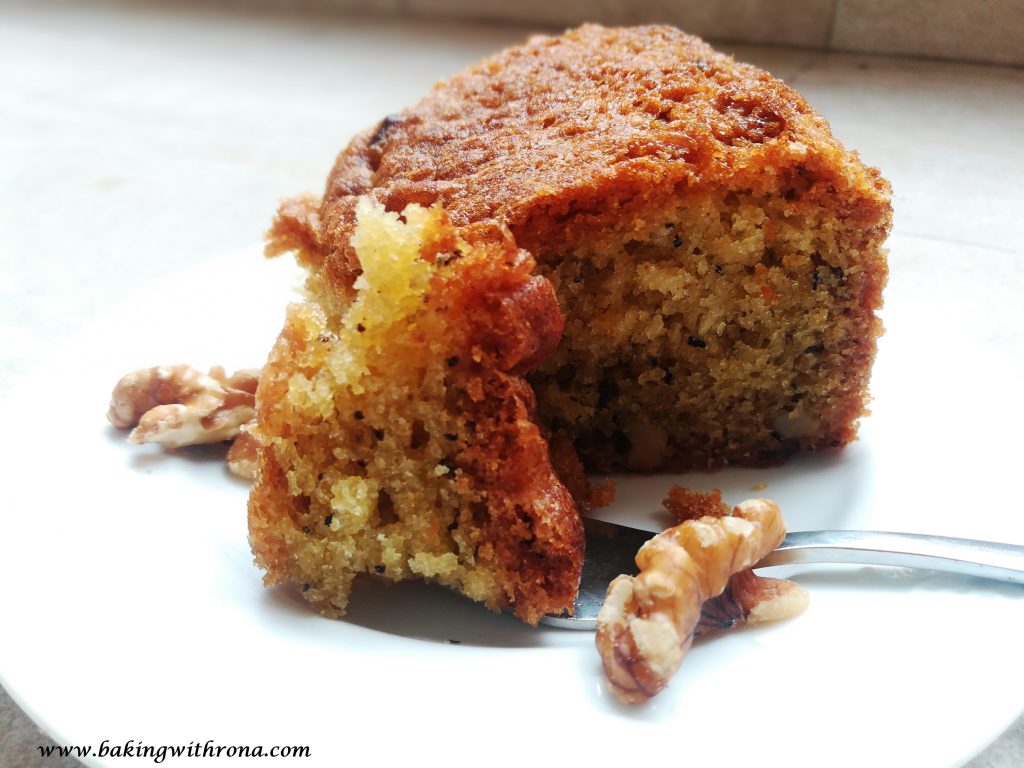 Walnut Cake :
Ingredients:
225 gms/ 1 cup/2 sticks butter
225 gms/ 1 cup sugar
4 eggs
2 cups  flour
3 tsps baking powder
1 ts baking soda
1/2 cup walnuts, roughly chopped.
Method :
1. Preheat the oven to a 170 C. Grease and line a 9 inch round cake tin. Keep aside.
2. Measure out the butter and add to a large bowl. Since you won't be beating the butter separately, it's important the butter is soft and at room temperature. If it isn't and you're running out of time, like I often am, defrost it in the microwave in 10 seconds spurts at first, and then 5. Although it should only soften, not melt.
2. Measure out the sugar and add to the bowl. Then crack in the eggs. One of those rare recipes where you don't have to add them one at a time.
3. Hold a sieve over the large bowl and add in the measured flour, baking powder and baking soda. Sift it in.
4. Toss in the walnuts.
5. With your electric beater on medium speed, beat the ingredients together till you have a well blended batter.
6. Pour the batter into the prepared tin and bake for about 50 – 55 minutes.
7. The cake is done when you insert a toothpick into the centre of the cake and it comes out clean or with dry crumbs.
8. Let the cake completely cool down before you slice it.