Strawberries are in season and this gets me very excited thinking of all the bakes and treats I can make with them. Strawberries are great for dessert and add such a pop of colour to anything you add them to. This loaf is not just my first strawberry bake of the season but also my first bake of the year. Yeah, it's been a busy few weeks. But this Strawberry and cream cheese loaf is just perfect to kickstart the recipes for the year.
Although I've used cream cheese a lot in my baking, it's usually been in the icing or for cheesecakes. This one however uses cream cheese in the batter. I'm convinced this is a good decision because this loaf ended up with a "melt in your mouth" texture. Absolutely divine!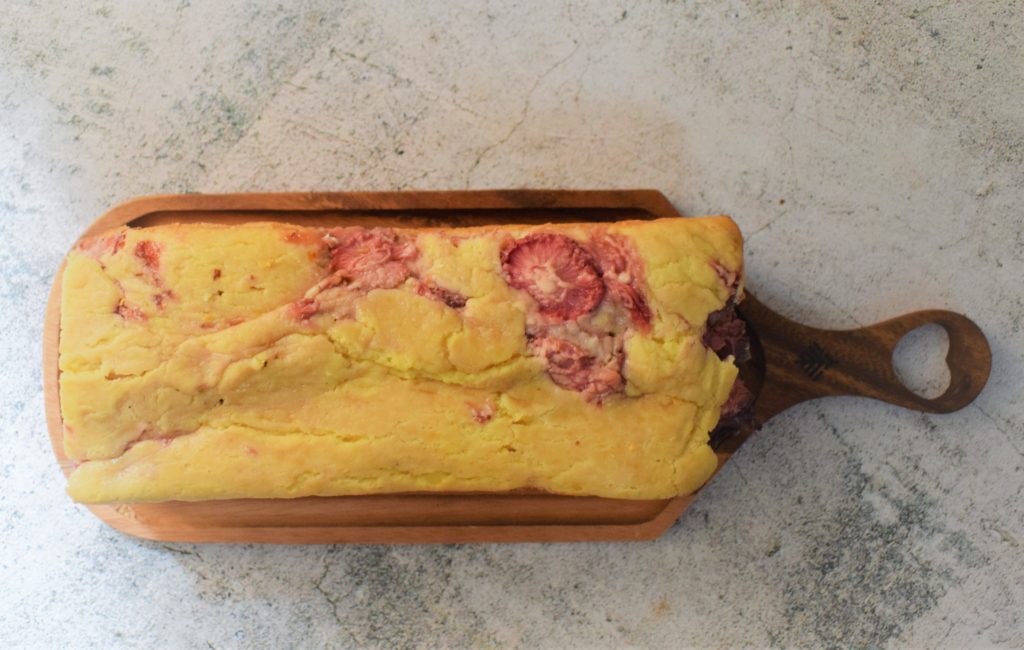 Using Strawberries
I've used strawberries in this recipe because they are in season. If you can't find any, where you live or are not a fan of strawberries, you can also use blueberries or skip the fruit altogether. I've cooked the strawberries first with some sugar to make them mushy and more like a filling. I think they'd be a bit too tart if used directly.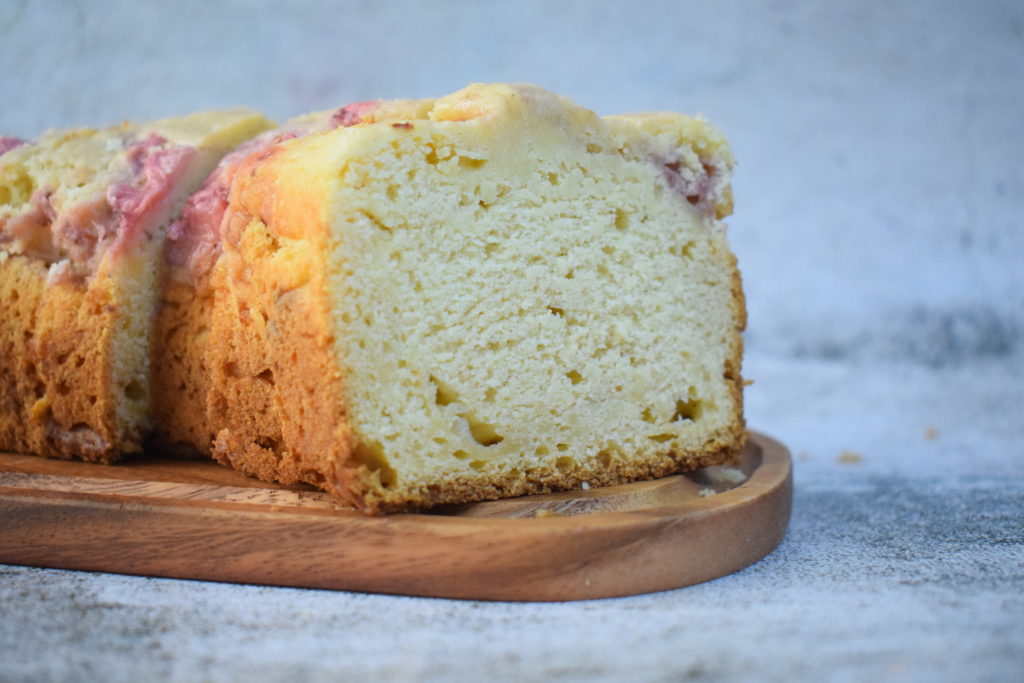 Strawberry and Cream Cheese Loaf
200 gms strawberries, sliced
1 tbsp sugar
For the cake
1 3/4 cups flour
1 tsp baking powder
1/2 tsp baking soda
110 gms/1 stick butter
1 cup cream cheese
1/2 cup sugar
2 eggs
1/4 cup milk
1 tsp vanilla
First, put the sliced strawberries, sugar and a tbsp of water in a saucepan. Let the strawberries cook for about 5-7 minutes on a low flame or until they are soft and mushy. Leave aside to cool.
Grease and line a large loaf tin with butter and baking paper. Make sure the baking paper overhangs on the sides of the tin. This will make it easier to take the cake out of the tin.
Preheat the oven to 180 C.
In a small bowl, measure and mix the flour, baking soda and baking powder. Keep aside.
In a large bowl, using an electric beater, beat the butter, cream cheese and sugar until light and fluffy. Then add the eggs and vanilla. Mix until incorporated.
In batches, add the milk and flour mixture, starting and ending with the flour. Whisk until just mixed. You'll end up with a rather thick and sticky batter.
Spoon half the batter into the prepared loaf tin. Spread the cooked and cooled strawberry mixture over the batter. Avoid spreading them to the edges, as the sugar syrup can stick to the pan when it bakes.
Spoon the rest of the batter over the strawberries, making sure to cover all sides.
Bake in a preheated oven at 180 C for 40-45 minutes.
Ensure the loaf has completely cooled down before slicing into it.