Not a fan of the Traditional fruit cake? Are you an insane chocolate lover? Do you wish you could enjoy fruit cake with chocolate in it? I got you. Here is the fruit cake recipe every chocolate and Christmas lover needs, so that's everybody then. This Chocolate Fruit Cake is speckled with fruits, chocolate and tonnes of festive spirit.
Moist, almost gooey, rich and instant, it's hard to improve perfection. Yes, it's got a couple of tricky ingredients, like prunes and mixed spice but the good thing is, although they enhance the texture and flavour, you won't taste them. So it's kind of a win-win situation.
Making this Chocolate Fruit Cake:
Given that this cake is beyond delicious and has the air of a fruit cake, you might assume it needs a lot of work. But in all honesty, beyond chopping the prunes with a pair of scissors, this cake has no demands on your effort or time. You can be sure of that, because as much as I love baking, I instantly turn down a recipe that is laborious and time consuming, simply because I don't have as much time as that recipe would demand.
Ingredients for this Chocolate Fruit Cake
Beyond the prunes, this cake also uses a fairly good amount of raisins, another reason why this cake is so moist and squidgy. Some fresh orange juice and zest add in great aroma. An interesting sweetener in this cake is honey. Even though the cake uses a bit of sugar, the sweetness mostly comes from the honey. And what's a fruit cake without any spices. I've stuck to my usual suspects; a dash of cinnamon and nutmeg. I've used dark rum to give this cake a festive kick (no pun intended) and the rest are usual baking ingredients. Like the Apricot Almond Cake, this cake goes from ingredients to Rich fruit Cake in a few hours, so you don't need to soak fruits in rum or feed the cake any alcohol later. Let's get started.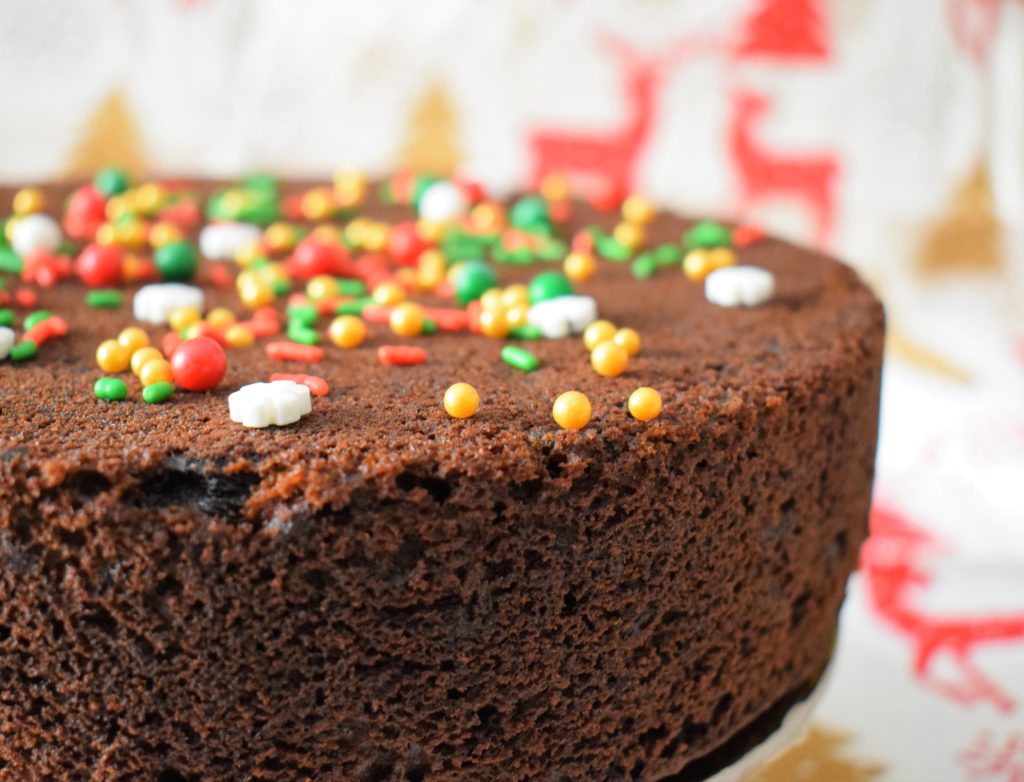 Chocolate Fruit Cake
(Inspired by Nigella Lawson's Easy Fruit Cake)
Ingredients
3/4 cup brown sugar
100 gms raisins
175 gms butter
350 gms prunes
juice and zest of 1 orange
2 tbsp cocoa
1/4 cup rum
1/2 cup honey
1 tsp instant coffee powder
1/2 tsp cinnamon powder
1/2 tsp nutmeg powder
3 eggs
1 cup flour
1/2 cup almond flour
1/2 tsp baking powder
1/2 tsp baking soda
In a large saucepan, mix the sugar, raisins, chopped prunes, butter, juice and zest of the orange, cocoa powder, rum, honey, the spice and cocoa powders. Simmer on a medium heat, stirring until all the butter has melted and the sugar has dissolved. Then take off the heat and leave to cool for about 30 minutes.
While the fruit mixture cools, grease a 9 inch cake tin with butter. Line the bottom of the tin with a double layer of baking paper and the sides with the baking paper a couple of inches taller than the sides of the tin.
Preheat the oven to 150 C. When the fruit mixture has cooled down, add the almond and regular flours, baking powder and baking soda. Stir well until combined using a wooden spoon or spatula. Lastly add the eggs. Mix until just combined.
Spoon the mixture into the prepared cake tin and bake for about 1 hr 45 minutes to 2 hours. After the first hour of baking, if you find the top of the cake browning too quickly, cover loosely with a tent of aluminum foil.
If you insert a toothpick at the end of 2 hrs, it might still be a bit gooey in the centre but the top of the cake will be firm.
The cake will take a while to cool down, while it continues to cook. Leave it to cool down completely on a wire rack before you take it out of the tin.
You can store the cake, completely cooled, wrapped in cling film and a sheet of aluminum foil.