Ok darlings, I've got a phenomenal, one in a million kind of recipe for you here. I love my fruit cake , no doubt about it, but I also love the idea of making a fruit cake that skips the time involved in making a good one. This Almond Apricot Cake is unbelievably moist, filled with fruit in every bite and it's hard to tell where the flour ends and the fruit begins. But even that isn't the best part about this cake. What I love the most about this cake is that it transforms from ingredients to a moist rich fruit cake in just a few hours.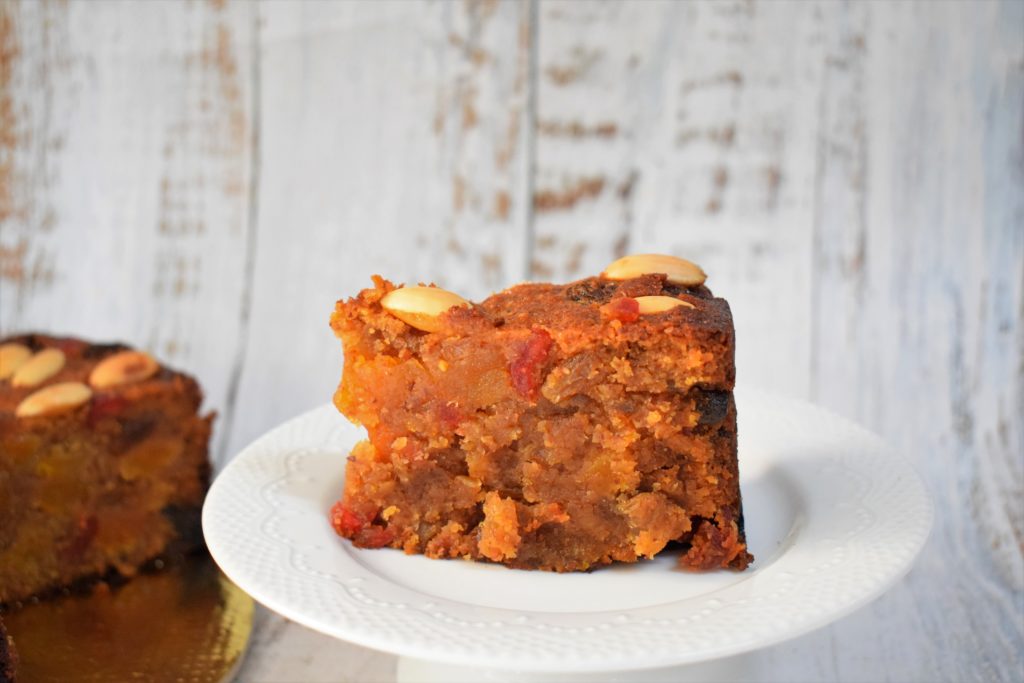 Why we love this Almond Apricot Cake
This cake needs no soaking fruits weeks in advance or pouring any rum after. No beating butter or baking for 3 hours either. Don't get me wrong, I still love my fruit cake with all my heart, but I feel comforted knowing I have a recipe to bank on for last minute Christmas cake demands.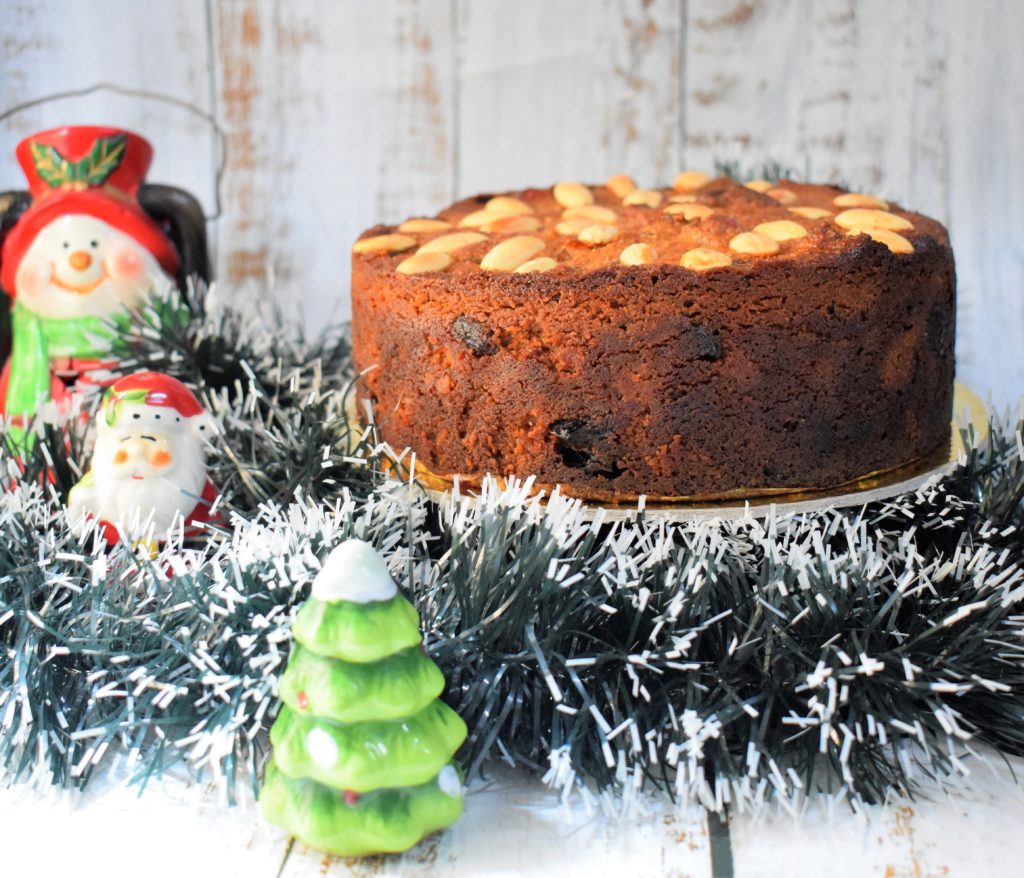 And I must say, this cake is an absolute treat to all the senses. Not only festive in every bite but a gorgeous sight to behold, I doubt I've seen a prettier cake. I couldn't stop clicking pictures of it, because it looked beautiful in every shot and I'm still convinced that my pictures don't do justice to it's beauty so you'll have to trust me. I wouldn't lead you astray, would I?
Ingredients For This Cake
If I haven't mentioned yet, this cake is flourless. It uses only almond flour. You can make almond flour at home by pulsing un-blanched almonds in food processor or buy almond flour made from un-blanched almonds. You'll need a bit of white rum. I've used Bacardi, and if you have any other favourites, it should work just as well. You'll need a portion of dried apricots and it is best to cut them into smaller pieces using a scissors. This will be helpful when you cut into the cake to cut clean pieces that wont crumble from oversized chunks of fruit.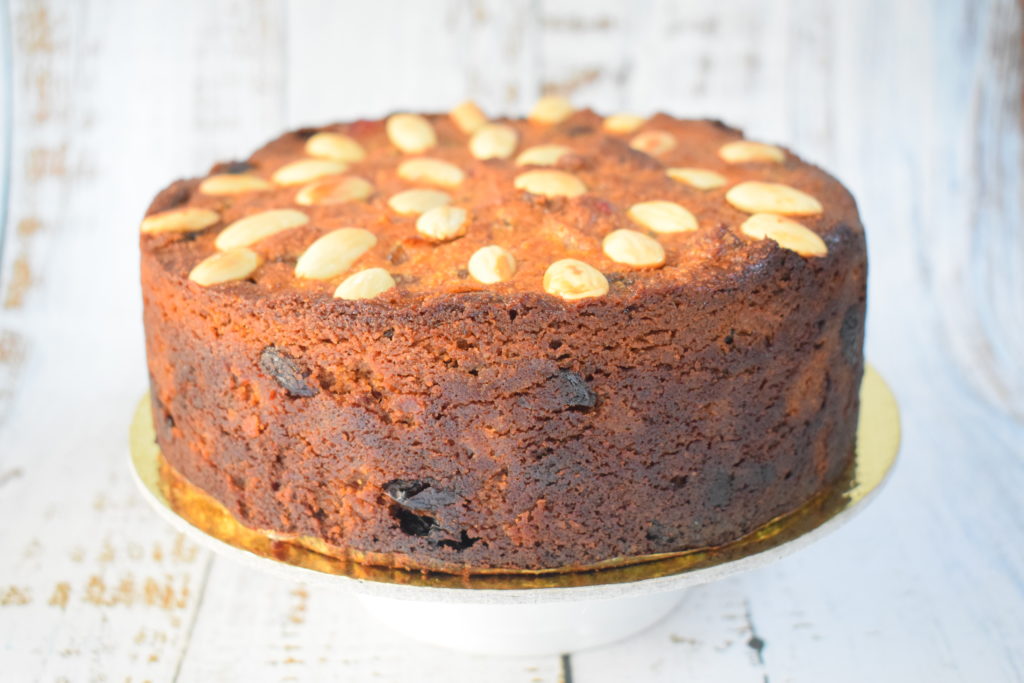 A completely optional step in this cake is to stud the top of the cake with whole almonds before baking. Just a few extra minutes spent on this but it gives the cake an instant upgrade. To blanch almonds, drop almonds with the skin on in a bowl of boiling water and leave aside for 10 minutes. Then simply peel the skin off the almonds by slipping each almond between your fingers.
Baking this Apricot Almond Cake
It's a sticky cake, so make sure to bake in a tin that is lined with butter paper. Line the sides of the tin as well with butter paper, that extends above the sides of the tin by a couple of inches as you see in the picture below. I've baked this in an 8 inch cake tin and this gives the cake a nice tall look but you can also bake it in a 9 inch round tin.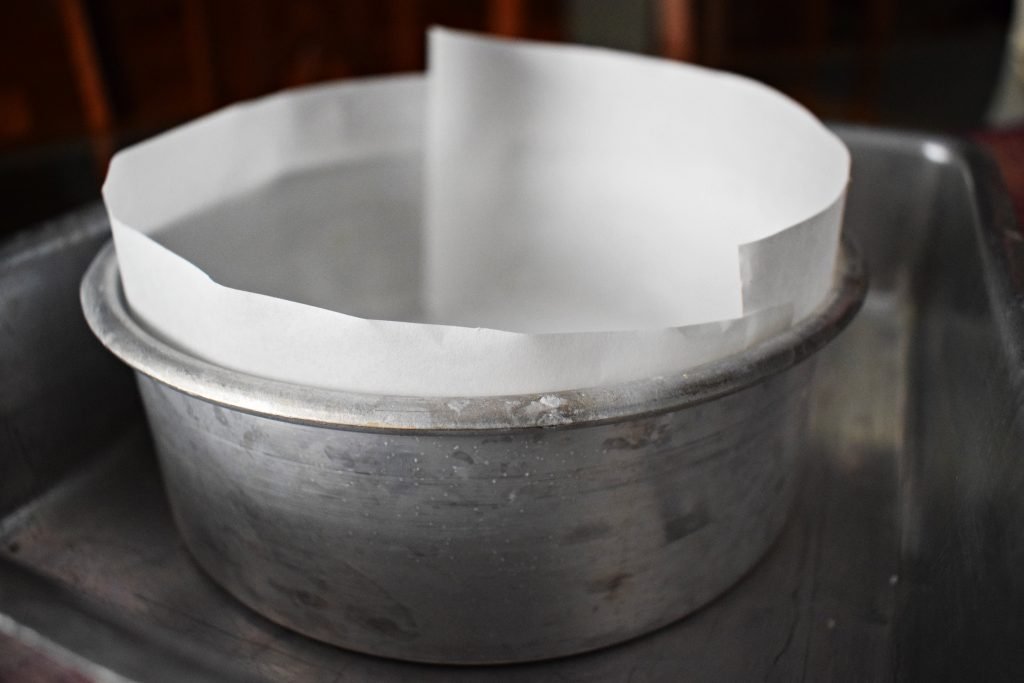 Also the fruits need to be cooked in a mixture first and it's important to let this mixture cool before adding the other ingredients. So begin with heating the fruit mixture and while it cools you can get the rest of the ingredients ready. Also once the cake is baked, it stays warm for quite some time, so you will need to hold on to your patience to cut this cake. I found it best to bake it at night and let it cool overnight, then take it out of the tin and cut into slices.
Almond Apricot Cake
Inspired by Nigella's Gorgeously Golden Fruit Cake
Ingredients:
1/2 cup sugar
200 gms dried apricots
100 gms cherries
250 gms raisins
175 gms butter
3/4 cup marmalade
1/2 cup white rum (I've used Bacardi)
1 3/4 cup almond flour
1/2 tsp cinnamon powder
3 eggs
For the topping
30 blanched almonds
In a large saucepan, mix the chopped apricots and cherries, whole raisins, sugar, butter, marmalade and rum. Simmer on a low flame, stirring gently, until the butter has all melted and the sugar dissolved. Take it off the heat. Let it cool while you get other things ready.
Line an 8 inch round cake tin with a double layer of butter paper on the base. Make a collar for the cake tin with a longer strip of baking paper that goes around the sides of the tin inside. This should be taller than the height of the tin by a few inches. (See picture above)
While the apricot mixture cools, you can also blanch the almonds that will go on the top of the cake.
Preheat the oven to 150 C.
Once the apricot mixture has cooled down considerably, after about 20 minutes, add the cinnamon powder and almond flour. Mix well using a spatula.
Ensuring the mixture is cool enough, add the eggs, one by one. Mix until just combined.
Spoon the batter into the prepared cake tin. Starting in the center, place the blanched whole almonds one by one, forming concentric circles.
Bake in the preheated oven for about 1 hr 45 minutes. At the end of one hour of baking, if you find the top of the cake browning too fast, cover with a loose tent of aluminum foil.
Once baked, let the cake cool down completely, before you take it out to slice into pieces.
You can wrap the cake in foil and store it refrigerated. Make sure to warm the cake for 10 seconds in the microwave before serving.