Yes, this is the recipe we didn't know we needed. Sugar less, flour less but full of flavour and crunch. This sugar free fruit pudding is the ultimate healthy Christmas dessert! Who says festive treats can't be healthy. Simple ingredients that come together magically to make a very believable Christmas pudding, albeit a cheat's version.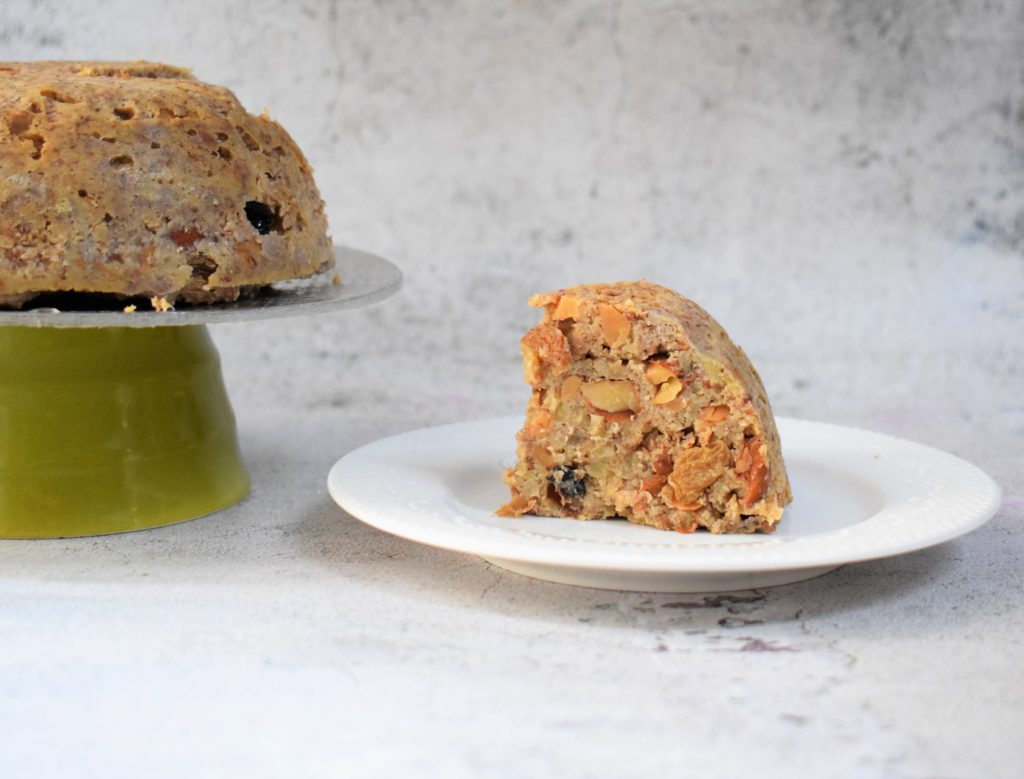 Ingredients for the Sugar Free Fruit Pudding
All you need are 4 ingredients. Yes, just 4 to put this together. You know for sure that sugar and flour aren't two of them. So what can they be? Are you ready to find out? Bananas, almond flour, eggs and mixed nuts. That's it. Seem too good to be true? I know. I wasn't sure this recipe would work but gave it a try anyway and boy did the results surprise me. A moist and crunchy pudding that doesn't seem any different from an indulgent fruit pudding.
Looking to try out more Christmas bakes? Check out this Apricot cake recipe and of course my bestest ever Christmas Fruit Cake.
Sugar Free Fruit Pudding
1 cup mixed dry fruits (roughly chopped cashewnuts, almonds, raisins, walnuts)
3/4 cup almond flour
1 egg
4 ripe bananas
Grease a pudding dish with butter. Line the base with butter paper. I used a heat-safe glass bowl.
Place the dish in a steamer on a small trivet or upturned saucer. Gently pour water into the steamer, enough to come halfway up to the side of the pudding dish.
Take the pudding dish and put the water in the steamer to boil.
In a separate bowl, mash the bananas. Add the rest of the ingredients. Combine well.
Spoon the batter into the prepared pudding dish. Cover the top of the dish with first, a sheet of baking paper and topped with a sheet of foil.
Cover the rim securely with the sheets of baking paper and foil. Lower the pudding dish into the steamer
Cook for 1 1/2 hrs, checking the water levels in between and topping up if necessary.
When the pudding has cooked, turn it over on to a serving tray. Slice when completely cooled.