I love my Christmas fruit cake and I doubt any Christmas season for me will feel complete without it. But ,this Apricot Brandy Cake comes so close to a fruit cake and it's half the effort and doesn't require too long of a soaking time for the apricots either. Yet, every bite of this cake bursts with flavours of brandy and apricot, a match made in Christmas village. When I made this for my folks last year, some told me I had saved the best for last, having served the fruit cake first. So rest assured, you are going to love it.
A rather easy recipe and if you skip the apricots and brandy, the ingredients are regular baking ingredients. This Apricot Brandy Cake needs no frosting and tastes complete on its own. The only effort it asks of you is some patience. Bake the cake at least 2 weeks in advance and feed it with a bit of brandy after you bake it. This way, the cake has enough time to develop plenty of flavour. Cut into it any earlier and you might have a crumbly cake on your hands. Just as tasty though.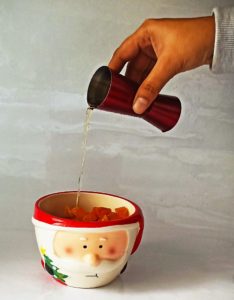 Other Christmas recipes.
If you haven't checked it out yet have a look at my Christmas fruit cake. I also have a separate post to guide you on soaking fruits for your cake and how you can make a non-alcoholic version too (although I must admit, I've haven't made that version much). Don't forget to check my Christmas section for plenty of other recipes, like spiced nuts (pretty addictive, these ones) Sausage pie and plenty of cheesecakes.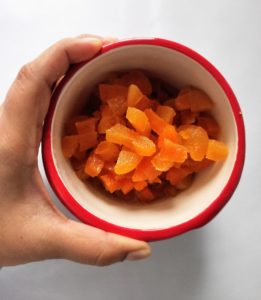 Apricot & Brandy Cake
Adapted from Mary Berry's Christmas Collection
200 gms dried apricots, chopped
90ml brandy
225 gms/ 2 sticks butter, softened
200 gms brown sugar
225 gms flour
5 eggs
300 gms raisins
200 gms glace cherries, rinsed, dried and quartered
Soak the apricots in the brandy overnight.
Preheat the oven to 150 C. Grease and line an 8 inch cake tin
In a large bowl, cream the butter and sugar, until light and creamy
Then add the remaining ingredients, including the apricots which would have soaked up most of the brandy. Mix well until blended
Spoon the mixture into the prepared tin, spread evenly with a spatula
Bake in the preheated oven for 4-41/2 hrs or until the cake feels firm to the touch and a skewer inserted into the center of the cake comes out clean.
If you find the cake browning too quickly, cover it loosely with foil after the first 2 hrs
When cool, wrap the cake in cling film and a layer of foil to store.
You can feed it more brandy once a week or two.