Baklava is a simple and easy dessert to make. Now repeat that as many times as it takes for you to believe it. I'm telling you that because no one ever told me. For the longest time, I always thought Baklava was a complicated dessert to make, one best left for trained chefs to try. I now know that it is the simplest thing to make, and if you have some time and patience, you'll be making Baklava every week.
Homemade Baklava is nothing but sheets of buttered filo pastry sandwiched with lots of pistachios and drizzled generously with sugar syrup. You don't even need a proper recipe honestly. You can play around the measures. As long as you can chop up the pistachios and make a decent sugar syrup, infused with some rose water, you can't go wrong. Really, that's all there is to making good baklava. A little effort but with such generous rewards.
Baklava is easy to make and also very rich to taste. You'll want to cut it into little diamonds or squares because those tiny little bits can be pretty filling. If you aren't a fan of rose water, be prepared to be converted. I wasn't one either, till I ate that first bite of homemade baklava. Now, I wouldn't mind tossing a bit of rose essence in every other dessert. In fact, soon after this baklava, I made a Semolina rose cake that turned out just as fragrant and delicious. No guesses about what recipe I will be posting next month.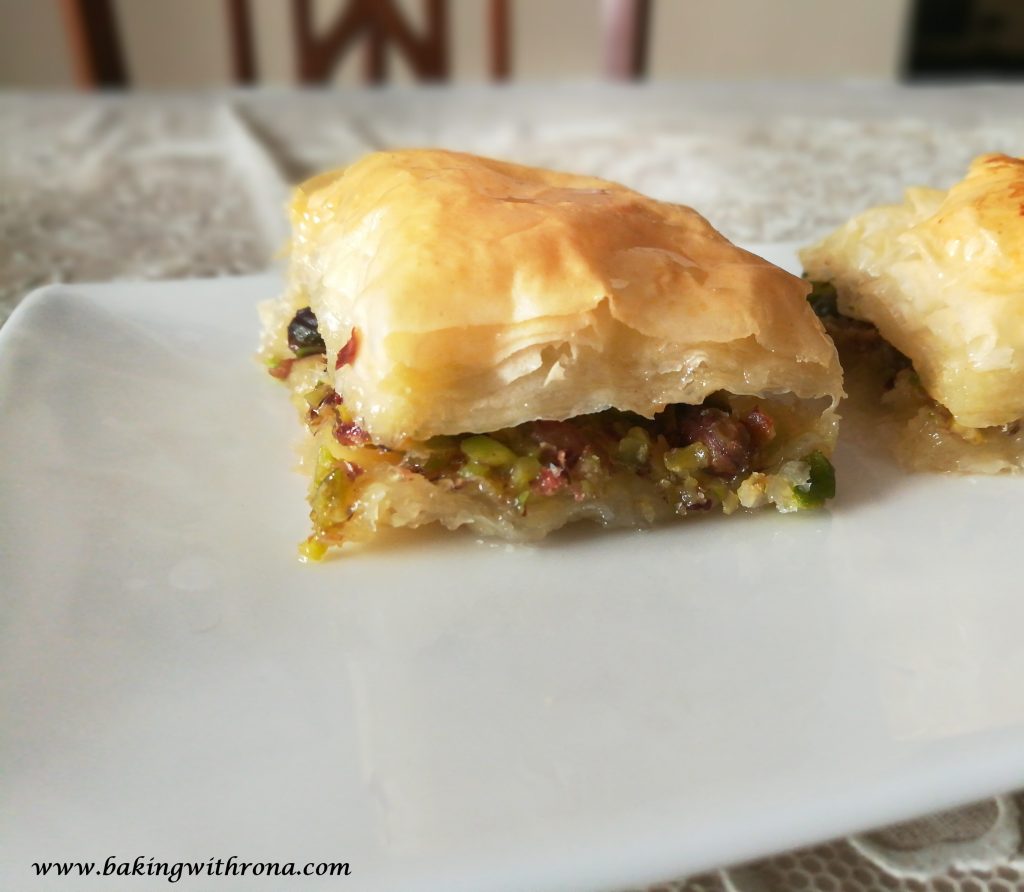 Did any of you try the Beer cake recipe I posted for Father's Day? I'd love to see photos. You could post them on instagram or facebook and remember to tag me.
Where to find filo pastry:
I found my box of filo pastry at Foodhall, Bangalore. It's one of my favourite places to go to and I could spend a whole day just walking through those aisles, finding all those ingredients I thought I would only find in books and not in stores. I also have seen filo pastry available at Nature's Basket. They also have an online store which makes them more accessible. I'm almost sure you'll find filo pastry at Spar or any other large grocery store.
A few tips to making baklava and keeping it simple
Follow the instructions on the packaging of the filo pastry about how long you should defrost the pastry etc, so you are able to peel off the sheets one by one without tearing them.
Filo sheets are delicate and need a little love and care. So be patient with them. Set aside a little extra time to making this dessert, so you don't rip through those sheets.
Make sure the butter is melted before you start making the dessert and keep a pastry brush handy. Makes the process so much easier.
Cut the pastry into shapes, making sure to cut through all the sheets before you put the pastry to bake.
Here's how you make Baklava, simple and easy.
Baklava:
Ingredients:
For the pastry:
250 gms pistachios, finely chopped
100 gms unsalted butter, melted
400 gms filo pastry ( Depending on how much time and patience you have, you may or may not use all of it. Will not change how good this dessert tastes though)
Method:
Preheat the oven to a 180 C . Keep all your ingredients ready; defrosted filo, chopped pistachios and butter melted.
Brush a 9 inch square tin with butter. Begin to line the tin with sheets of pastry, one by one, making sure to buttering each sheet as you do. You can let the sheets overhang a bit, and then neatly trim off the edges when you're done.
You don't need to be extra generous when you're buttering the sheets but make sure you butter them well.
When you're halfway through the filo pastry sheets, sprinkle the chopped pistachios all over the buttered sheets. Then continue lining up the rest of the filo sheets, and buttering each of them.
Butter the topmost sheet of pastry too when you get to the last one.
Cut across the pastry right down to the bottom sheet and carve out diamonds or squares. Put the tin in the oven to bake for about 30 minutes.
For the syrup
Ingredients:
200 ml water
225 gms castor sugar
juice of 1 lemon
1 tbsp rose essence
While the pastry bakes in the oven you can make the syrup.
Put the water, sugar and lemon juice in a vessel and bring it to boil. Keep it boiling for around 5 minutes, so it'll get to a syrupy consistency.
Add the rosewater and take it off the heat. Keep it in the fridge to cool till the pastry has baked.
To assemble the baklava
When the pastry has baked for around 30 minutes, it will puff up and turn golden brown. Take it out of the oven and pour the sugar syrup all over the baked pastry in 2 batches, so you can allow the pastry to soak in all the syrup.
Give the baklava at least 20 minutes to soak in all the syrup, before you serve it.