I haven't posted here in a while. I've been trying to find a balance between my love for baking and keep my weight off. If the calories didn't count, I'd gladly bake 24/7 and eat it all up too. But sigh… This zucchini bread seemed to be a good reminder of the basic changes I made to my baking when I first started off on my weight loss journey. It's always the small changes and the simple swaps that can make all the difference.
This for That :
To begin with, this bread has zucchini in it. Could it get any healthier than that? Then I used a combination of wheat flour and almond flour instead of using maida/all-purpose flour. Next, I swapped out the sugar for some honey and much lesser in quantity. It was simple as that. I put the bread to bake in a loaf tin.
Although at first, (given my impatience to test my changes to the recipe) I tasted the bread and thought it needed more sweetness, I realized I hadn't even given it a chance to cool down. I let the bread cool overnight and served it to my kids for breakfast. A little dash of butter and the bread tasted so good. Believe it or not, the boys asked to have it breakfast the next day too and I gladly served the leftovers. All that zucchini went straight into their little bodies, so fast, so willingly.
Ingredients:
This recipe uses oil. I found it best to use vegetable oil. For the almond flour, I just ground almonds with the peel in a food processor, until I had very fine crumbs. This actually works great for the bread, because it not only gives a nutty flavour but also a nice crunch. I've used yellow zucchini here but by all means feel free to use green zucchini or a mix of both. I also grated the zucchini very finely, in order to keep the chances of its discovery very low, but if could also just finely shred it.
If you find bread making as soul-satisfying and soothing as I do, you'll love trying out the other bread recipes on this blog. Some of my favourites are this recipe for Low carb bread and this other one for Irish soda bread. Pretty simple to make and just as delicious.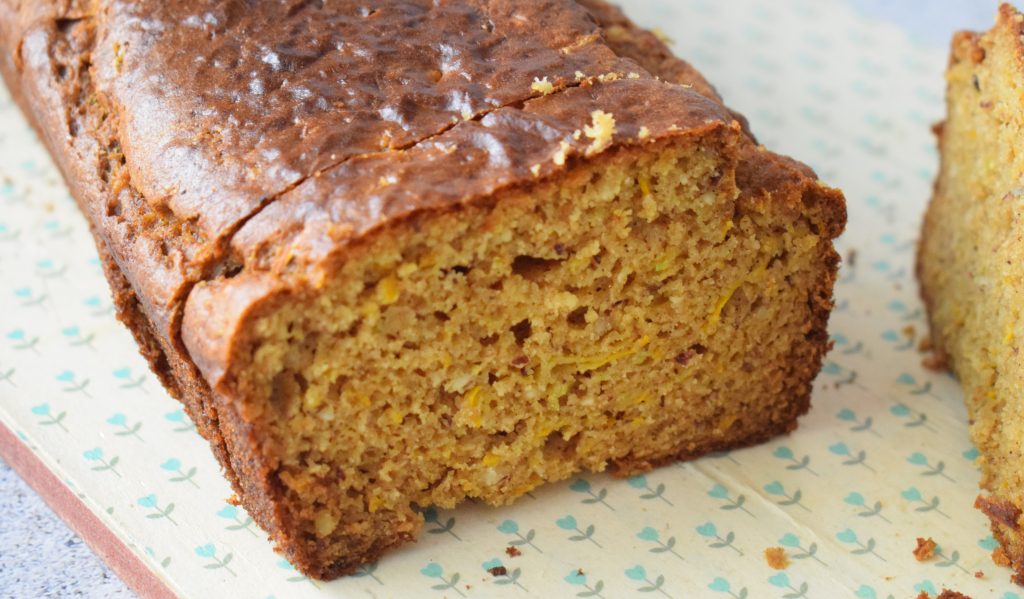 Zucchini Bread
1 cup wheat flour
1/2 cup almond flour
1 tsp cinnamon
1 1/2 tsp baking powder
1 tsp baking soda
1/4 cup oil
1/4 cup honey
3 eggs
2 tsp vanilla
1 1/4 cups grated yellow zucchini
Start by preheating the oven to 180 C. Grease a medium-sized loaf well and keep aside.
In a bowl, mix the wheat flour, almond flour, cinnamon, baking powder and baking soda. Using a whisk, just mix the ingredients lightly and set the bowl aside.
In a separate large bowl, using a whisk, mix the oil and honey. Add the eggs, one by one, whisking lightly after each addition.
Toss in the vanilla and zucchini. Whisk well.
Add the flour mixture in three batches and whisk until combined.
Spoon the batter into the prepared loaf tin and bake in a preheated oven at 180 for 35-40 mins.
The bread is ready when the sides pull away and a toothpick inserted into the middle of the bread comes out clean.
Let the bread rest on a wire rack to cool. Cut into slices once completely cooled down.
Serve with some butter or marmalade.