Before going into Easter treats, I wanted to start on a more sombre note for Good Friday. Although hot cross buns are literally the hot favourite for this one, I figured I could do with something that was quicker and easier to make. This Irish soda bread is exactly that. How would you like a bread recipe that needs no yeast and that you could make, start to finish in just about an hour. ? I know. You're welcome.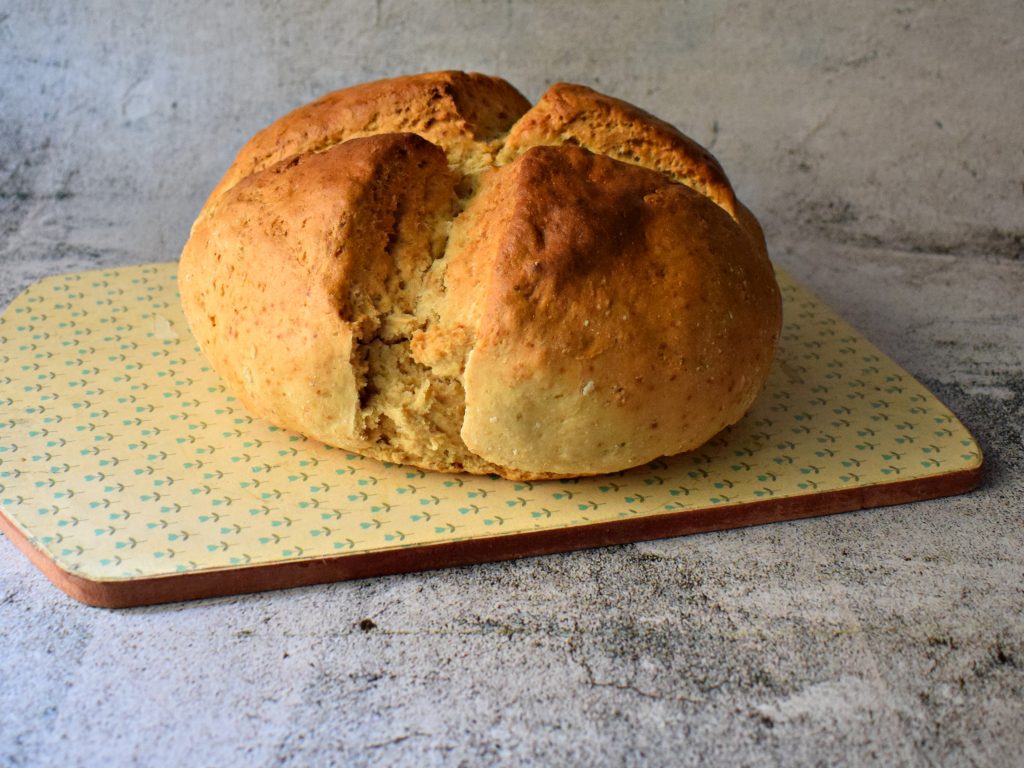 The dough for this Irish soda bread requires very little time to make and even fewer ingredients. It uses a mix of regular and whole wheat flour and needs no time to rise or prove. I know, it just keeps on giving. Although you can make it by hand, it will make your work much easier if you used an electric cake beater or a stand mixer with the dough attachment. The mixer can do all the work for you and all you'll need to do is pretty it up and roll it into a decent shape.
Once baked, don't be fooled by the bread's crusty exterior. When you slice into it, you'll be greeted by a soft, although firm boule of bread. Best eaten warm with some butter or cream cheese. To store the bread, wrap it in cling film and leave it on your counter. It should stay good for 2 days. After the first day, warm the bread slightly either on a pan or by heating for a few seconds in the microwave.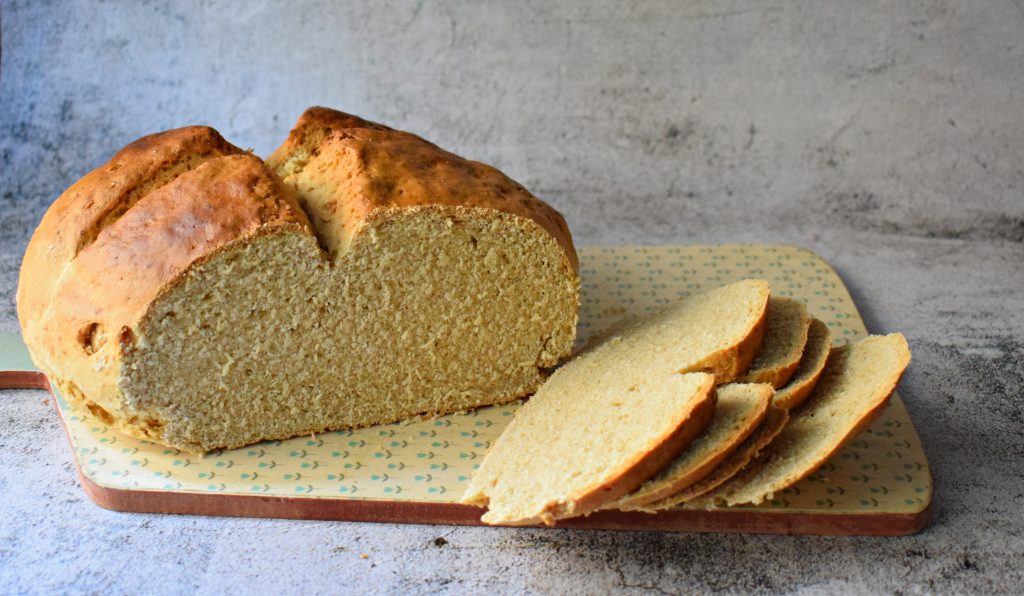 Do you have some Easter traditions in your family? I'd love to hear about them. We made some cheat's Easter eggs last year. You can find the recipe stored in my Instagram highlights.
If you'd like to try baking more breads, check these recipes for basic white bread and low carb bread.
Let's get started then
Irish Soda Bread :
2 2/3 cups milk
1 1/2 tbsp vinegar
3 1/2 cups wheat flour
3 cups maida/ all purpose flour
1 tsp salt
1 tsp baking soda
1/4 cup flour for dusting & kneading
2 tbsp milk for glazing
Start by preheating the oven to a 180. In a measuring jar or large bowl, mix the milk and the vinegar. Stir well and set aside.
In the bowl of your stand mixer ( or a large bowl, if you're using an electric cake beater or making the dough by hand) add the flours, salt and baking soda.
With the dough hook attached, turn the mixer on at a low speed.
Add the milk mixture to the flour mixture in a steady stream, with the mixer running at low speed.
Continue to mix until the dough sort of comes together.
Dust your counter with some of the extra flour. Tip the dough on the counter and knead the dough just until it is smooth.
Shape it into an 8 cm round and place it on a greased baking tray. Cut 1 cm, deep slashes in a cross shape on the top. Brush the top of the bread with a little milk.
Bake in a preheated oven for about 50 minutes.
Once baked, place the bread on a wire rack to cool. Cut into slices and serve with softened butter.