I've got the perfect Easter treat for you. Set aside the Easter eggs and cookies, and enjoy this insanely delicious whole wheat carrot cake. Made with healthier flour and topped with cream cheese frosting, this cake is gorgeous and moreish.
Carrot cakes are primarily unfussy. Because they demand a few cups of grated carrot (which is the only part that needs effort) they are extremely simple with everything else. Easy to put together and you have a promise of great deliciousness and moistness. Throw in a few nuts for crunch and you have the texture every good cake must possess.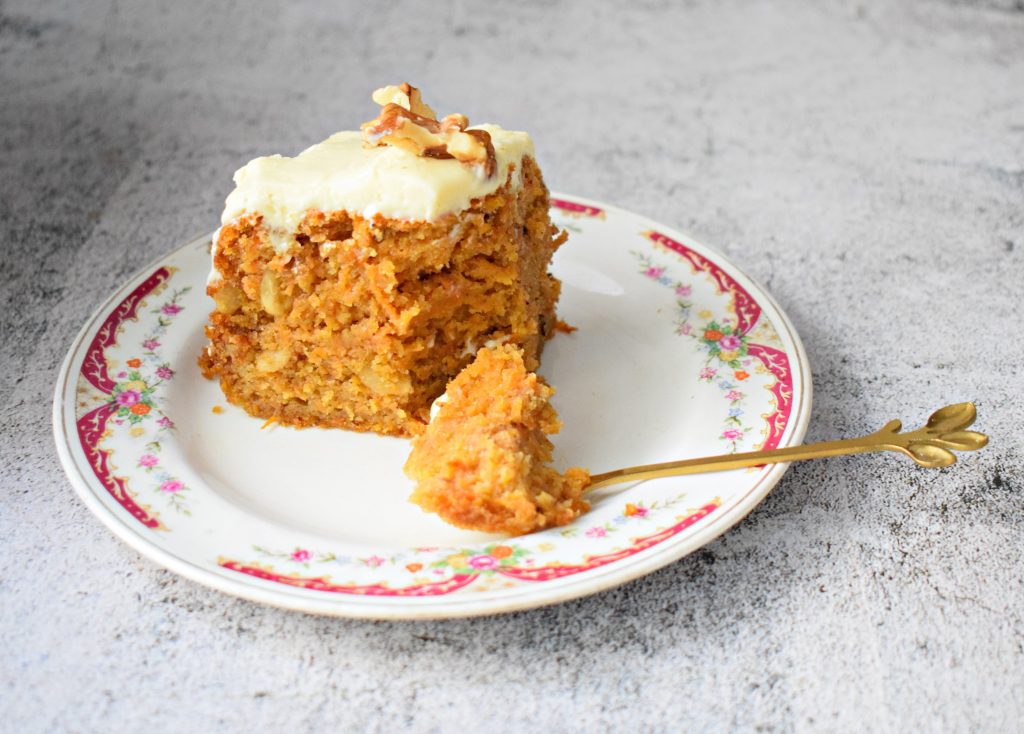 Making the Cake in Advance
The batter for this whole wheat carrot cake comes together in a few minutes. Even better is that you can make it a day in advance and the taste and texture only improve the next day. So by all means, bake it and frost it a day in advance and you don't have to hurry or worry about it while making the rest of your festive meal.
Cream Cheese Frosting
The cream cheese frosting for this cake is super simple to make. After trying so many different proportions of butter and cream cheese to get the right consistency, I finally have the only recipe you'll ever need to make cream cheese frosting, that stays stable and smooth. Because the frosting adds to the sweetness of the cake and is quite creamy, I've kept the sugar to a bare minimum in the cake. If you like your cakes sweeter, add another 1/4 cup of sugar to your batter. I just didn't think the cake needed it, and my boys literally devoured the cake. So this cake is definitely kiddy-approved.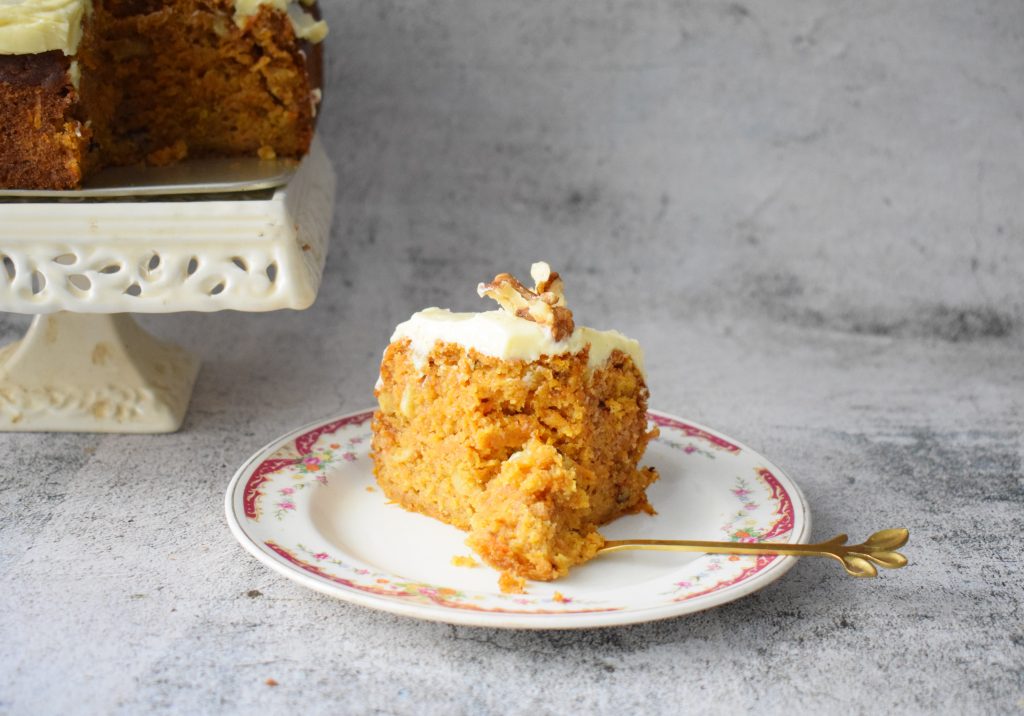 Also, what did you think of the Irish soda bread recipe I posted last week? I'd love to hear.
Leave a comment here or find and follow me on Instagram. See you there.
Whole Wheat Carrot Cake :
Adapted from Lee Bailey's "Country Desserts"
For the Cake
1/2 cup milk
1 tbsp vinegar
1 1/2 cups refined oil
3/4 cup sugar
4 large eggs
2 cups whole wheat flour
1 1/2 tsp baking soda
1 1/2 tsp cinnamon powder
3 cups grated carrot
1/2 cup chopped walnuts, cashew nuts
For the Frosting
1 cup cream cheese
1/2 cup icing sugar
2 tbsp butter, softened
1 tbsp vanilla essence
Preheat the oven to 180 C. Grease and line an 8-inch square baking tin with butter paper.
In a measuring jug, mix the milk and vinegar. Stir and set aside for 5 minutes.
Then add the oil and sugar. Mix well using a whisk.
Add the eggs and whisk until just incorporated. Set aside.
In a separate bowl, mix the wheat flour, baking soda and cinnamon. Mix, using a fork.
Add the egg and oil mixture to the dry ingredients. Whisk well, until the batter is lump-free.
Add the grated carrots and nuts. Use a spatula to bring the batter together.
Pour the batter into the prepared cake tin and bake in a preheated oven at 180 C for 45-50 minutes.
Once the cake has baked, let it cool completely, while you make the icing.
To make the icing, mix all the ingredients for the cream cheese frosting in a large clean bowl. Using an electric cake beater, beat the ingredients until the mixture is creamy and light.
Spread the icing all over the cooled cake using a spatula. Garnish with a few walnuts and serve.
Store the cake in an airtight box in the refrigerator for up to 3 days.