I seem to be finally getting a hang on making cookies and I'm adding these buttery Viennese Fingers to my list of successful cookie bakes. These are delicious and melt in your mouth at first bite with the chocolate coating being an absolute bonus. Not laborious to make and easily a crowd pleaser.
These Viennese Fingers need regular cookie ingredients; butter, sugar, eggs and flour. A little vanilla for flavour makes them complete. The dough is fairly simple to make, by beating butter and sugar, add the egg yolks and then the flour. To make the fingers, you need to pipe the dough in a little zig zag design and bake. The mixture might seem a bit too firm at first when you pipe it, but will get softer, as the butter will soften from the warmth of your hands while you hold the piping bag. Once completely cooled, dip the fingers in melted chocolate and leave to set. That's it, fool proof and no fuss.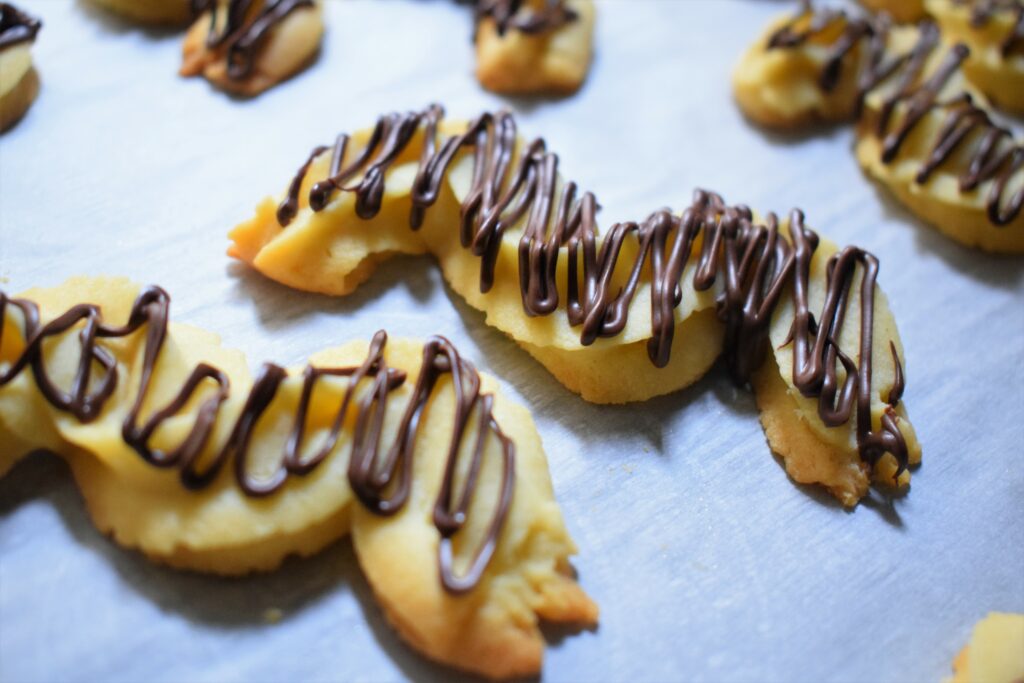 Viennese Fingers
100 gms butter, softened
1/3 cup icing sugar
2 egg yolks
2 tsp vanilla essence
1 cup flour
For the chocolate coating
100 gms chocolate, roughly chopped
1 tbsp butter
Preheat the oven to 180 C. Line a baking tray with butter paper and set aside
In a bowl, cream the butter and icing sugar, with an electric beater, until the mixture is creamy
Add the egg yolks, one by one, beating only until combined. Add the vanilla, mix.
Add the flour and combine the dough using a spatula or a flat bladed knife until you have a smooth mixture.
Spoon the mixture into a piping bag fitted with a 1M nozzle or a fluted nozzle. Pipe the mixture onto the baking tray into short wavy lines, about 2-3 inches in length.
Bake in a preheated oven for 12 minutes or until the fingers turn a golden brown.
Once baked, leave to cool completely
In a small microwave-safe bowl, mix the butter and chopped chocolate. Melt the mixture in the microwave, first with a 30 second interval and then in two, 10 second intervals or until the chocolate is all melted and smooth.
To coat the fingers, you can try either of these techniques; One; dip half the biscuit in the chocolate mixture and leave to set on a lined baking tray. Two; put the melted chocolate in a piping bag, snip off the tip and drizzle over the biscuits on a lined tray. Leave to set.
You can store the cookies in an airtight container up to 4 days.