I don't know why no one ever told me that it was so easy to make Biscotti. As fancy and expensive as it sounds, Biscotti, it turns out is pretty simple and fail proof to make. And their success can be measured by how quickly your kids devour them and how convinced they are that their mom is the best baker in the whole world. Going by their reactions, this batch of Biscotti was nothing short of spectacular.
Biscotti are small, hard biscuits, most often made with almonds and originate from Italy. Literally, they mean twice baked and that's exactly what they are. When you read the process, you'll see why. Traditionally, these are great to have with coffee, although I think they are great snack on their own at any time of day.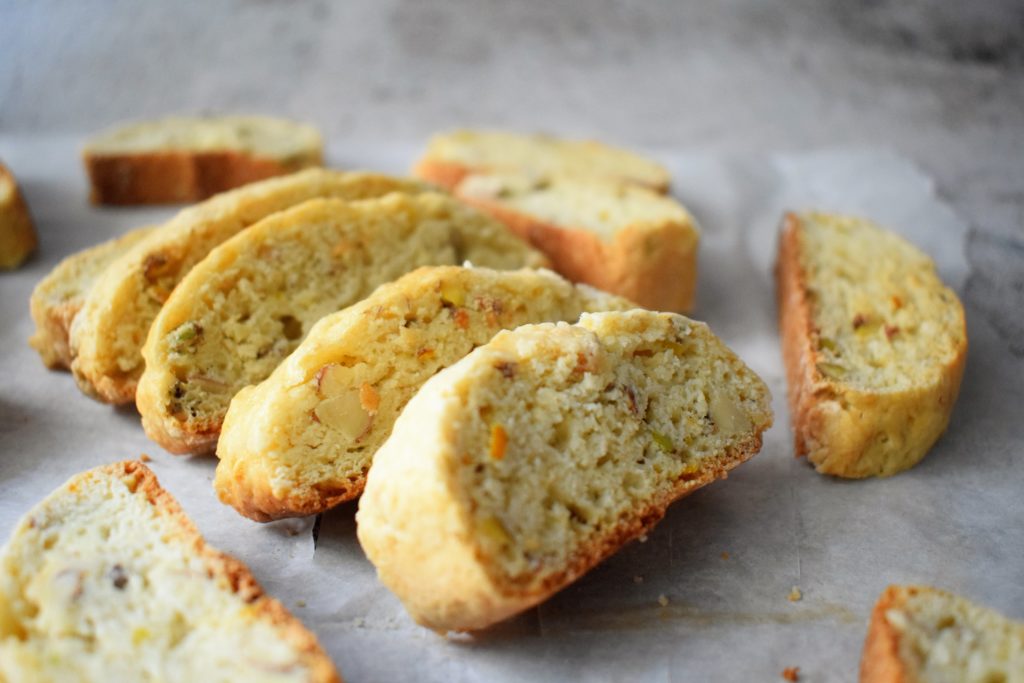 How To Make Biscotti
Biscotti is made by kneading a dough together with regular ingredients of flour, eggs, sugar. The flavours come from using orange zest and vanilla. The dough is then baked as a log. When it is baked halfway through, the log is sliced and then baked again to crisp and firm up. I've used a mix of almonds and pistachios for that extra crunch, but you can use just either of them too. These are great on their own but for an instant upgrade, drizzle them with some melted milk or white chocolate.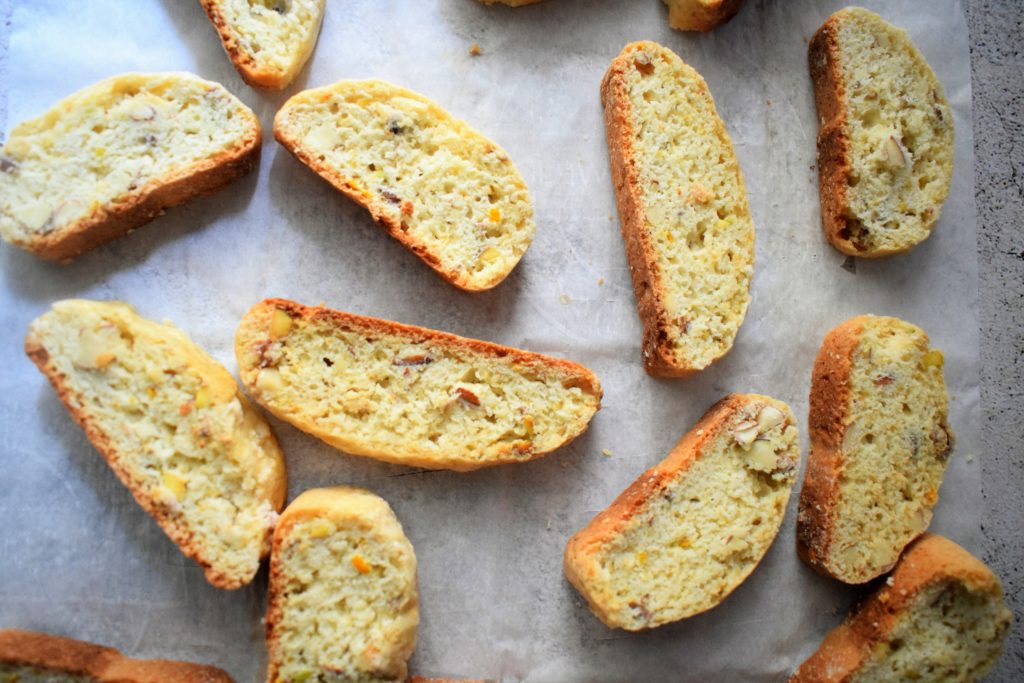 I'm so glad to be finally stepping into and slowly conquering a territory that hasn't seemed too familiar; Cookies. The Granola cookies I posted last week are definitely worth a try and the calories. Also, it's been a while since I posted indulgent desserts. Would you like to see more of them again? Let me know.
Biscotti
2 cups flour
1 tsp baking powder
1 cup castor sugar
3 eggs
1 egg yolk
1 tsp vanilla
1 tsp grated zest of an orange
1/2 cup chopped almonds and pistachios
Start by preheating the oven to a 180 C. Line a baking tray with baking paper and set aside.
In a large bowl, sift the flour and baking powder. Add the sugar and mix well using a whisk.
Make a well in the center of the flour mixture and add 2 of the eggs plus one yolk, the vanilla and orange zest.
Using an electric beater on low speed, combine the mixture until it just about comes together. Tip the mixture on to a a clean surface, dusted with some flour.
Knead the dough for just about 2 -3 minutes and then divide into two equal portions.
Roll each portion into a log and put on the baking tray, placing them a little apart, as each log will spread out a little when it bakes.
Lightly beat the remaining egg and brush all over both the logs.
Bake in a preheated oven for about 35 minutes and then remove them from the oven. Let them cool for a bit, then cut into slices.
Reduce the oven temperature to 150 C and bake the biscuits again for 8 minutes, turn them over and bake for 8 minutes again. This will allow the biscuits to crisp up evenly on all sides.
Once baked and cooled, store in an airtight container.