This sweet shortcrust recipe is the only recipe you will ever need for making any pastry dessert. It is so versatile, there are just endless things you could make with it. Desserts, pies, cookies, all taken care of. Simple, easy and of course, I had to throw in a cheat's way of making it. Busy mommy of two needs every trick in the book to save time.
I love this sweet shortcrust pastry mostly because it is failproof. Also, it is the simplest recipe to remember (in case you're on Masterchef and need to make the best shortcrust pastry ever). 3:2:1. 300 gms flour, 200 gms butter, 100 gms sugar. It couldn't be easier. In fact, it's the only recipe I can bake without having a book to peep into, which again brings into question, how do people on Masterchef remember all their favourite recipes. I have been baking since I was 8 and this is the only recipe I know by heart.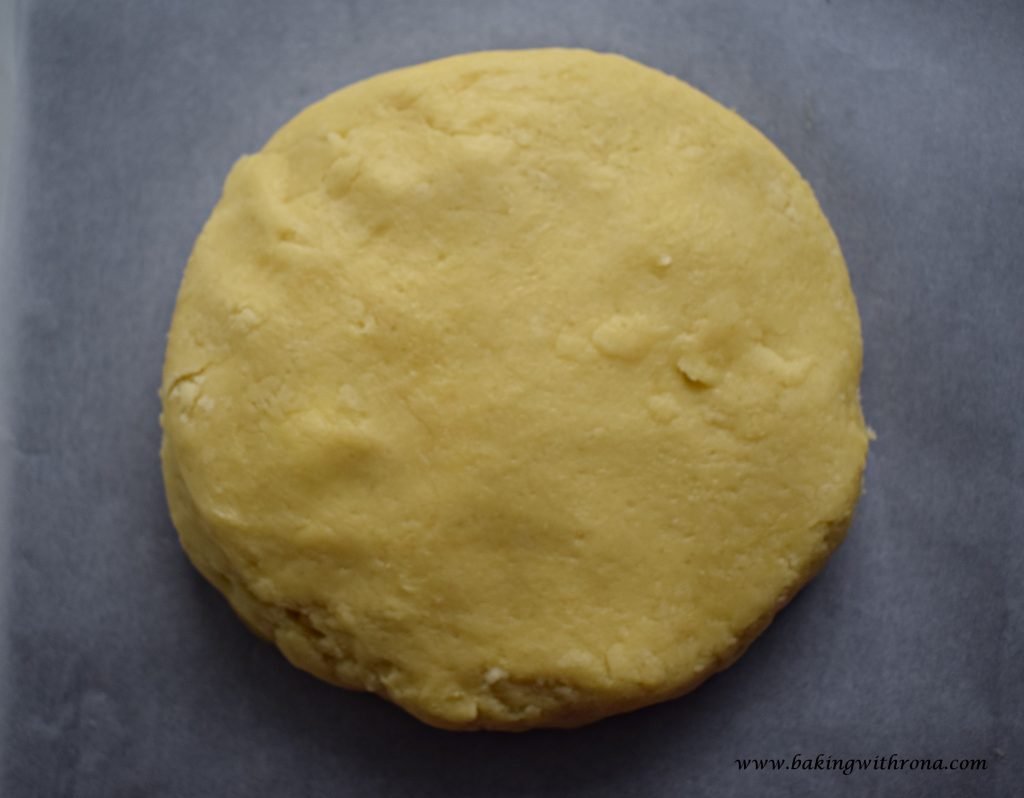 Some of the things you can make using this sweet shortcrust pastry recipe are banoffee pie, chocolate tarts, lemon pie, cut out cookies, apple pie, peanut butter pie or just about any recipe that requires a sweet shortcrust base. Do you have a favourite pie or a dessert pie recipe you'd like to see on the blog? I'd love to know. Leave me a comment below. Also, did any of you try the red velvet cake I posted last week?
If you follow my Instagram feed, you will see the banana chocolate pie I made last week that used the same shortcrust pastry. Will post that recipe next. Also, with just a couple of changes to the recipe, you can make a savoury crust to help you make savoury tarts like a quiche lorraine or chicken pie, the list is endless. I will get to that recipe soon. If you can't wait, check out this slightly different recipe here. I must warn you though; it's an addictive pie.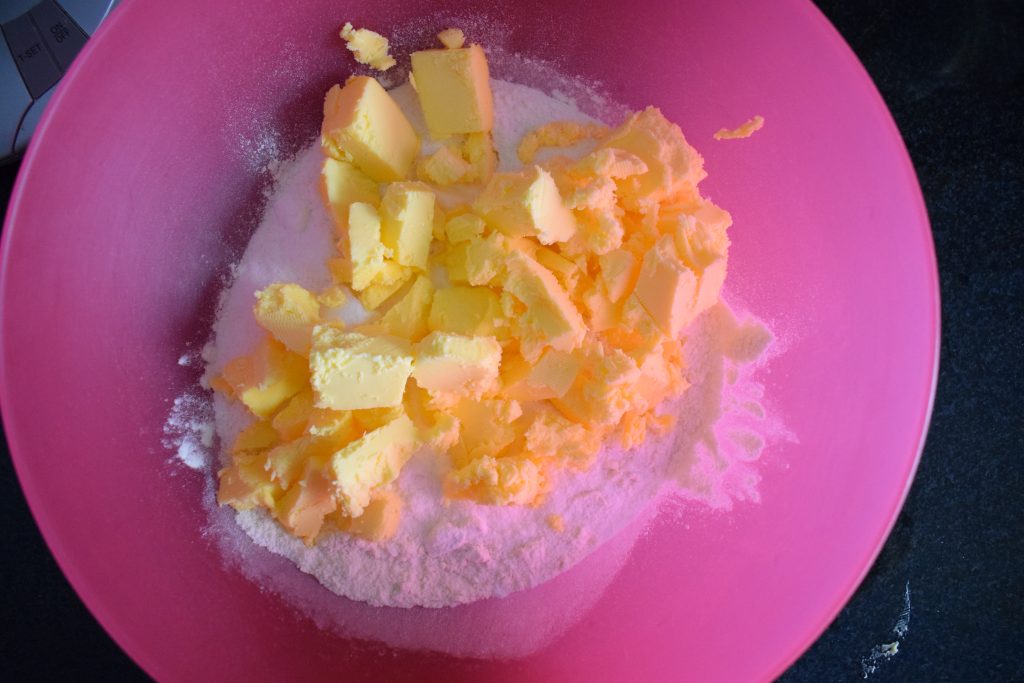 Notes:
The usual shortcrust recipe will have you rub the butter, sugar and flour together with your fingertips, then bring it together with a beaten egg. While you can still go ahead with this, I have discovered that tossing the ingredients in a blender or food processor/mixie can also do the job for you. This one trick will save you so much time, mess and effort. It's the best trick I have to share.
Make sure to rest the dough for at least 20 minutes before you roll it out. This makes it less sticky and so much easier to work with.
The easiest way to roll the dough is to place between two sheets of cling film or even better, butter paper.
Technically you should blind bake the crust, that is place baking beans ( you could even use green gram )over the pastry while it bakes so that it doesn't puff up, but I often skip using any of these.
If you're using this dough to make cookies, roll it out to a medium thickness and then cut out shapes using a cookie cutter. If you find the cookies too soft to move after they've been cut out, just place them as they are on the baking sheet in the fridge for ten minutes and then they'll be easier to handle. Place them on a baking tray, well-spaced apart and bake for 15 minutes in a preheated oven at 180 C
If you want to keep the dough eggless, use milk or cold water in place of the egg to bring the dough together.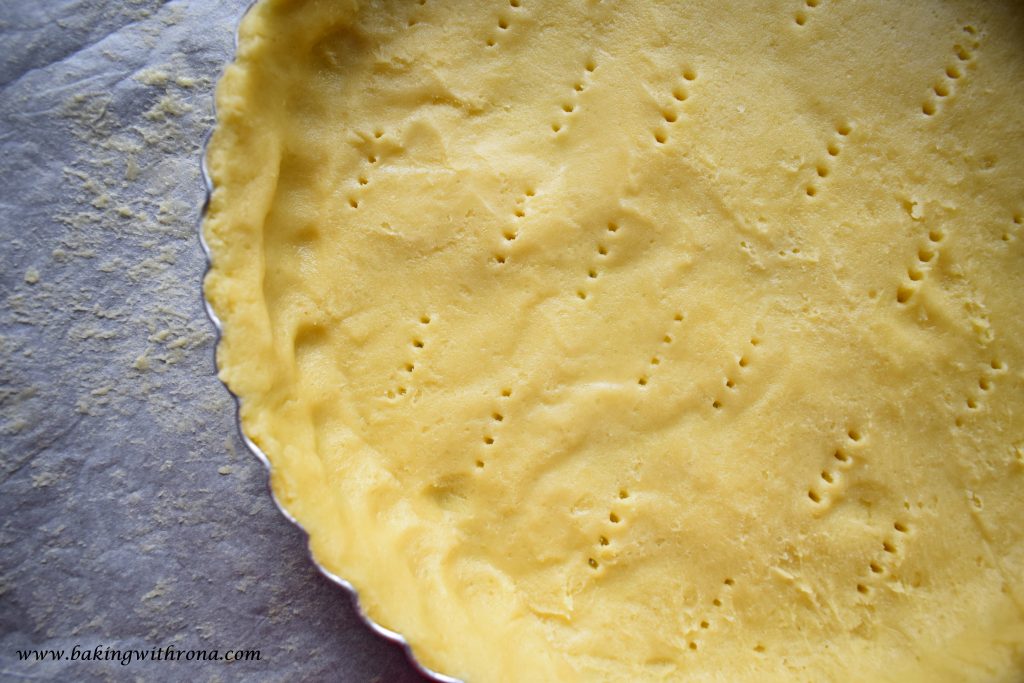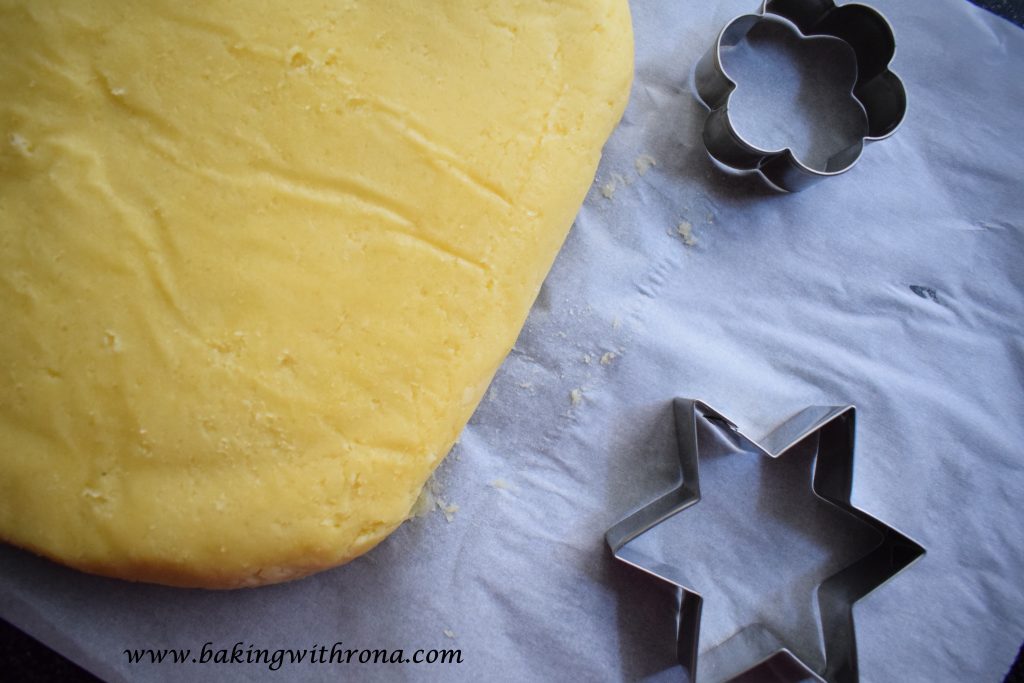 Sweet Shortcrust Pastry
(Please read notes before you start this recipe)
Ingredients :
300 gms flour
200 gms butter, cold, cut into cubes
100 gms icing sugar
1 egg, beaten
Method:
Start by measuring the flour and sugar. Put them in a blender and pulse for 2 -3 seconds.
Next add in the butter, cold and cut into cubes.
Pulse again in 3 – 5-second spurts till the mixture resembles coarse crumbs.
Add half the beaten egg and pulse for 3 – seconds, before you add in the rest and pulse again.
Tip the mixture, that would have come together partly onto to your work surface or into a bowl.
Using your hands, just bring the dough together gently. Do not knead. You don't need a smooth dough, but just a dough that holds together.
Wrap the dough tightly in cling film and put it in the fridge to chill for 20 minutes.
When the dough has rested well in the fridge, place it in between two sheets of parchment paper. Using a rolling pin, roll it to a medium thickness.
When you have rolled it out to the size you need, remove the top sheet of parchment paper and flip it over the pie dish/tin you need to bake it in. Using a knife, trim off the excess dough around the edges.
Press a fork into all over the pie base,(see picture) and bake it in a preheated oven at 180 C for 20 minutes.
You can use so many different fillings with this shortcrust base, maybe starting with the chocolate banana filling, the recipe for which I post next week. If you can't wait at all, fill up the base with some pouring consistency custard, chopped fresh fruits, top it with some whipped cream and serve chilled. That's a very appealing dessert right there.
Also, find and follow me on Instagram and Facebook to get all baking updates. Till then Happy Baking!!!!