When I had my first bite of red velvet cake, I must have been well in my 20's. So unfair that I spent the first 20 odd years never having known about this gorgeous cake, especially when I probably had better metabolism to burn off all those calories. I won't lie, Red velvet cake is delicious, and then it also is very rich and decadent. Also, it can't be a red velvet without its cream cheese icing and that's what gives it it's unique flavour, a balanced blend of chocolate and vanilla and then that moreish taste.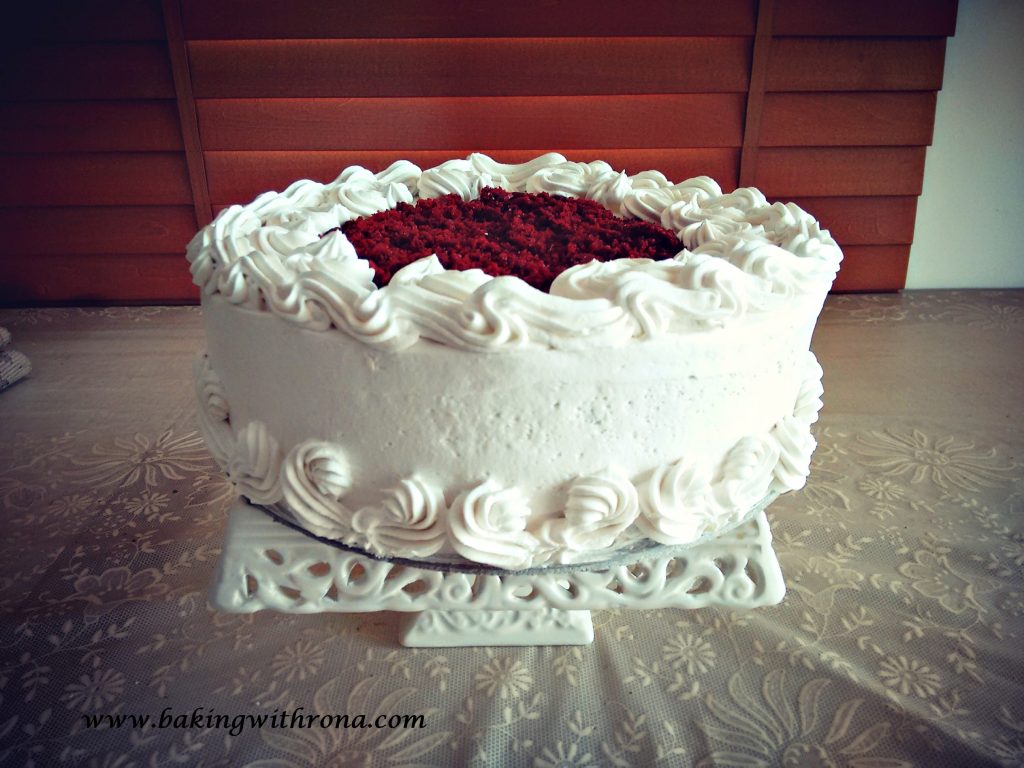 This red velvet cake recipe has been tried and tested more times than I can remember. It makes an excellent birthday cake, a perfect celebration cake. I've used it to make Zi's christening cake, a cousin's wedding cake and even Baby A's first birthday cake. Also
The red velvet is always a great choice, but if you want to try something that doesn't use cream cheese icing, you can try this absolutely pure chocolate cake that I posted earlier. I'm also sharing some recipes from my old blog. This one if you want chocolate, this one for vanilla, a fudge icing cake when you want to keep things simple, a Boston cream pie to fancy it up and of course a no-bake cake is just as great an idea. Which one will it be?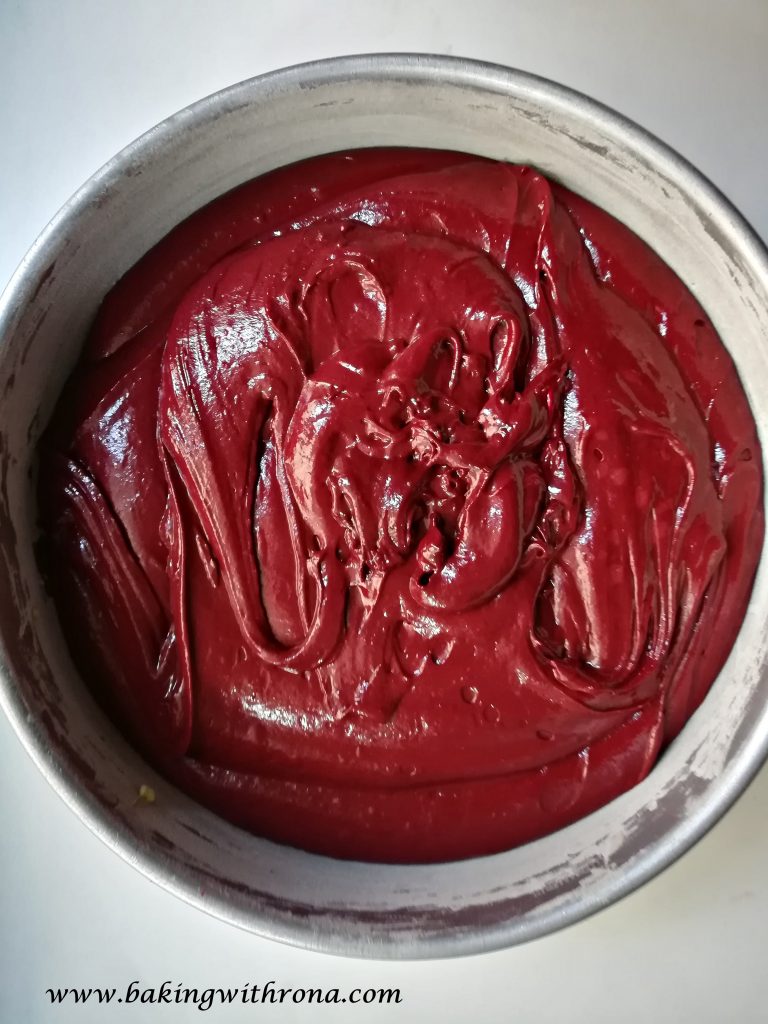 I've changed some proportions over the years and tried it with a few changes in the way I've made it, and it has turned out great every single time. Apparently, this red velvet cake recipe is invincible.
Where and what brands of Cream cheese:
You can find cream cheese at most supermarkets:
Spar, Nature's basket, Foodhall and of course online on Big Basket. I've tried La Cremella, Mooz and Britannia Cream cheese so far. They all come in around 200g packets and all work pretty well. Cream Cheese is definitely not hard to find anymore
Notes:
If for any reason you do not want to use the red food colouring, skip it. It won't make a difference to the texture or taste of the cake and will only not look red in colour.
The cream cheese icing made with butter can be a bit delicate to handle, especially in humid weather. You can make this icing using non-diary whipping cream too in place of butter. Although that is a cheat's version, it tastes just as great and is so much more forgiving of heat and humidity and every other challenge.
Keep the cream cheese icing refrigerated till you have everything ready to ice your cake. If you find it melting a bit too fast, put it back in the refrigerator for 30 mins before you work with it again.
Aren't sure of how to frost the cake or find the icing too delicate to cover the cake? Get creative. You might find it easier to just sandwich the cake with some icing, try a naked cake style or put a layer of icing on the top and sprinkle some cake crumbs on top of it. It'll taste just as good and look just as pretty.
If you plan to pipe the icing, keep the icing ready in the icing bag, toss it in the fridge for about 20 minutes to firm up before you use it.
If you want to make the cake a day or two in advance and want to keep it moist, sprinkle a simple sugar syrup over the cake layers before you frost them. You can make the syrup by boiling half a cup of sugar with 1 cup water to make a thin sugar syrup. Cool it and use it over the cake.
Once you've iced the cake, keep it refrigerated till you are serving it.
Red Velvet Cake:
For the cake:
1 cup milk mixed with 1 tsp vinegar
113 gms/1 stick/1/2 cup butter softened
1 1/4 cups castor sugar
2 eggs
1 tsp vanilla extract
5 tbsps cocoa powder
1 1/2 tbsp red food colouring paste
2 1/4 cups flour
1 tsp baking soda
3 tsps vinegar.
For the icing:
200 gms butter softened
2 cups icing sugar
1 tsp vanilla extract
200 gms cream cheese
Method:
Preheat the oven to 180 C. Line and grease an 8-inch cake tin.
In a small bowl, mix the milk and 1 tsp vinegar. Keep aside. this essentially works as buttermilk for the cake. (This is useful since plain buttermilk is hard to find in stores around here)
In a large bowl, mix the butter and the sugar. Beat until the butter turns pale and creamy. Add the eggs, one after the other. Do not overbeat.
Next goes in the vanilla, the food colouring and the cocoa powder. (you can then leave the food colouring spoon in the milk to extract all that leftover colour from the spoon)
Beat till they blend in with the butter and sugar mixture.
Add the flour and milk in batches, starting and ending with a portion of flour.
Lastly, add the 3 tsp of vinegar and the baking soda. (if you hear it sizzle you are on the right track, do not worry)
Beat the mixture till the batter is just blended.
Pour the batter into the prepared cake tin and bake in the preheated oven for about 1 hour.
Insert a toothpick in the middle of the cake after an hour of baking. If it comes out clean or with dry crumbs, the cake is ready.
For the cream cheese icing:
When the cake bakes you can make the icing.
Make sure the butter is at room temperature when you start. Using an electric beater, beat the butter for about 5 minutes on medium speed.
Add the cream cheese and vanilla and further beat it for about 2 – 3 minutes.
Lastly, add the icing sugar and beat till the icing is light and fluffy. (Add the sugar in batches and stop when you find the mixture is at the sweetness of your liking)
To assemble the cake: (Read notes above)
Let the cake cool down completely before you start layering it.
Once completely cool, slice the cake into two layers.
Sandwich the two layers with some icing and use the rest to cover the sides and top of the cake.