If only someone had told me how easy it is to make Nankhatai and how delicious homemade ones are, I'd be making them every week. Let me do you a favour by sharing this simple and fail-proof recipe for utterly butterly homemade Nankhatai.
I never thought of making homemade Nankhatai all this while becauseI don't think I ever had the best ones. Storebought ones unless freshly made just don't have the flavour of ghee or the right crumbly soft texture. With this newly discovered love for Nankhatai, I'll be quite happy to make a batch as often as I can. These are like butter cookies but even better.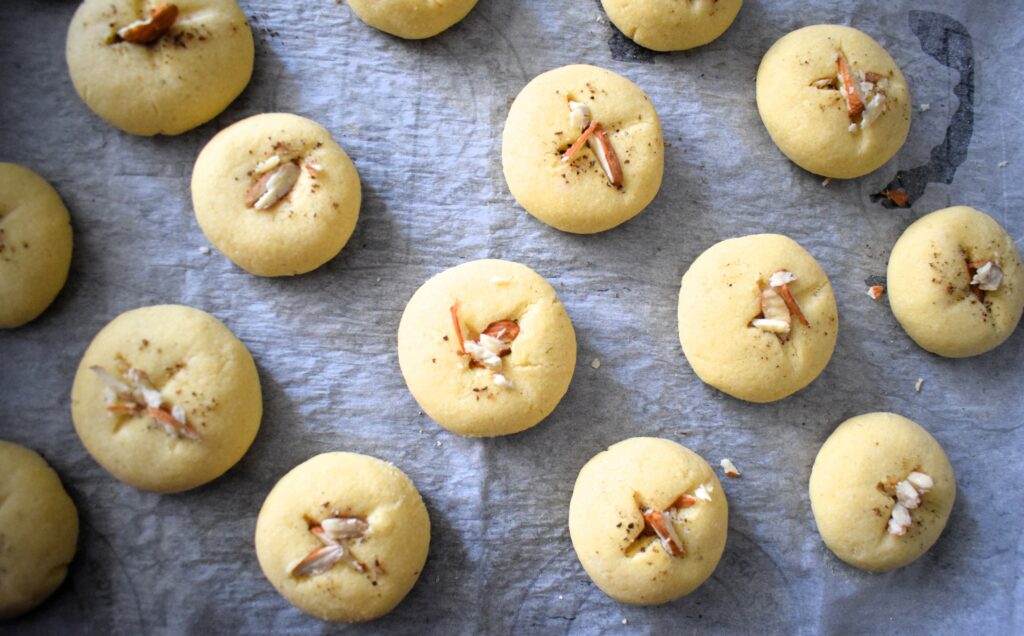 Ingredients for Nankhatai
Flour; There are various combinations of flours used in recipes for nankatai. I've used a mix of wheat, besan (chickpea) and maida. A dash of fine sooji elevates the texture of these cookies.
Ghee: is almost the star ingredient in this recipe. 1/2 a cup might seem like a lot but don't skim on the ghee. It gives these cookies their distinctive texture, rich taste and authentic flavour. When you measure the ghee, make sure it is half a cup of semi-solid ghee, that's at room temperature, not frozen or melted.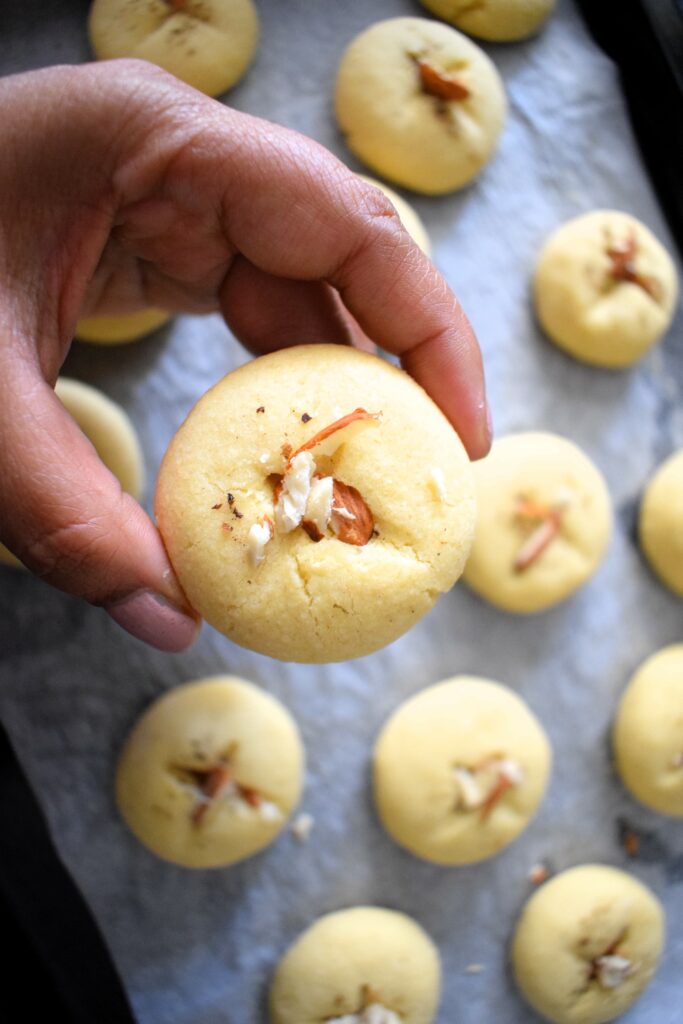 Sugar; in this recipe, unlike other baking recipes, use powdered regular sugar. If you use castor sugar, it won't dissolve into the dough properly, and storebought icing sugar contains corn flour so it can alter the texture. For this recipe, measure regular granulated sugar and grind it to a fine powder in your mixie.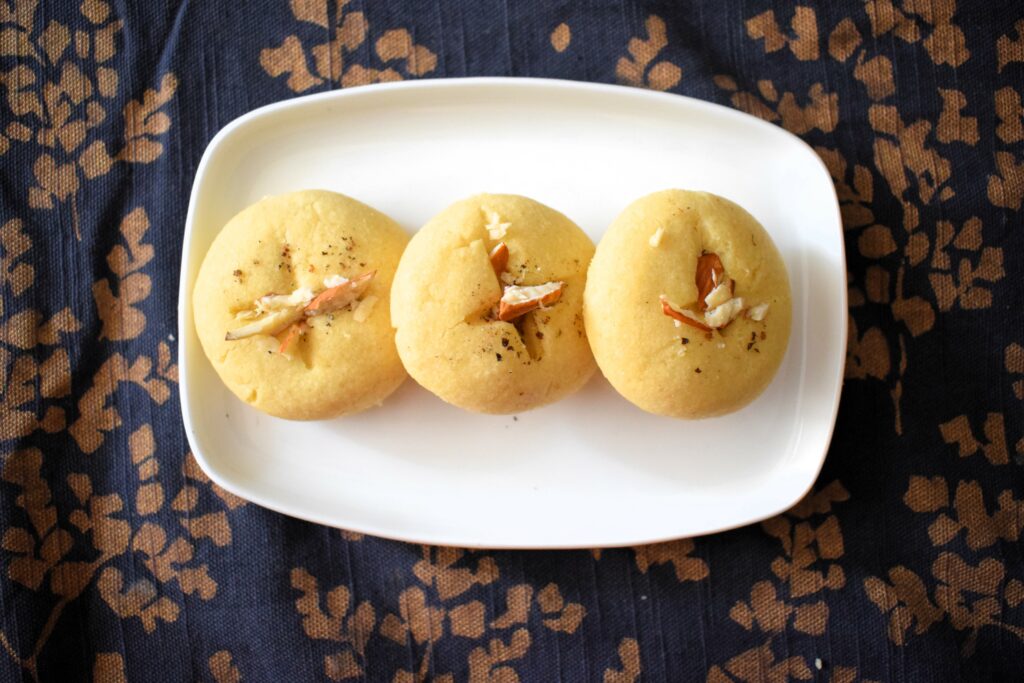 Cardamon powder; gives these cookies the right flavour, I wouldn't skip it.
Almonds; are for garnishing, skip them if you don't like the crunch, but they do make them look top notch.
Making Nankhatai
The recipe is fairly simple. Like with most shortbread biscuits, where the dough starts with mixing the flour, sugar and butter, this recipe starts in a similar fashion, but with ghee in place of butter. Once the dough comes together with the rest of the ingredients, roll them into little rounds, flatten each and make small cuts on the top with a toothpick. It's important to chill the unbaked rolled-out cookies in the fridge for about 30 minutes. This prevents the cookies from overspreading when you bake them. I like to add the slivered almonds on the top when the cookies are baked and still warm to prevent them from browning while baking.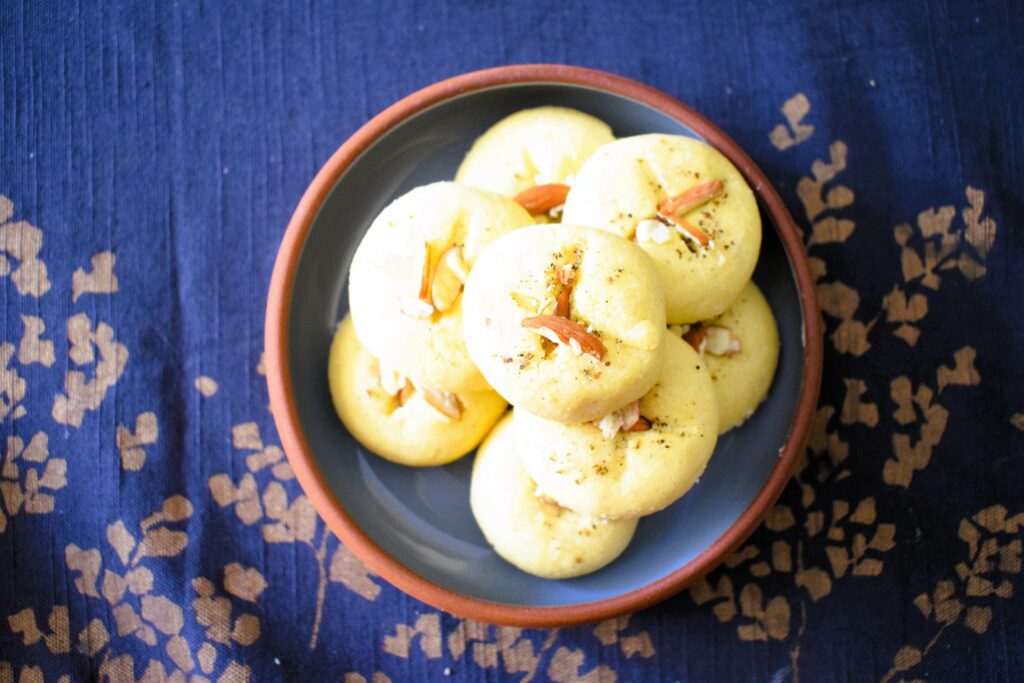 Soft, with of touch of crumble and with a melt-in-your-mouth texture, these Nankhatais made with the goodness of ghee are easy to bake and hard to resist. New favourite cookie alert.
Ingredients
1 cup flour (maida)

1/2 cup wheat flour

1/4 cup besan

2 tbsp fine sooji

1/2 cup powdered sugar

1/2 salt

1/2 cup ghee

1/2 tsp cardamom powder

2 tbsp slivered amonds
Directions
In a large bowl, mix the maida, wheat flour, besan, sooji, sugar and salt.
Add the ghee, little by little. Work with your hands to form a soft dough. The mixture will be crumbly at first but will come together slowly.
Take small pieces of dough and shape them into little rounds. Flatten each a bit and smoothen the edges using your fingers and place on a baking tray lined with parchment paper.
Once all the dough has been rolled out, make a criss-cross pattern on each of the cookies, using a toothpick. Sprinkle the cardamom powder on each cookie. Place the baking tray with the unbaked cookies in the fridge for about 30 minutes.
Preheat the oven to 175 C. Once the cookies have been refrigerated sufficiently, bake them in the preheated oven for 15-17 minutes.
As soon as the cookies are done baking, top each with some slivered almonds.
Let the Nankhatai cool completely to firm up. You can store them in an airtight container at room temperature for about a week.