A dough that comes together in a food processor and butter cookies that turn out delicious and soft with a melt-in-your-mouth texture. There's no kneading any dough or rubbing flour into butter and you'll need just about 10 minutes. These cookies are perfect at tea time or to pack in your kid's snack box and are undeniably necessary to stash away in a secret jar for midnight cravings.
This butter cookie recipe is uncomplicated and I've included step-by-step instructions to ease the process for you.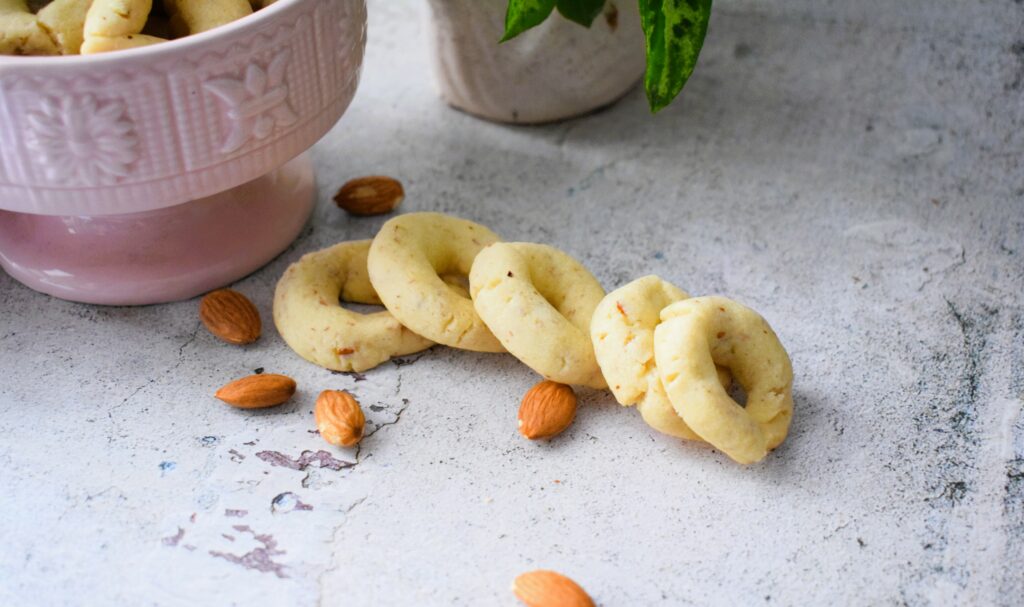 What Ingredients Do You Need for These Butter Cookies
You will only need regular baking ingredients to make these biscuits. Flour, butter sugar, egg and oil mostly. You will only need the egg yolk in this recipe as it helps bind the flour together. Flour, butter and sugar are the standard ingredients for butter cookies and as for flavourings, there are so many variations you can try.
In this recipe, however, I've used one special ingredient to elevate these cookies from the usual to fancy and gourmet: almonds. And before you worry about finding blanched almonds and almond flour, let me put you at ease and tell you: all you will need is less than a cup of almonds with their skin on. More about how to use them in the recipe later.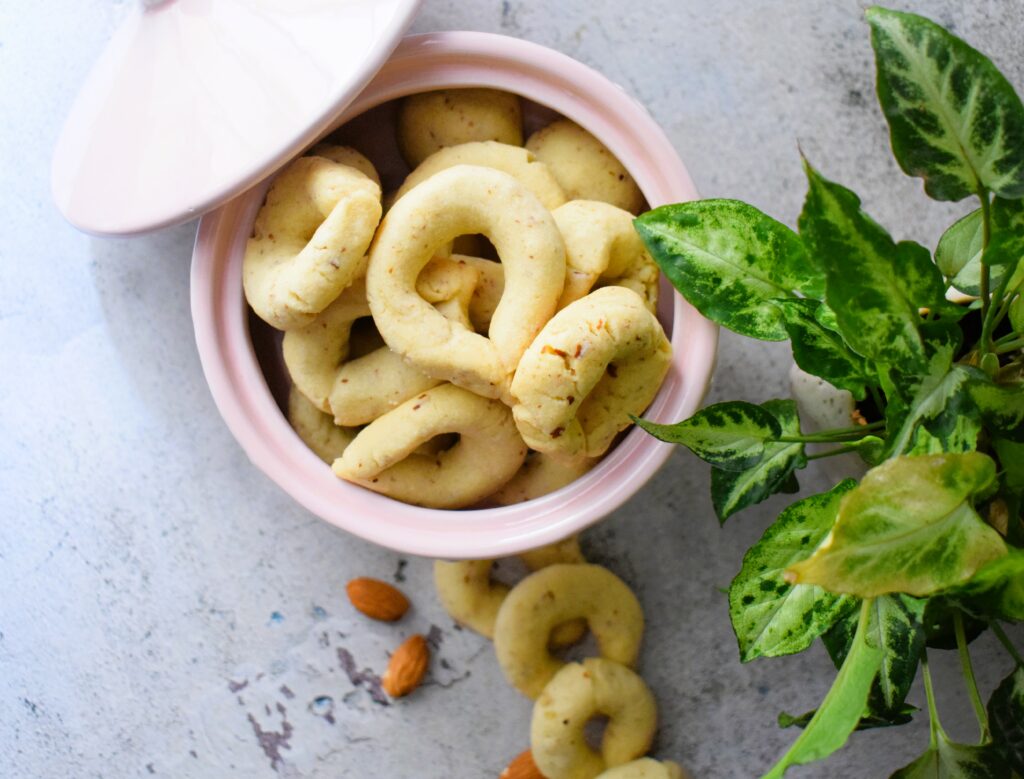 Best Tips for Making Butter Cookies
Use softened butter. If you've forgotten to keep your butter out to soften, no worries, just pop it in the microwave for about 10-15 seconds.
While pulsing the almonds, you also need to grind them coarsely. However, make sure you don't have any large chunks left, as this will make it difficult to roll the cookies.
Do not over-pulse the almonds.
If you try this recipe, please post it on Instagram and tag @bakingwithrona. I'd love to hear from you. Follow me at Baking with Rona
A dough that comes together in a food processor and butter cookies that churn out delicious, soft, and melt-in-your-mouth. Recipe adapted from the book "Now For Something Sweet" by the Monday Morning Cooking Club.
Ingredients
3/4 cup unblanched almonds

1 1/2 cups flour

1/4 cup castor sugar

1/4 tsp salt

100 gms unsalted butter, softened

1 egg yolk

2 tbsp oil

1/2 tsp almond essence

1 tsp vanilla essence
Directions
Preheat the oven to 160 C. Line a baking tray with butter paper. Set aside
In a mixie/food processor, pulse the almonds coarsely, making sure you have no large bits left. Transfer to a bowl and set aside.
Put the flour, sugar and salt in the food processor. Mix with a fork. Then add the yolk, butter, and coarsely ground almonds, and pulse again, to combine.
Add the egg yolk, oil, vanilla and almond essences. Pulse a few times until a rough dough forms.
Tip the dough onto a clean surface and bring together with your hands. Take a small piece of dough, and roll it into a sausage shape with your hands. Press the ends together to make a small loop. Place on the prepared baking tray and repeat until all the dough has been used up.
Bake for 20-22 minutes, until they turn a slight golden brown underneath. Once baked, allow the cookies to cool completely and they will firm up a bit.
Store in an airtight container.