These are BAKED churros; you don't need any more reasons to make them. These are as indulgent as Churros but with half the effort and calories. Skip the deep frying and enjoy these, guilt-free. To be honest, I've never tasted Churros, but if they don't take like these, then I don't want them. I've adapted this recipe from one of my favourite bakers, Bigger Bolder Baking.
What are Churros?
Churros are traditionally deep-fried sticks of dough, seasoned with cinnamon and sugar. They originate from Portuguese and Spanish cuisine and are often served with ganache. Delicious on their own, they instantly spell comfort food. The dough is a choux pastry dough and as intimidating as that sounds, it is simple to make and fail-proof. So trust me on this one and feel all those MasterChef feels making these churros.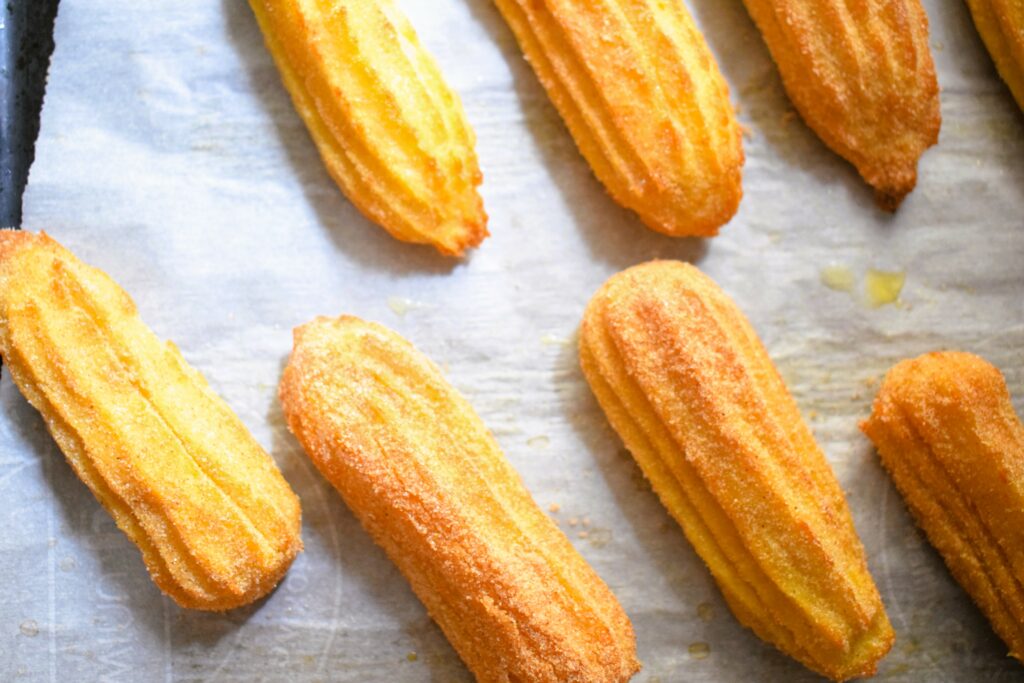 Ingredients for Baked Churros
You need basic choux pastry ingredients to make these churros. You start with melting butter with sugar, water and salt and then adding flour to this mixture. It's important to keep all your ingredients and equipment handy, to follow the steps quickly and make a lump-free dough. You need to add eggs to the dough to make it complete. However, it's important to let the flour mixture cool a bit before adding the eggs. If the mixture is too hot, the eggs will begin to cook in the flour mixture instead of blending in. Once you have a soft dough, spoon it into a piping bag and pipe the churros to bake.
A little butter, sugar and cinnamon at the end make the churros complete. I prefer using salted butter here to brush the baked churros, to add an interesting flavour, but regular unsalted butter is just as fine. You can head over to my Instagram page to see a video of how I piped these.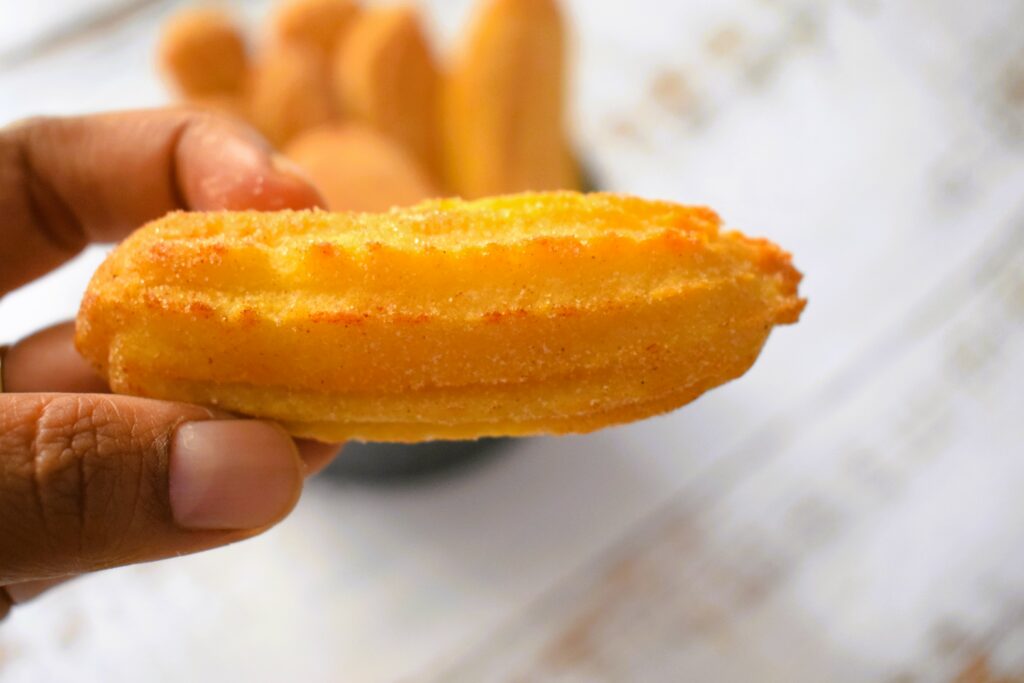 Baked Churros are the real deal. Just as indulgent as the fried ones, only with half the effort and calories I imagine.
Ingredients
1 cup water

115 gms/1 stick butter

2 tbsp brown sugar

a pinch of salt

1 cup flour

3 eggs

1 tsp vanilla essence

To dust the Churros

1/3 cup castor sugar

1/2 tbsp cinnamon powder

Melted butter
Directions
Preheat the oven to 200 C. Line a baking tray with butter paper
Start with making the churro dough. In a small saucepan, mix the water, butter, sugar and salt. Stir gently over a medium flame.
Once all the butter has melted, whisk in the flour. Whisk quickly, to ensure you have a lump-free mixture.
Reduce the heat to low and cook the dough for a minute, stirring continuously to avoid letting the dough get clumpy. The dough will slowly start to form a ball and pull away from the sides. Take it off the heat and let it cool slightly
In a small bowl, mix the eggs and vanilla. Add this mixture little by little to the dough, stirring well to break up the dough and blend well.
Spoon the dough into a piping bag fitted with a star-tip
Pipe 3-inch long lines on the baking sheet, leaving a little gap in between. Sprinkle a little water on the cookie sheet to create steam while baking
Bake in a preheated oven at 200 C for 20-22 minutes. Once baked, let them sit in the warm oven for 10 minutes, so they don't go flat when they're out of the oven
While the churros are still warm, brush them with a little melted butter and coat well with the cinnamon sugar mixture
To make the cinnamon mixture, mix the castor sugar and cinnamon powder in a ziplock bag. Once you've brushed the warm churros with melted butter, toss them in the ziplock to coat them well with the sugar mixture