You know how much I love using lemon in baking. I can't put my finger on it but there's something very comforting and elegant about making a lemon cake. This Lemon blueberry loaf is perfect at tea time or as dessert. It's light, delicate and oozes flavour and familiarity.
As a rule, I love using everyday ingredients and recipes that come together rather quickly. If it needs anything more, I make a few changes to it, to suit my style of baking. Another trademark of most recipes you find here is that they all use much lesser sugar than what most recipes call for. In my years of baking, I've found that this almost always ends up with a better cake.
In this Lemon blueberry loaf, I've used readily available ingredients and kept the cake simple and inviting, as cakes should be. Equally delicious are these recipes for Lemon cake and this for Lemon loaf. I promise you, none will disappoint.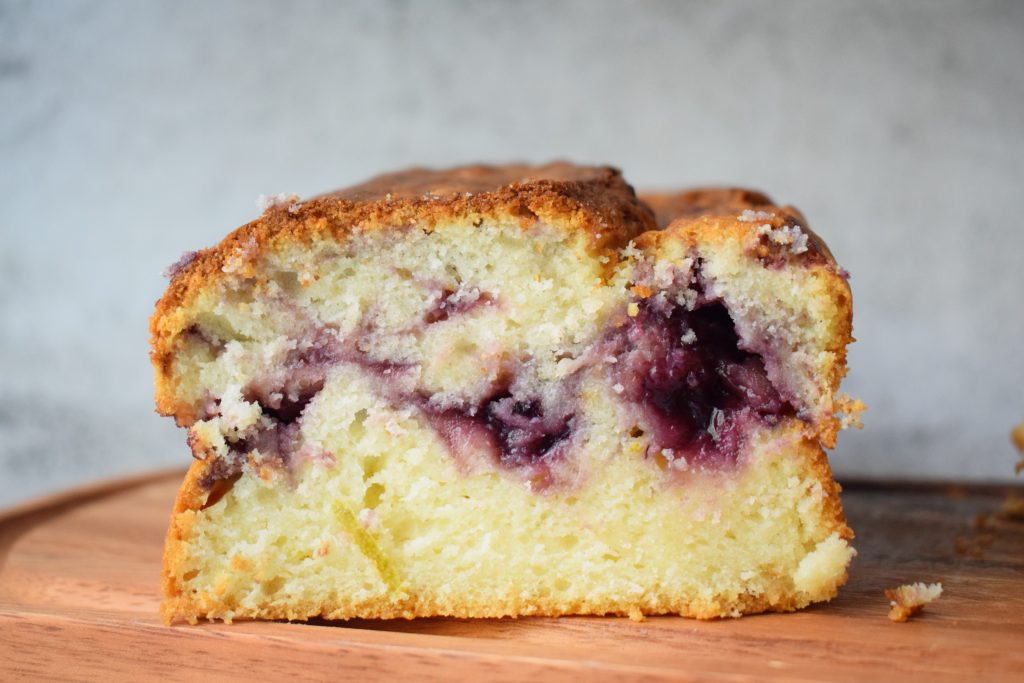 Ingredients for this Lemon Blueberry Loaf
Blueberries: I've used blueberry filling in this recipe, as I had a whole jar of it lying in my refrigerator. You'll find a few options for the blueberry filling on Amazon. You can easily replace the blueberry filling with 1 cup of fresh blueberries if you like. Although you won't get the pretty swirls, the filling makes in the cake, your cake will taste just as great.
Curd: Although originally the recipe called for sour cream, I used curd to make this loaf, because of its easy availability. Make sure to use fresh curd, that's thick. You can use yoghurt too.
The rest of the ingredients are regular baking supplies and nothing far from the usual. If you aren't yet, follow me on Instagram for daily updates from my kitchen. See you there.
Lemon Blueberry Loaf
Ingredients:
80 gms butter
1/2 cup sugar
2 eggs
1 tbsp vanilla essence
1 tbsp grated lemon zest
juice of 2 lemons
3/4 cup curd
1 1/2 cups flour
1/2 tsp baking powder
1/4 tsp baking soda
1/2 cup blueberry filling
Preheat the oven to 180C. Grease and line a medium-sized loaf tin with butter paper.
In a large bowl, beat the butter and sugar, till it is soft and pale in colour. This should take around 4-5 minutes.
Add the eggs, one at a time and beat until just incorporated.
Then add in the vanilla, zest, lemon juice and curd. Mix on low speed.
The mixture might look curdled at this point, don't worry, it'll smoothen after you add the flour.
Add the flour, baking powder and baking soda and beat on low speed until you have a smooth batter.
Add the blueberry filling. Using a spatula, only lightly mix the filling into the batter, so you have swirls of batter and filling.
Gently pour the batter into the prepared loaf tin. Bake in a preheated oven at 180 for 60 – 65 minutes.
Let the cake cool down completely before you slice it.