Did you know if you put my Baklava and Cheesecake recipes together, you'll end up with the most delicious Baklava Cheesecake everrrr! If there's one thing I've mastered baking in recent times, it's a good cheesecake. Using my one master recipe with a few tweaks, you can make a cheesecake in almost any flavour. This festive season, this Baklava Cheesecake is the perfect dessert to make, a true blend of flavours and deliciousness.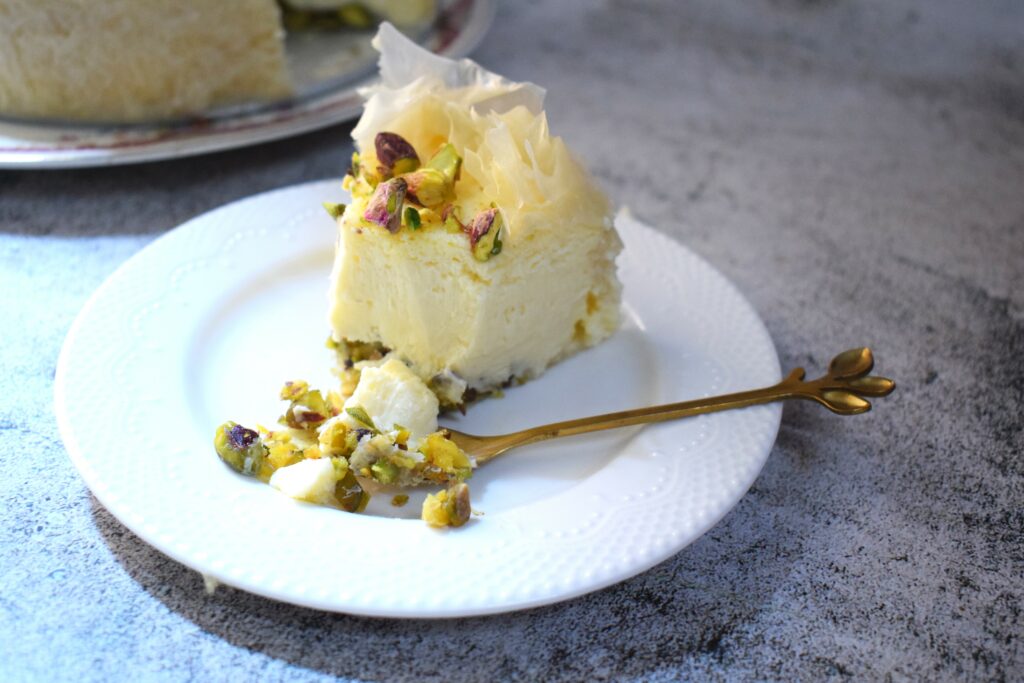 Ingredients for this Baklava Cheesecake
To tweak this cheesecake recipe into a Baklava, you'll need to use familiar flavours of rose, lemon and pistachios. To give this dessert a more authentic Baklava feel, I decided to make the base with filo pastry sheets, sandwiched with chopped pistachios. You can also add chopped walnuts if you like. The nuttier the better.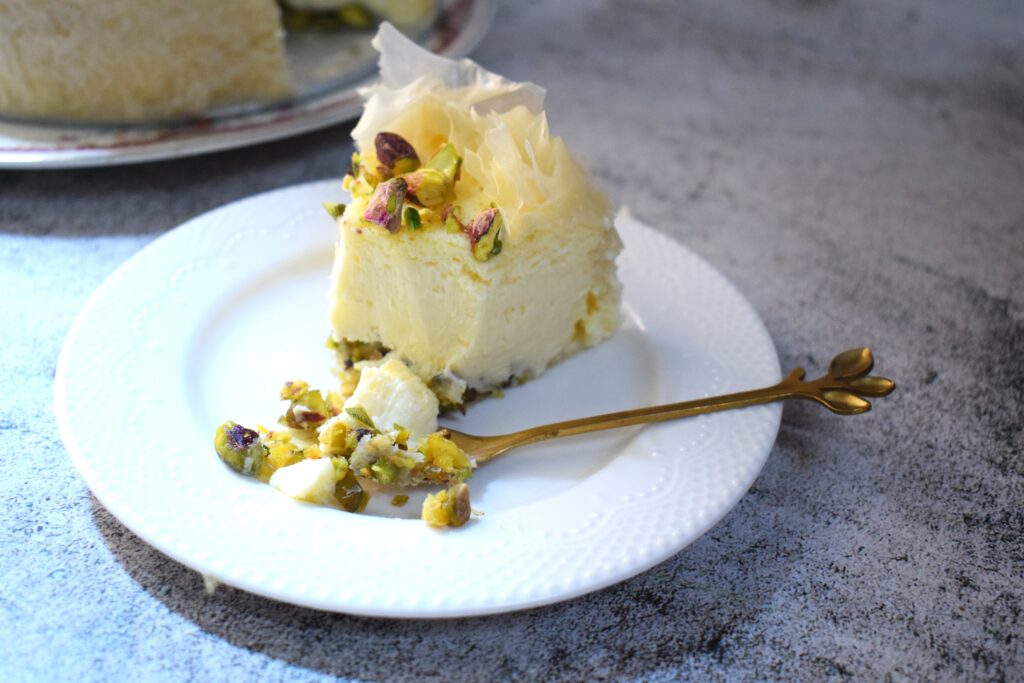 For the cheesecake filling, I've used my usual cheesecake recipe with some rose essence. The flavours are enhanced with a sugar syrup, with subtle hints of rose and lemon. The rest of the ingredients for the filling remain the same.
How to make this Baklava Cheesecake
This cheesecake is made with 3 layers; first a layer of filo pastry and pistachios, then the cheesecake filling. Once the cheesecake is baked, let it cool down to room temperature, then brush the sugar syrup all over the baked pastry and let it set in the fridge for a few hours.
I find it best to bake the cheesecake the previous evening and let it set in the fridge overnight. This way the cheesecake has plenty of time to set and the flavours, time to soak in and develop.
I was a bit disappointed with the dull colour of the baked pastry. I can almost guarantee you can avoid this if you're generous and patient with the butter on the filo sheets or a quick egg wash. Despite the dull colour, the pastry does turn out crisp and crunchy, irrespective of the colour.
How to use Filo pastry
Life is too short to make your own filo pastry, so please use store-bought filo pastry sheets. You'll find Switz Filo Pastry sheets in most supermarkets or on Big Basket. Keep the pastry frozen until you are ready to use it.
To use the pastry sheets, they need to be thoroughly defrosted and this generally takes about 2 hours. So leave the pastry in its casing on the kitchen counter for about 2 hours and follow package instructions.
Follow me on Instagram for recipe videos and updates.
This Baklava Cheesecake is the perfect festive dessert to serve this season. With familiar flavours of rose, lemon and pistachios and a creamy cheesy filling, it really can't get better than this.
Ingredients
For the pastry

8 sheets of Filo pastry

1/4 cup melted butter

3/4 cup finely chopped pistachios

For the filling

450 gms cream cheese

3 eggs

Juice of 2 limes

1 tbsp corn flour

400 gms condensed milk

2 tsp rose essence

For the syrup

200 ml water

200 gms castor sugar

Juice of 1 lemon

1 tbsp rose water

1/4 cup chopped pistachios for garnish
Directions
Preheat the oven to 150 C. Grease an 8-inch loose bottom tin with some melted butter
Line the bottom of the tin with 2 sheets of filo pastry, that have been completely defrosted. Brush generously with melted butter. Then layer with some chopped pistachios. Repeat the process twice with two sheets of pastry at a time and twice with a single layer of filo pastry. Pastry, butter, pistachios, repeat. Let the sides overhang
Once all the layers have been used up, leave a little extra trim around the rim of the tin, because it will shrink while it bakes and cut the rest of the pastry with scissors. You can use this pastry to make Om Ali, the recipe of which I'll post next. Set aside
In a mixing bowl, beat the cream cheese till creamy and light. Then add the rest of the ingredients, one at a time, until the filling is all blended and creamy. Pour this filling over the layers of filo pastry and bake in the preheated oven at 150 C for 1 hour
At the one-hour mark, turn off the oven, leave the oven door slightly ajar and allow the cheesecake to come to room temperature in the oven. This ensures the cheesecake won't sink
When the cheesecake has completely cooled down, place it over a plate to catch any syrup that might spill out. Pour spoons of syrup all over the layers of baked pastry. Sprinkle the pistachios on the top of the baked cheesecake to garnish and leave the cheesecake to set in the fridge overnight
When the cheesecake is ready to bake, lift it out of the tin by holding the pastry or push the base onto a serving tray. Serve with a spoon of remaining syrup
To make the sugar syrup, mix the water, sugar, lemon and rose essence in a saucepan. Stir the syrup and bring to a boil. Let it simmer for 5 minutes and then take it off the heat