I've yet to meet someone who doesn't find Tiramisu alluring. There's something very charming about coffee-soaked sponge topped with gentle mascarpone cream. These Tiramisu cupcakes have all the glamour of an authentic Tiramisu while requiring only half the effort and time.
Layers in a Tiramisu
A Tiramisu generally has 2 components. The first layer is a layer of sponge biscuits, dipped in coffee syrup and the second, mascarpone cream. To translate this into a cupcake, I've made spongy vanilla cupcakes, a simple coffee syrup topped with whipped vanilla and mascarpone frosting.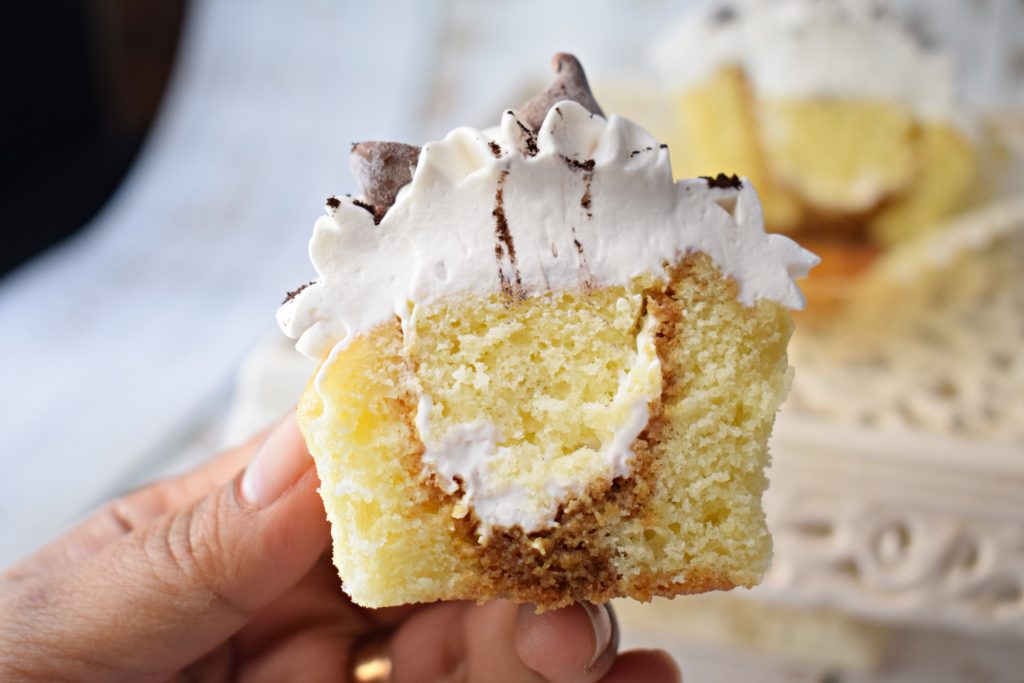 Just the sound of these flavours and textures together seems magical. A gentle dusting of cocoa powder and a sprinkle of choco chips make these cupcakes look and taste twice as good. I just couldn't recommend them enough.
Finding Ingredients for Tiramisu:
There are only two ingredients of these Tiramisu cupcakes that are different from the usual. One, Mascarpone and two, whipping cream.
Mascarpone is a soft creamy cheese, similar to cream cheese in texture, although very different in taste. You'll find mascarpone cheese in well-stocked supermarkets and also online on naturesbasket and bigbasket. Mooz and Impero are two brands I've tried and could recommend.
Whipping cream: To get a frosting of the right consistency, it is important you use a whipping cream that will whip into stiff peaks. I first made the frosting using Amul whipping cream and although the consistency seemed perfect at first, it turned thin after refrigeration.
I prefer using a non-dairy whipping cream to make the frosting. It is available in all baking stores. Tropolite and Rich's are two brands I regularly use. Non-dairy whipping cream is easy to use and stabilizes well to get the right consistency for making a good frosting.
The quantity of whipped cream I've mentioned in the recipe is 2 cups of cream that has already been whipped into stiff peaks.
Don't be put off by what seems like a lengthy recipe. All three elements are very simple to make and don't need much time or effort.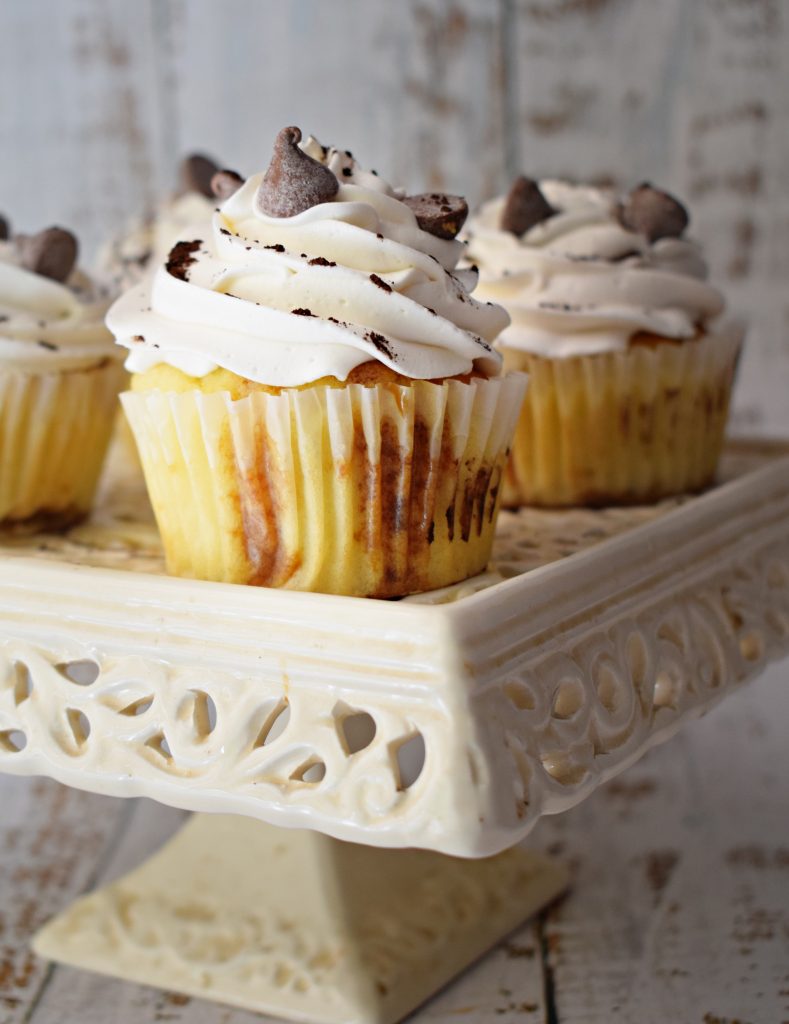 Tiramisu Cupcakes :
(Makes 16-18 regular sized cupcakes)
Ingredients:
For the sponge:
80gms butter, softened
1 cup castor sugar
1 1/2 cups flour
1 tbsp baking powder
2 eggs
1 cup milk
1 tsp vanilla essence
For the coffee syrup:
1 1/4 cup water
2 tbsp instant coffee powder
3 tbsp sugar
For the frosting:
1 1/2 cups whipped cream ( stiff peaks consistency)
150 gms mascarpone cheese
2 tbsp icing sugar
2 tsp vanilla essence
Preheat the oven to 180 C. Line a muffin tin with paper cases. You will need two trays, one with 12 cases and one tray with 6. (If you don't have two trays, bake in two batches.)
In a large bowl, mix the butter, sugar, flour and baking powder.
Using an electric beater, beat the ingredients on a low speed until they resemble crumbs.
In a separate bowl, mix the eggs, milk and vanilla essence together. Add this mixture to the flour mixture.
With the electric beater, mix all ingredients to a smooth batter.
Using an ice cream scoop, divide the batter between the paper cases. Make sure to not fill them beyond two-thirds full.
Bake in the preheated oven for 18-20 minutes.
Leave to cool while you make the coffee syrup and frosting.
For the coffee syrup:
In a saucepan, mix the instant coffee powder, sugar and water. Bring to a boil over a medium heat. Then continue to let it simmer for about 10 minutes or until the liquid reduces by half.
Set aside to cool.
For the frosting :
In a clean bowl, beat the mascarpone cheese on medium speed for a minute.
Add the vanilla essence, the whipped cream and the vanilla essence. Mix together until smooth. (Note that the whipped cream should already be whipped to stiff peak consistency before adding it to the mascarpone)
To assemble the cupcakes:
Once the cupcakes have cooled, use a sharp knife to cut out a small piece from the centre of the cupcake.
Add a tablespoon of the coffee syrup over the cupcake. Fill the hollow of the cupcake with the frosting and place the cut-out piece back on the cupcake.
Frost the cupcakes with some more mascarpone cream. Dust with cocoa powder and top with some chocolate chips if you like.
(I've used a 1M tip to frost the cupcakes. You can see the process on my Instagram reels)