Closely following up my Halloween Pancake recipe, is my recipe for Halloween Brownies. And yes, different recipe, same criteria for acceptance; must be low on effort, high on success! This recipe fits the bill and how!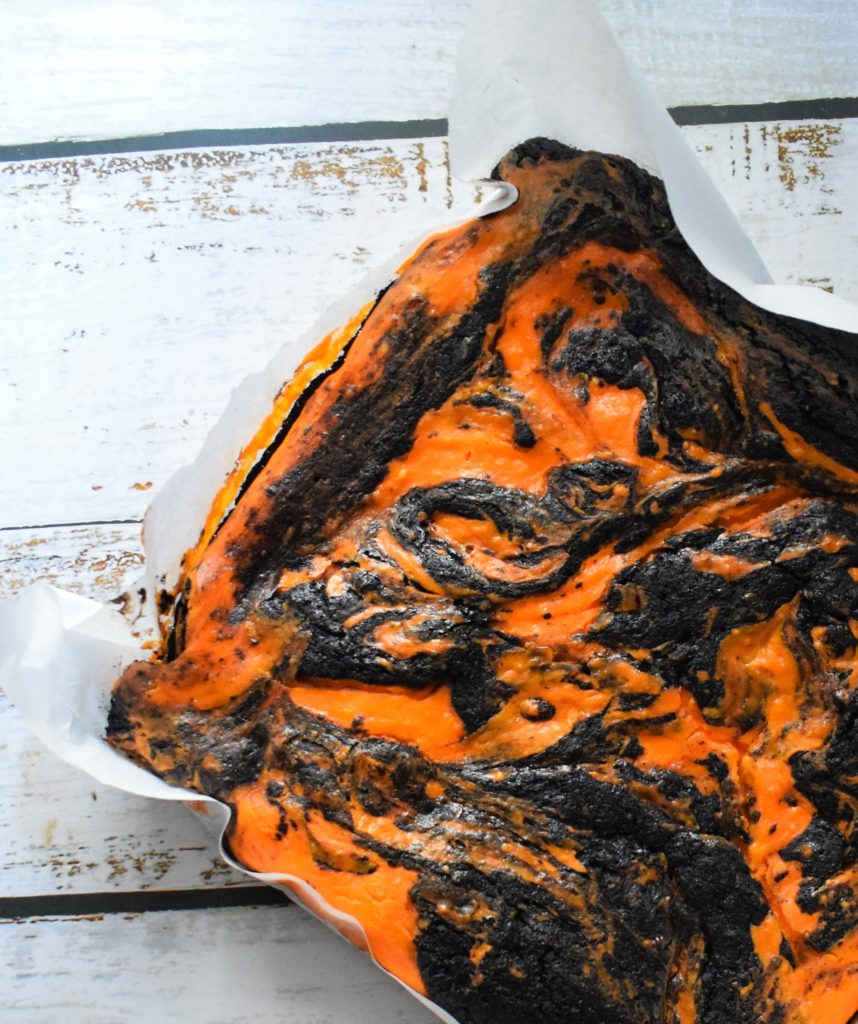 These Halloween Brownies will take you only 8 ingredients and just about 10 minutes to put together. 30 minutes in the oven and they are ready for the show, which means they are perfect for last-minute Halloween demands or a party.
An absolutely fuss-free recipe apart from being very low on demands of baking techniques, which is the good thing about brownies; they rarely flop.
How to Make These Halloween Brownies
These brownies have two layers, each of which takes about 5 minutes to put together. One layer is the chocolate brownie layer and the other is a delicious twist of cream cheese. A dash of food colour to the cream cheese layer and you have a Halloween party on your hands. That simple! My verdict on these brownies, they taste even better on day 2. And if you want to take them up a whole notch, serve them warm with ice cream. That my friend is true indulgence.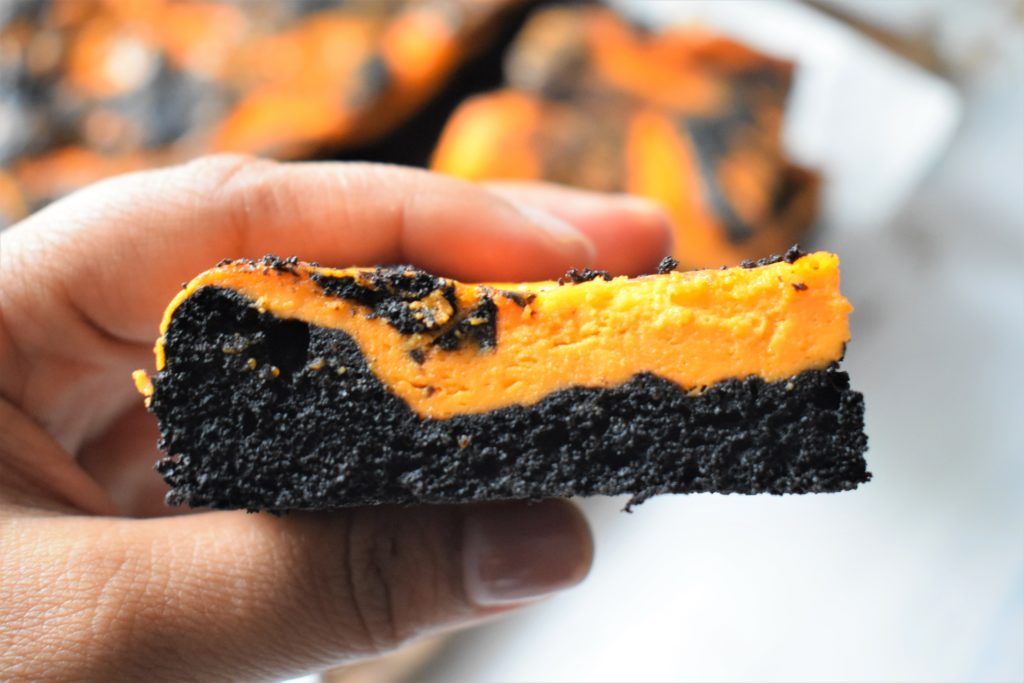 Halloween Brownies
For the brownie layer
1/2 cup flour
1/2 cup sugar
1/2 cup cocoa powder
1/4 tsp baking powder
1 tbsp vanilla
1/2 cup oil
2 eggs
For the cream cheese layer
200 gms cream cheese
1 egg
1/4 cup sugar
1 tsp vanilla
a dash of orange food colour
Follow me on Instagram for more baking updates.
Start by preheating the oven to 180 C. Grease and line a square brownie baking pan with parchment paper.
In a mixing bowl, put the flour, sugar, cocoa and baking powder to make the brownie layer. Mix with a fork.
Add the eggs, vanilla and oil. Whisk together to make a smooth batter.
Pour this batter into the prepared tin, reserving about 2 tbsps of batter for later. Spread the batter with a spatula to make an even layer.
In a separate bowl, mix the ingredients for the cream cheese layer. Using a cake beater, whisk to a smooth mix. Put dollops of this cream cheese mixture over the brownie layer.
Add the reserved 2 tbsps of brownie batter over the cream cheese layer. Using a toothpick or a fork, swirl the batter to blend the brownie and cream cheese layers a bit, do not mix completely.
Bake in the preheated oven at 180 C for 30-35 minutes.
Serve warm with a scoop of vanilla ice cream.