A lot of times I want to try a recipe just because it sounds exotic. Basbousa is a perfect example of that. I went through multiple recipes and found that there are so many variations to this cake. Each sounding more exotic than the other.
Last week I posted a little snippet on Instagram of the Basbousa I made and from the response I could tell, I'm not the only one who gets excited about middle eastern delicacies. I also tried Kunafa last week. I need some improvising on that recipe and will post it here when I eventually conquer it and conquer it I will.
If I had better self control and was one of those blessed souls who could eat anything and not put on weight, trust me I would try every variant I read about. But you and I both know that the struggle of my weight loss is real. You can read more of that here.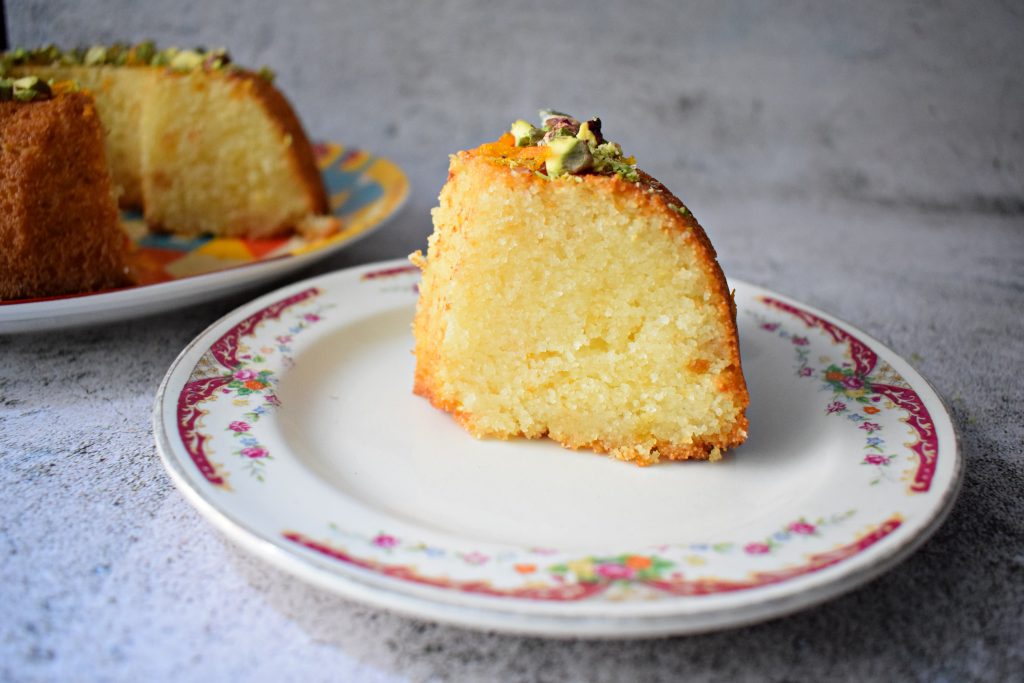 From the little research I did on Basbousa, I understood that the variations are connected to the region the recipe is from. Although originating from Egypt, it is made slightly differently in other middle eastern regions. Some use tahini, (yes you read that right) some use eggs, some with pistachios, almonds or coconut. Although I decided to use coconut, given the mangy in me, I was in bad luck as I didn't have any in my pantry.
Ingredients for this Basbousa
This cake needs the simplest of ingredients. Not even eggs or flour. All you need is a bit of sugar, semolina, butter and yoghurt/thick curds. To add the middle eastern flavours, you need a good dash of rose essence and orange. You can add pistachios or almonds for garnishing. I'd like to add a cup of dessicated coconut to this next time. I'm pretty sure it'll only enhance the flavour and texture.
Basbousa and the Syrup :
The cake is complete only with the syrup. Without it, you'd probably have just baked semolina. The cake itself uses very little sugar because the sweetness for the cake comes mostly from the sugar syrup. Once the cake has baked, you can pour the syrup over it while it is still warm. A warm cake absorbs liquid much better.
For the cake to completely develop flavour, you need to give it time to soak in the syrup. I poured half the syrup over the cake when it was right out of the oven and let it sit for about 30 mins, and then poured all but half of the remaining syrup again. You can use all the syrup if you like, or go with how much you want, depending on how well, the cake absorbs the syrup. You can also reserve some of the syrup to serve the cake with.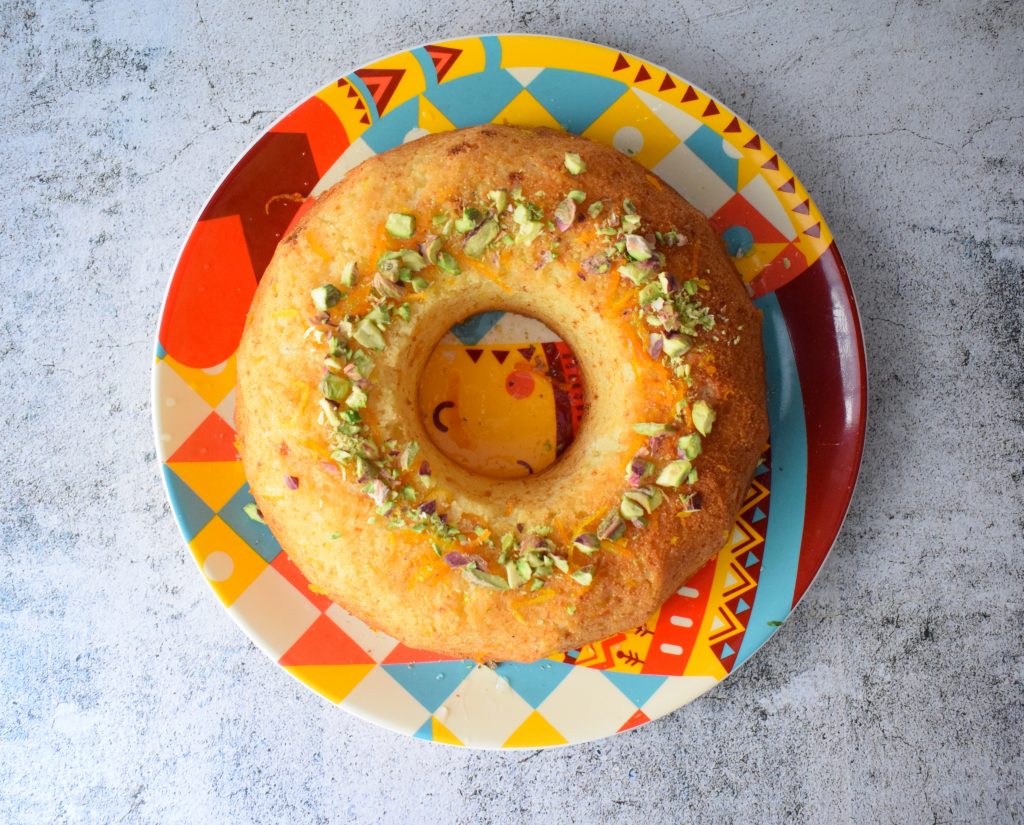 Using Rose Essence in Basbousa
If you have read a few of my recipes here you also know by now, that I am a rose essence convert. Ever since I made Baklava at home, I'm quite eager to use rose essence in every recipe I can. You'll need to try making that Baklava to know what I am talking of.
Reading my other recipes using rose essence is enough proof of my new found love for it. If you haven't tried this Semolina cake or the Pistachio Cake, a good time for that will be now. Both posts use exotic and rose excessively. Don't say I didn't warn you.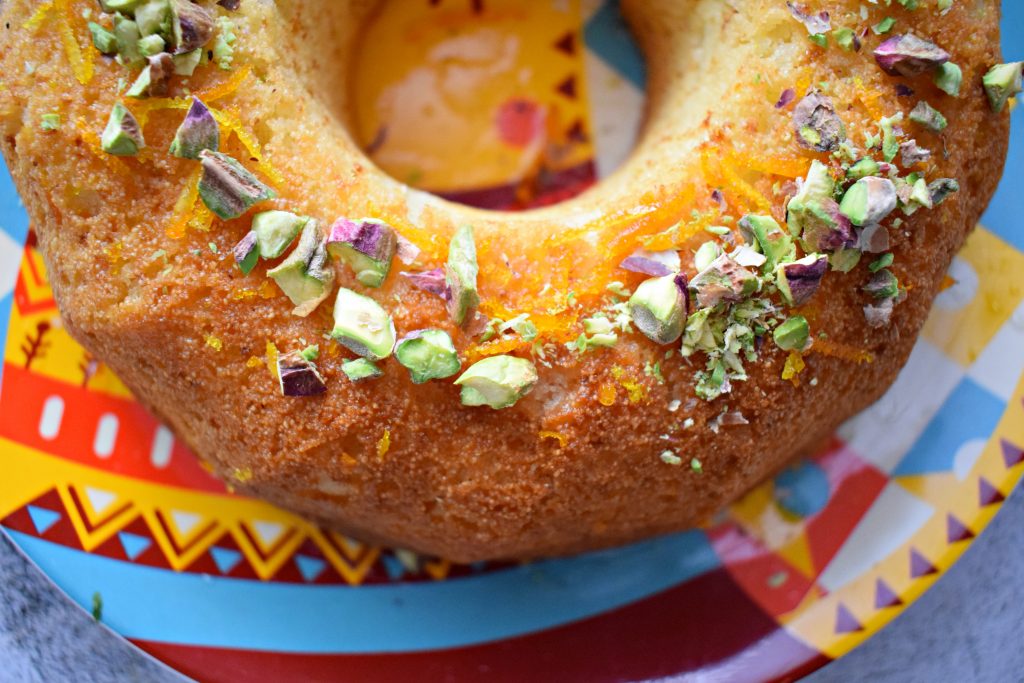 Basbousa
Ingredients:
For the cake :
2 cups semolina
1/2 cup melted butter
1 cup thick curds/yoghurt
1/3 cup sugar
1 tsp baking powder
1 tsp baking soda
2 tbsp orange zest
For the syrup
2 cups sugar
1 1/2 cups water
1 tbsp orange zest
Juice of one lemon
1 tsp rose essence
Grease a 9 inch round tin or a 7 inch, deep bundt pan or a 8 x 8 square cake tin. Preheat the oven to 180 C.
In a large bowl, mix all the ingredients for the cake. Using a silicone spatula or a wooden spoon, bring the mixture together.
The mixture will be fairly thick, unlike a brownie or thin cake batter.
Spoon the mixture into the greased dish and press down with the spatula to spread and even it out.
Bake in the preheated oven for 40 – 45 mins. The cake will turn slightly brown/bronze on the top.
When the cake is out of the oven, pour the syrup over the hot cake and set aside for at least an hour before serving. (Read notes above about using the syrup)
For the syrup
While the cake bakes, make the syrup. To make the syrup, put the sugar, water and zest in a saucepan. Bring to a boil and let it simmer for 10 mins.
Turn off the heat and add the lemon juice and rose essence.