I decided to make cheese straws because I wanted to have a stash of homemade snacks for the kids. We know all of us have been feeling "hungry" more often as we stay home patiently waiting for COVID to retire.
I know the kids love their cheeselings, but how cool would a baked cheese snack be. So much for the stash though, since there's no doubt that we polished off this batch in one single evening.
I bookmarked this recipe in my Mary Berry Ultimate Cake Book the minute I laid eyes on it. If you're like me and love simple and easy baking, you will absolutely love this book. The recipes here aren't fussy or elaborate and just like these cheese straws, use simple everyday ingredients.
If making snacks are your thing, I've got a whole lot of Kids snack box ideas that you should check out. My favourite from that list is the banana bars. We polish a batch of that too pretty quick. Also, follow me on Instagram where I post stories and posts straight from my kitchen. Lots of ideas there too.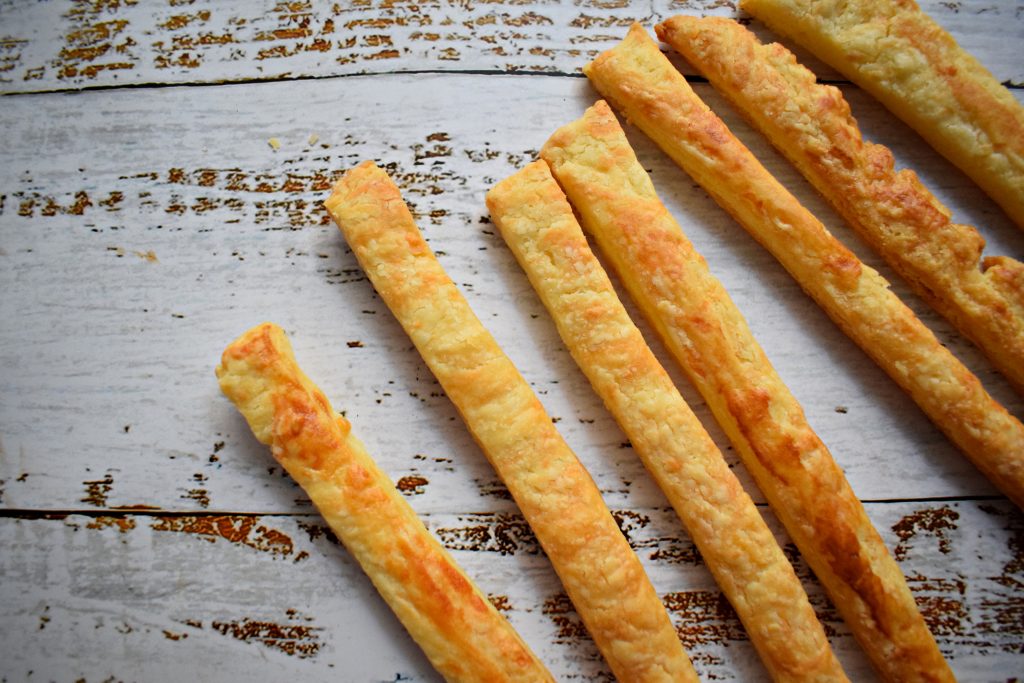 Ingredients for Cheese Straws:
You'll find it hard to believe that these cheese straws require only 4 ingredients; flour, butter, egg and of course cheese. Now the question of what cheese to use. Although the recipe uses cheddar cheese, I've used regular processed cheese. And it worked great. So you can regular cheese cubes or block cheese too if you don't find cheddar.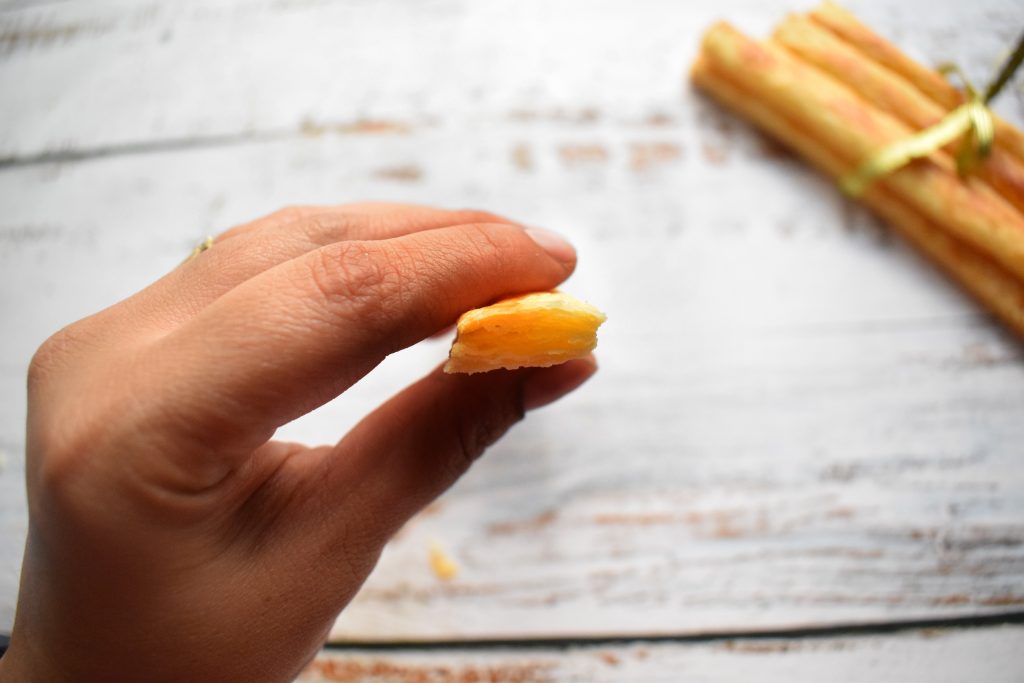 How to make these Cheese Straws:
I've simplified the recipe. To begin with, the flour and butter need to be rubbed together. The best way to do this is to grate fridge-cold butter and mix it with the flour. So make sure you use the butter straight out of the fridge or even frozen. Grate it using a microplane or box grater. You definitely can't use room temperature butter for this.
The rest of the recipe is fairly simple. Add the grated cheese, the egg yolk and make a dough. Roll out the dough, cut into strips and bake till golden. That simple.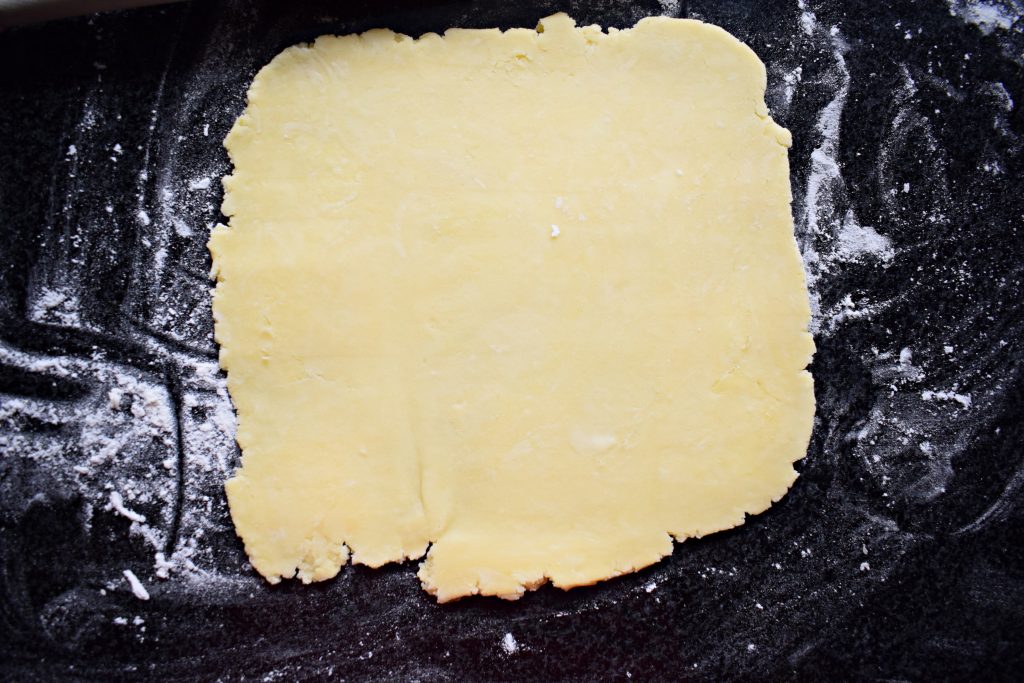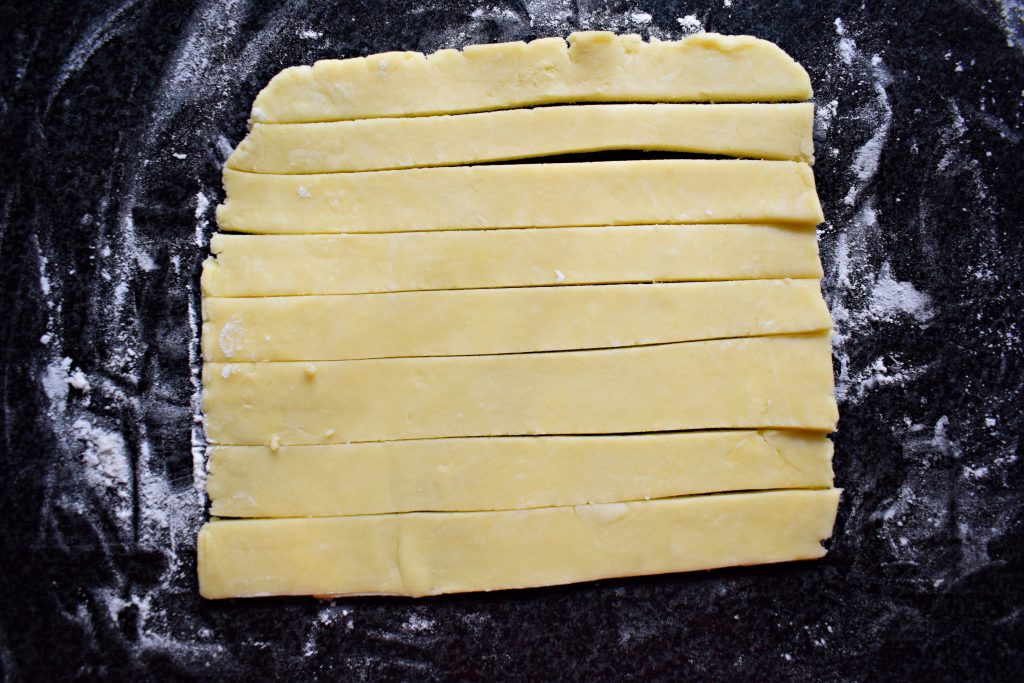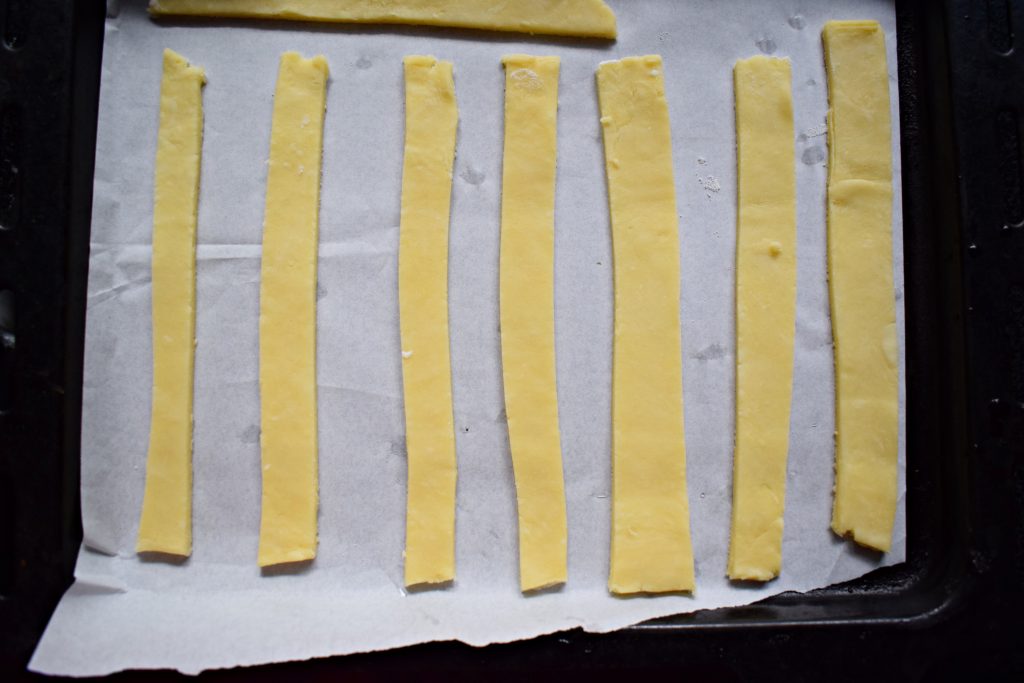 These also make a great edible gift. Wrap them up with a little ribbon and cellophane and they're good to go. If you aren't yet, follow me on Instagram for daily updates from my kitchen.
So here we go.
Baked Cheese Straws :
Ingredients:
100 gms/4 oz plain flour
75 gms butter, grated when cold (read notes above)
50 gms, grated cheese
1 large egg yolk
2 tbsp milk
Line a baking tray with butter paper. Set aside.
Measure the flour in a bowl. Add the grated butter. Using your fingers, mix the two until the mixture resembles bread crumbs.
Stir in the grated cheese and the egg yolk. Bring together to form a dough. Use your hands if that's easier than using a spatula.
Do not knead the mixture, once it has come together. Mix the dough just enough to bring the dough together.
Make two portions, wrap in cling film and refrigerate the dough for 20 minutes.
Preheat the oven to 180 degrees.
Take out one part of dough. Roll out the chilled dough on a floured surface into a square of medium thickness.
Trim off the sides if you want even strips.
Cut into long strips. Place on the prepared baking sheet, brush a little milk on each of the strips.
Bake in the preheated oven for about 12 -1 5 minutes until golden.
When baked, take out of the oven and let it cool completely before serving.
When the first batch bakes, repeat the process with the other half of the dough and bake those when the first batch is done.
These are best eaten fresh and will stay good for up to 2 days outside
Freeze them if you wish to store them longer.