A Pavlova is one of those classic bakes you just have to make at least once. But honestly, once you've made it, you'll see how simple it is to make and how delicious it is , that you'll want to make it all the time. My first introduction to a pavlova was when I watched a contestant make it on Masterchef Australia (gosh, did I love that show back then) in one of the earliest seasons of the show. It looked all fancy, technical and of course if it was on master chef, it must be a complicated bake to make. Although, I have learnt that if you follow a few tips and steps in the process, it is a really simple bake to make and always a showstopper. I wanted to make the most of the mango season and paired this pavlova with fresh mango and kiwi, but you can also make it with berries, grapes and other fresh fruits.
What makes a Pavlova?
Never mind its very fancy name and appearance, a Pavlova actually needs just about 4 ingredients to make, apart from the whipped cream and fruit that go as toppings. A pavlova is basically a baked meringue, made with egg whites and sugar. To give it texture, flavour and make it oh so stunning, you top it with a layer of whipped cream and finish off with fresh fruit. And when those three layers go together, they create magic in your mouth.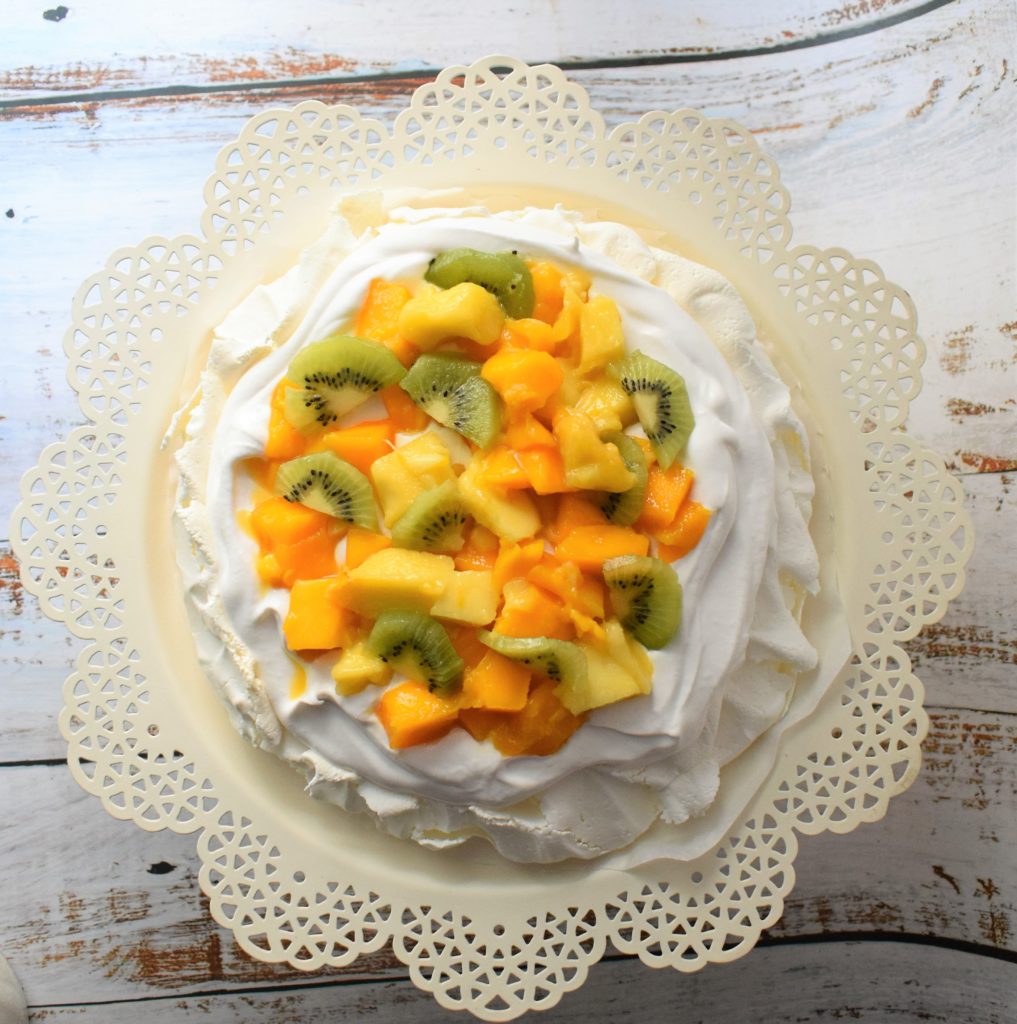 Tips to get the perfect meringue
First things first: Use a clean bowl to whip the egg whites. If it's greasy, it won't work.
Separate the eggs properly. Make sure none of the yolk gets into the egg whites when you separate the eggs
Whip the egg whites until they form stiff peaks and only then add the sugar
Add the sugar gradually and not all at once
Use a clean cake beater to whip up the eggs. You can also use a whisk, you'll need some extra elbow grease and make sure you whip the egg whites to stiff peaks.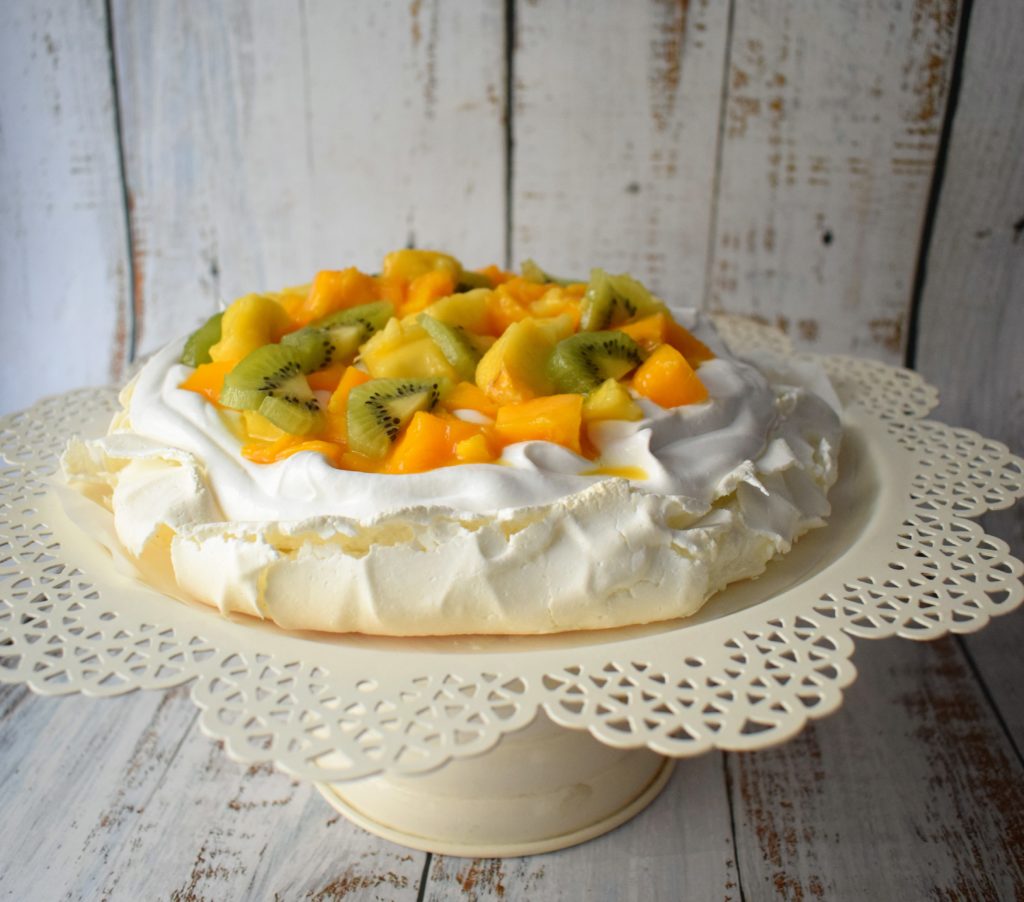 What fruits to pair with a Pavlova?
Mangoes make the perfect combination. Throw in some kiwi for some extra colour and tang. You can also use strawberries, grapes and blueberries. Use a mix of fruits or go with just one sweet fruit. I'd always pick juicy, ripe mangoes.
Pavlova
4 egg whites
1 cup castor sugar
2 tbsp cornflour
1 tsp vinegar
1 cup whipped cream
1.5 cups fresh mangoes, peeled and cut.
Start by preheating the oven to 150 C. Line a baking tray with parchment paper and set aside
In a clean bowl, whip the egg whites until they form still peaks, using an electric cake beater
Gradually add the sugar, whisking well after each addition. The mixture should look stiff and glossy and should be able to hold its shape.
Whisk in the cornflour and vinegar. Do not overmix
Using a spatula, gently scoop the mixture onto the baking paper and shape into a large circle, with a height of about 1 inch . Slightly flatten the top using an offset spatula. Firm up the sides by running the spatula on the sides gently and pulling the sides in.
Bake in the preheated oven for 40 mins , then turn off the oven and allow the pavlova to cool down in the oven with the oven door ajar.
You can also make the pavlova in advance. Once cooled, you can store it in an airtight container in the fridge overnight.
To serve, top with whipped cream and freshly cut fruit; mangoes and kiwis make a great combination.