I've titled these moist chocolate cupcakes because that's exactly what they are. Moist, insanely chocolaty, squidgy and a piece of heaven in your mouth. You will love these.
These were so easy to put together that once I had the ingredients measured, my 3-year-old put the batter together for me. They are THAT simple to make. You're welcome.
There are many reasons why I love these cupcakes, but mainly it's because you need under 10 minutes to get the batter ready. The cupcake batter needs only a fork to whisk the ingredients together, so if you don't have an electric beater that's not a problem at all.
For the frosting, I used ganache, which again, doesn't need a beater and it's the simplest frosting one can make.
Follow me on my Instagram account where I am currently posting super simple recipes in my stories, mostly with readily available ingredients during this lockdown period. I got some great feedback on the Baked Cheesecake recipe I posted earlier. Please bookmark the recipe for when you can make it later.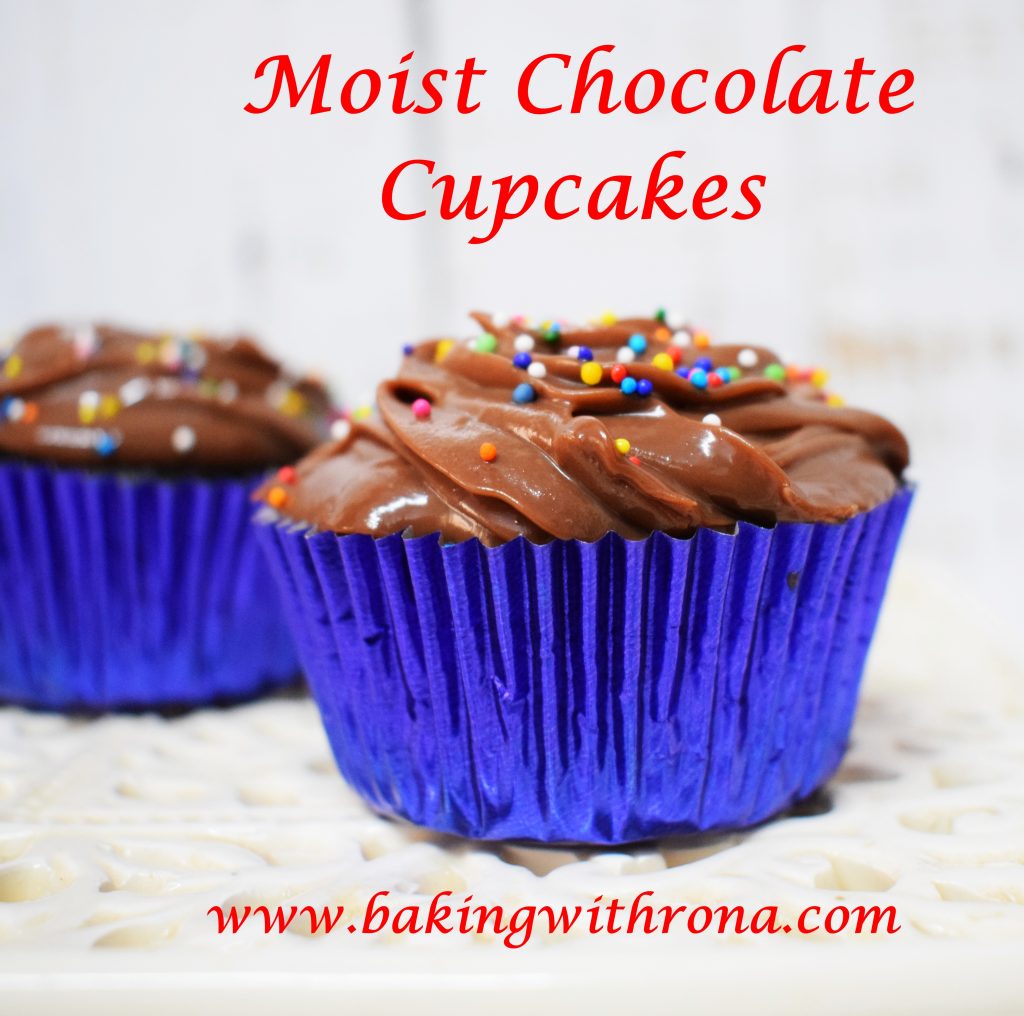 What ingredients do you need for these chocolate cupcakes
You only need flour, sugar, cocoa powder, baking soda and baking powder for the dry ingredients. Once you have those measured you just mix in the wet ingredients which are one egg. some milk, oil, vinegar, vanilla and water. This is how the batter comes together really quickly.
It's important to use hot water in the batter, it helps the cocoa blend with the other ingredients properly and also keeps the cupcakes moist.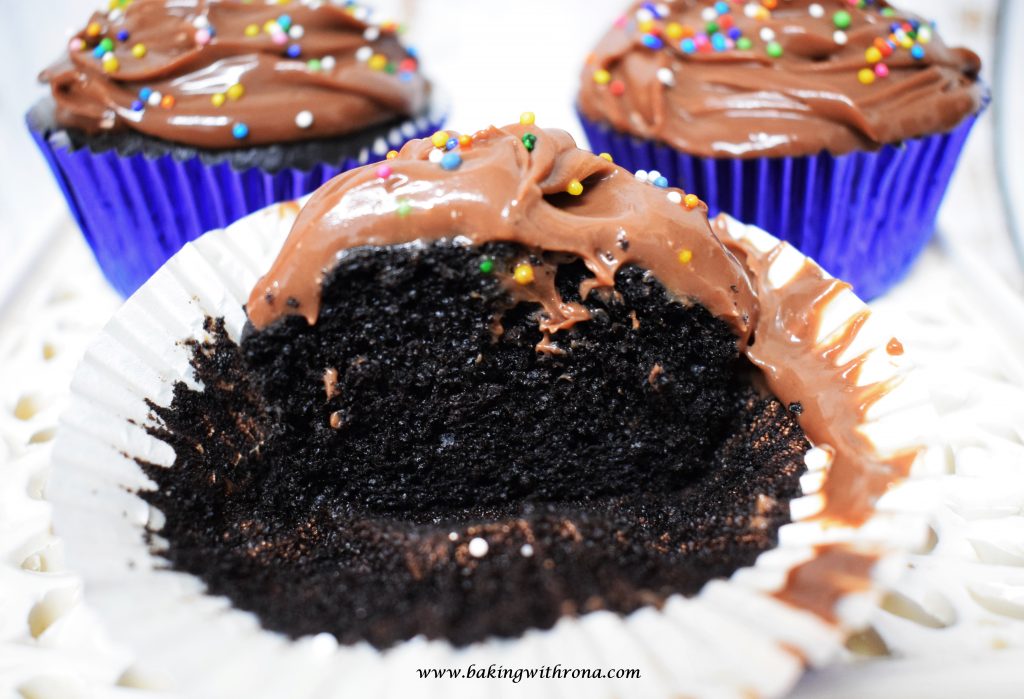 What makes these chocolate cupcakes super moist
Vinegar might seem like a strange ingredient to use in cupcakes, but trust me it is the secret ingredient that keeps these chocolate cupcakes moist. In place of using milk and vinegar, you can also use plain buttermilk, but right now it might just to be easier to find milk and vinegar.
Regular sized cupcakes or mini cupcakes?
This batter is enough to make 15 regular sized cupcakes. You can use the same batter to make mini cupcakes too. With this batter, you should end up with 20 plus mini cupcakes. Adjust the baking time accordingly, mini cupcakes will take slightly lesser time to bake.
Frosting for these chocolate cupcakes.
For the frosting, I paired these cupcakes with ganache, made with milk chocolate. Not only does it make a great combination, but ganache also needs only two ingredients to put together.
I definitely prefer ganache over buttercream, especially when it comes to chocolate frosting. That being said, chocolate buttercream will work just as well with these cupcakes.
Moist Chocolate Cupcakes:
Ingredients:
For the cupcakes
1 cup flour
1/2 cup sugar
1/2 cup cocoa powder
1/2 tsp baking soda
1 tsp baking powder
1 egg
1/2 cup milk
1 tsp vinegar
1/2 cup oil
1 tsp vanilla
1/2 cup hot water
For the Ganache frosting:
200 gms chocolate, chopped into bits
200 ml regular cream
Method:
Preheat the oven to 170 C. Line a muffin tin with paper cupcake liners.
In a large bowl, mix the dry ingredients; the flour, sugar, cocoa powder, baking soda and baking powder. Gently whisk the ingredients together using a fork or a whisk.
Add the wet ingredients; egg, milk, vinegar, oil, vanilla and hot water.
Using a whisk or fork, mix the wet and dry ingredients until you have a smooth, lump-free batter. Do not overmix.
Using an ice cream scoop or a small ladle, spoon the batter into the cupcake liners, filling only till two-thirds of the paper liner.
Bake in a preheated oven for about 18-20 minutes, until a toothpick inserted in the middle of the cupcake comes out clean and dry.
For the ganache:
While the cupcakes are baking, you can make the ganache.
Chop the chocolate roughly. Put in a microwave-safe bowl.
Add the cream and mix the two. Microwave the mixture, in 30 and 20 seconds spurts, till the cream is just about hot.
Stir the warm cream and chocolate together, and you should find the chocolate melting and combine with the cream.
If you still find any lumps of chocolate, put the mixture back in the microwave for 20 seconds.
Once the cream and chocolate have combined into a smooth mixture, leave the ganache to cool and refrigerate until needed.
To assemble your cupcakes :
Make sure the cupcakes and ganache have both cooled down completely.
Using a piping bag or a spoon, decorate the cupcakes with the ganache and top with sprinkles.