These are the best dark chocolate fudge brownies I've ever had. Not just dark chocolate brownies, any kind of chocolate or fudge brownies I've had. These are so good. This is the kind of recipe you need to take a print of and put in your forever recipe book right now.
I've made many chocolate fudge brownies over the years and some of them have been absolute favourites. If I had to pick the best before these I'd say these Brownies were pretty darn good and these double chocolate ones don't really disappoint either. Looking for brownies without the chocolate? You should try these peanut butter blondies or these banoffee ones. Thank me later.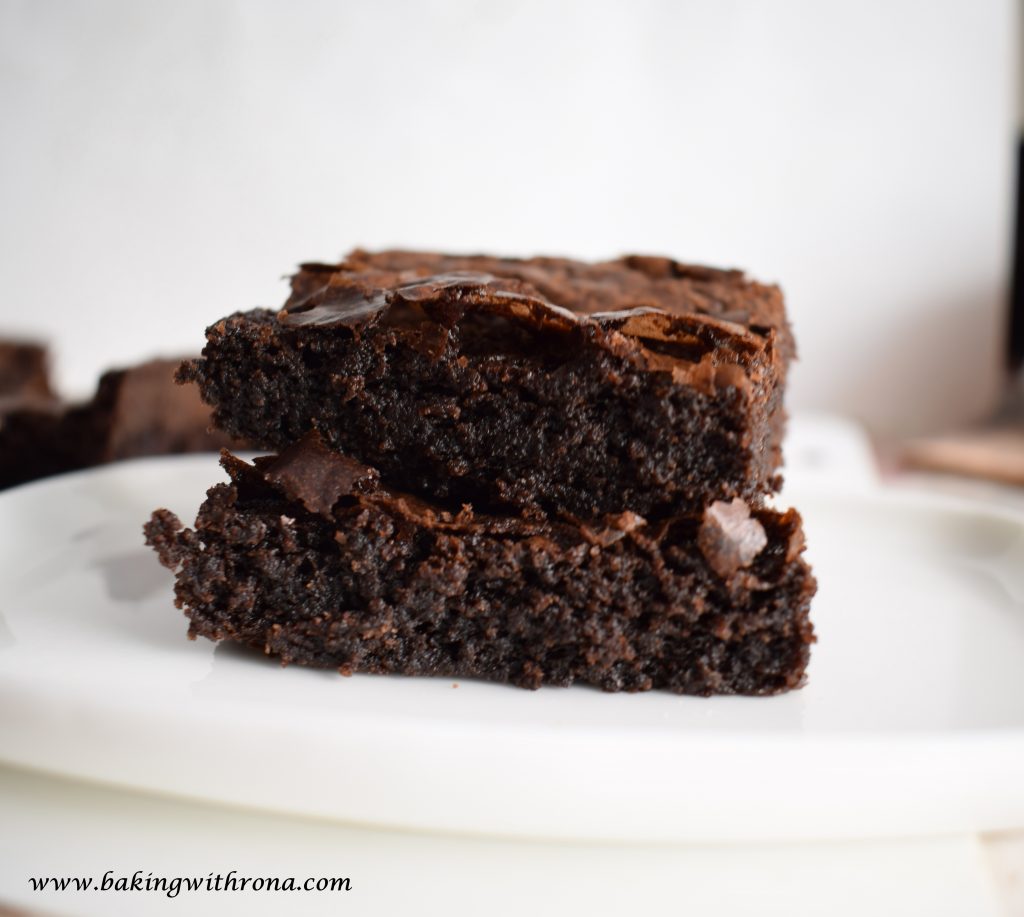 Coming back to these dark chocolate brownies. They are fudgy, full of chocolate, moist and most importantly they are super easy to make. Also, the recipe makes quite a large batch and that's good because you're going to want them. I feel like I need to warn you that you will not be able to stop at one. I couldn't at 3.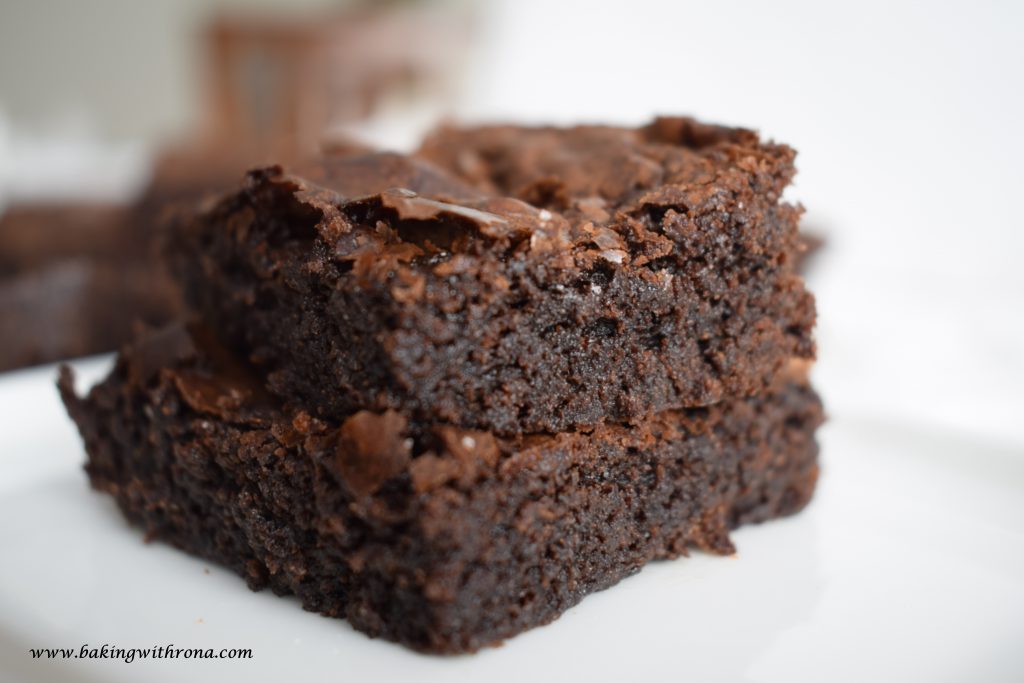 I've kept the sugar to almost a minimal because I've thrown in some milk chocolate to balance the dark chocolate but feel free to use all dark chocolate. Also, as hard as it may seem to be patient, these taste better if you let them rest for a few hours or even better overnight. You could also put them in the fridge and they'll only get fudgier.
Anyone try the peanut butter banana pie yet? Post a picture on Instagram or Facebook if you try any of the recipes posted here. Tag Baking with Rona when you do.
Notes:
This recipe makes a larger than usual batch of brownies. You can make them in one large pan like a 11 X 16 pan or two medium-sized pans.
It is important to grease the base and sides of the tin, and line the base with parchment paper. Fudgy brownies can be sticky and you'll have a hard time taking them out of the pan that isn't lined with parchment paper.
Roughly chop the chocolate and cut the butter into cubes, so that they sort of melt together at the same speed. I usually just jab my knife into the bar of chocolate and cut it.
If you have trouble peeling the parchment paper off the brownies once they have cooled down, put them in the fridge in the pan for about half an hour. You should be able to peel the parchment paper right off. This is that tip I wish someone had told me for all those brownies that wouldn't come off the parchment paper.
Dark Chocolate Fudge Brownies
(Please read notes)
Adapted from Beth's Foolproof Brownies.
Ingredients :
225 gms/2 sticks/1 cup unsalted butter
350 gms dark chocolate
75 gms milk chocolate
1 tbsp vanilla extract
1/2 tsp instant coffee powder
4 eggs
1/2 cup castor sugar
3/4 cup flour
1/2 tsp baking soda
Method :
Preheat the oven to 180 C. Grease and line a large square or rectangle cake tin.
Put the butter and both the chocolates in a medium-sized saucepan and melt it over a low flame. Keep stirring with a spatula, making sure the chocolate doesn't stick to the bottom.
When the chocolate has melted, add in the vanilla and instant coffee powder.
Take the mixture off the stove and let it cool down.
In a separate bowl, beat the eggs and sugar with an electric beater. Beat for about 2- 3 minutes, till the mixture gets pale and frothy.
To this, add the cooled down chocolate mixture and combine till it mixes well.
Then add the flour and baking soda, beat the mixture till just combined.
Pour the batter into the prepared cake tin and put to bake in the preheated oven for 12 -15 mins and let them stay in the warm oven for about 30 mins.
Then leave them outside to cool down completely before you take them out of the pan, to cut into pieces.