With Halloween around the corner, I thought this Pumpkin bread made a good recipe to post. With trick or treating, the kids are going to have enough candy to stuff their mouths, so I figured they could start the day off with something healthy while staying still in theme Halloween. Even better, this could be the perfect breakfast for the day after Halloween.
My 3 and 1-year-olds, both loved it, with the older one telling me he "liked my recipe". So that makes the perfect pumpkin bread recipe. Do you have some favourite Halloween traditions? I'd love to hear about them. I stick to dressing up my boys, although Halloween is a day away and I still don't know what costume to try this time around.
Considering how quick and easy this bread is, I didn't for a second think it was too late to post this recipe for Pumpkin Bread. It's super quick, fast, moist with a delicate hint of spice and just enough sweet. If you like a sweeter bread try this recipe for Whole wheat banana bread from my previous blog or this Semolina Cake I posted here earlier.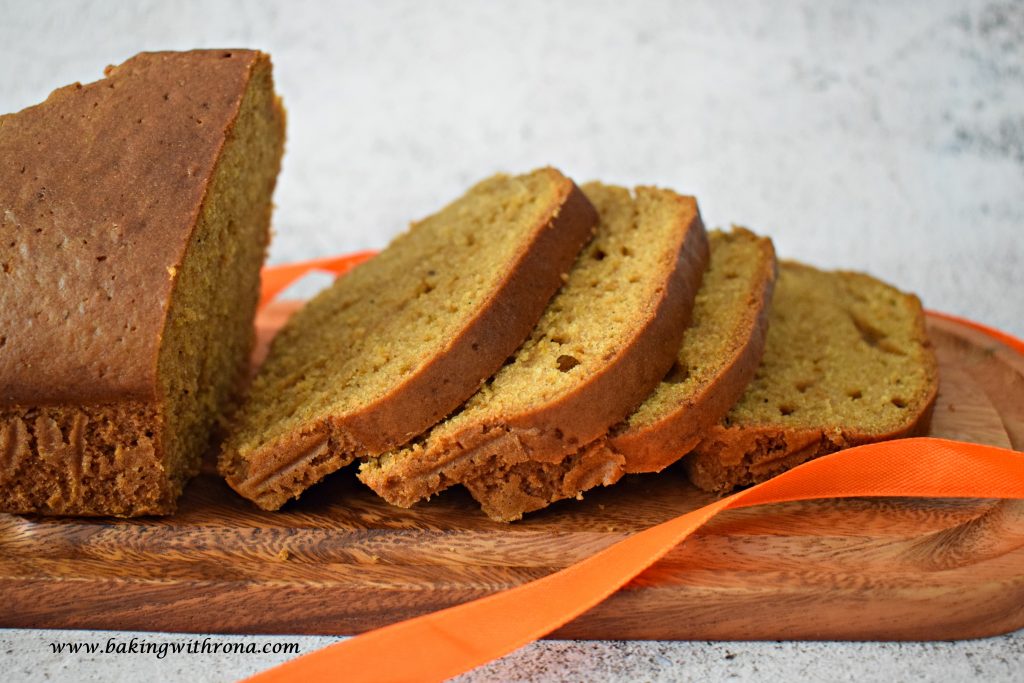 I've wanted to bake Pumpkin bread for so long but all the recipes I came across always included canned pumpkin. So I needed to do some experimenting to bake with fresh pumpkin which is how this recipe came about. You can make this pumpkin bread with fresh pumpkin so don't worry about finding canned pumpkin. I've included detailed instructions in the notes below on how to make your own pumpkin puree.
Notes:
To make your own pumpkin puree, pressure cook 200 gms peeled and cut yellow pumpkin with 1/4 cup water, with the weight on for about 10 minutes. Let it cool completely. The pumpkin will be soft and mushy and can be easily mashed it with a spoon or a potato masher. I found cut pumpkin on Bigbasket, in just the quantity I needed and this saved up so much time and effort.
If you're making a larger batch of pumpkin puree, just freeze the rest in an airtight container.
This makes quite a large loaf, so you can also bake it in 2 medium-sized loaf pans if you don't have a large loaf pan.
I tweaked the amount of sugar and spice and kept it to a minimum. If you like to have your bread sweeter, add 1/2 a cup of sugar.
You can get creative with this recipe and add white chocolate chips or drizzle caramel sauce over the baked bread. Good Luck!!!
Pumpkin Bread :
Ingredients:
3/4 cup oil
2/3 cup water
1 cup pumpkin puree
4 eggs
3 1/2 cups flour
2 1/2 cups castor sugar
2tsp baking soda
1 tsp baking powder
1/2 tsp nutmeg powder
1 tsp cinnamon powder
Method:
Preheat the oven to 175 C. Grease and line a large loaf tin with baking paper.
In a large bowl, combine the eggs, oil, water and puree. Using a beater, whisk the ingredients together.
Measure and add the dry ingredients; flour, sugar, baking powder, baking soda, nutmeg and cinnamon powder. Starting with the beater on slow, combine the wet and dry ingredients until you have a smooth mixture.
Pour the batter into the prepared loaf tin and bake in a preheated oven for 50 – 60 mins or until a toothpick inserted in the centre of the bread comes out clean.
Let the loaf cool completely on a wire rack before you take it out of the tin to slice it.
Serve slightly warm.