This is the only pizza dough you will ever need. Technically it needs only two ingredients. Practically just half an hour from start to finish to make this pizza and serve it up. You're welcome!!!
I had my own inhibitions of how this dough would work, but that was just the first time. It's been 4 weeks since I first tried this recipe and here we are 10 pizzas later. This is what tried and tested truly means.
In this post, I'm focussing on the pizza base because that is the only one that needs a recipe. The rest is so flexible and can go any which way you want. Also, if you haven't tried the Focaccia recipe from last week, head there now.
Ingredients you need to make this pizza dough (No yeast dough)
While traditionally, pizza dough requires yeast, this recipe is life-changing. When you're using yeast a pizza base requires much more time, considering you need to give time for the dough to rise. Imagine what joy you'll feel knowing that this dough requires none of that fuss.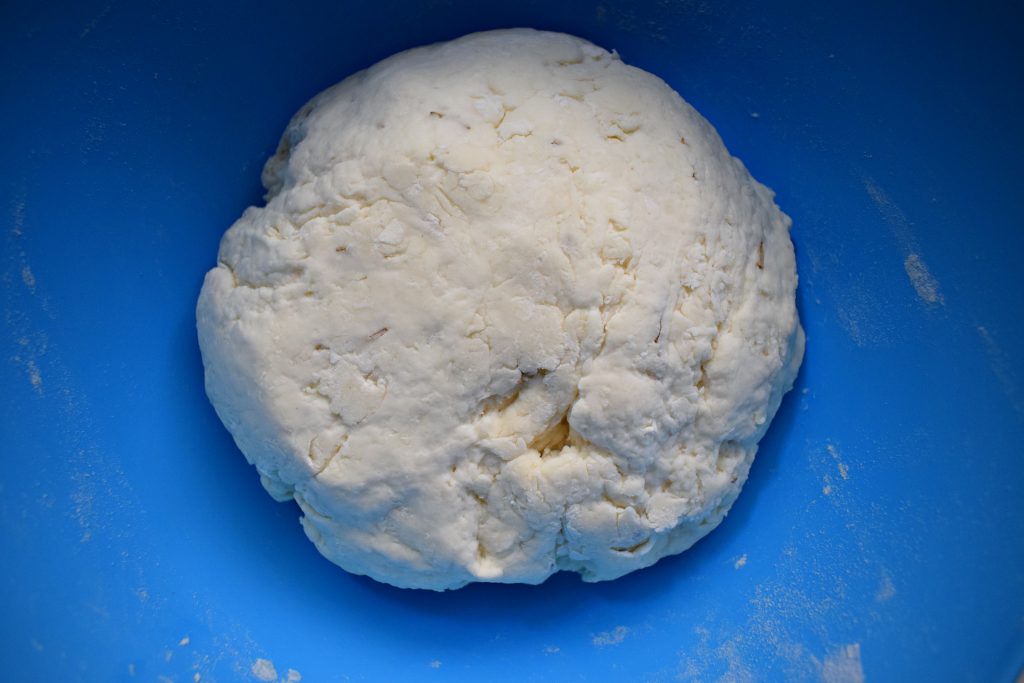 This homemade pizza requires mainly 2 ingredients: Flour and baking powder. Baking powder makes the dough fluffy, soft and pillowy. All you need to add is some water, salt and oil to make the dough. I like to add some dried herbs too, but that is completely optional.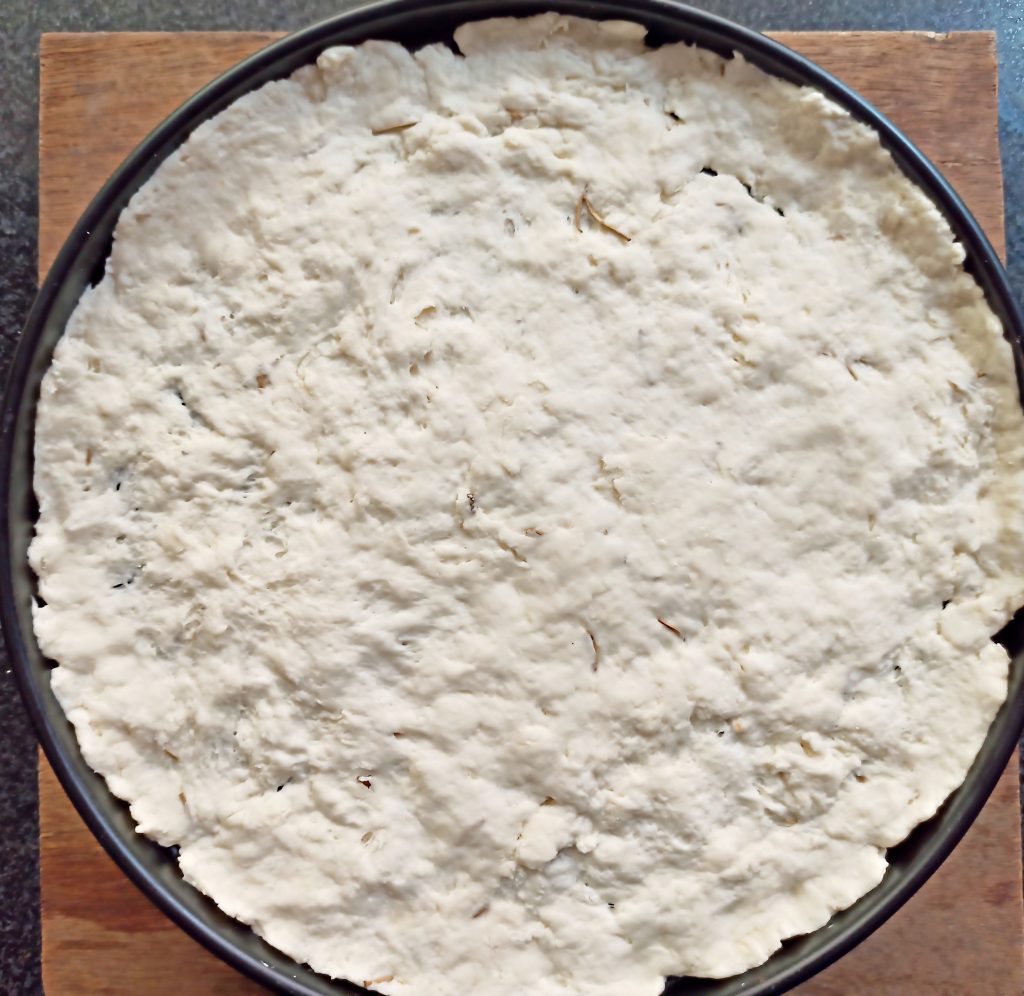 Pizza Sauce for Homemade Pizza:
Since I like to keep the process really short, I use ready made pizza sauce. It works well, it saves you time and effort and it tastes great. However if you'd like to make your pizza sauce, there are tonnes of easy homemade pizza sauce recipes available online.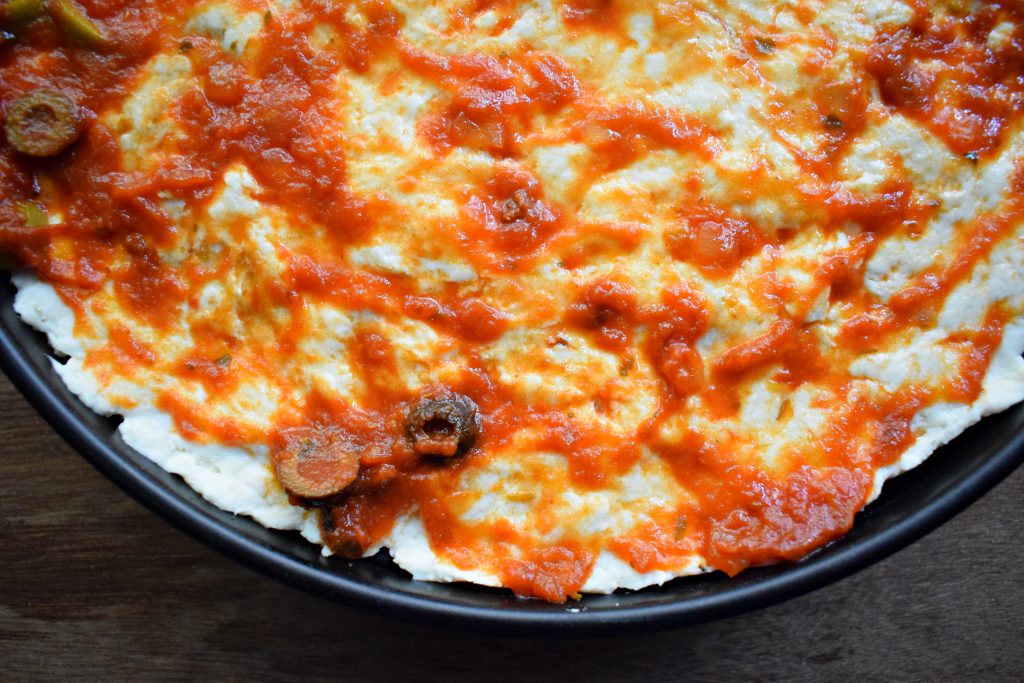 Toppings for the Homemade Pizza :
I like to include vegetables and meat in my pizza toppings. Adding the veggies makes me falsely believe my pizza is healthy and the meat gives it a familiar taste.
There is no rule on what vegetables you could use on a pizza. The usual suspects in mine are mushrooms and bell peppers. You can also add cherry. tomatoes, broccoli or zucchini. Pickles, jalapeno, sun-dried tomatoes, olives always add great flavour.
If you'd like to keep it completely vegeterain, add paneer in place of meat. Makes sure to season it well with some spices before you add it to the pizza.
When it comes to adding meat to the pizza, I go with pepperoni as often as I can. Sausages, chicken, salami, ham will work equally well.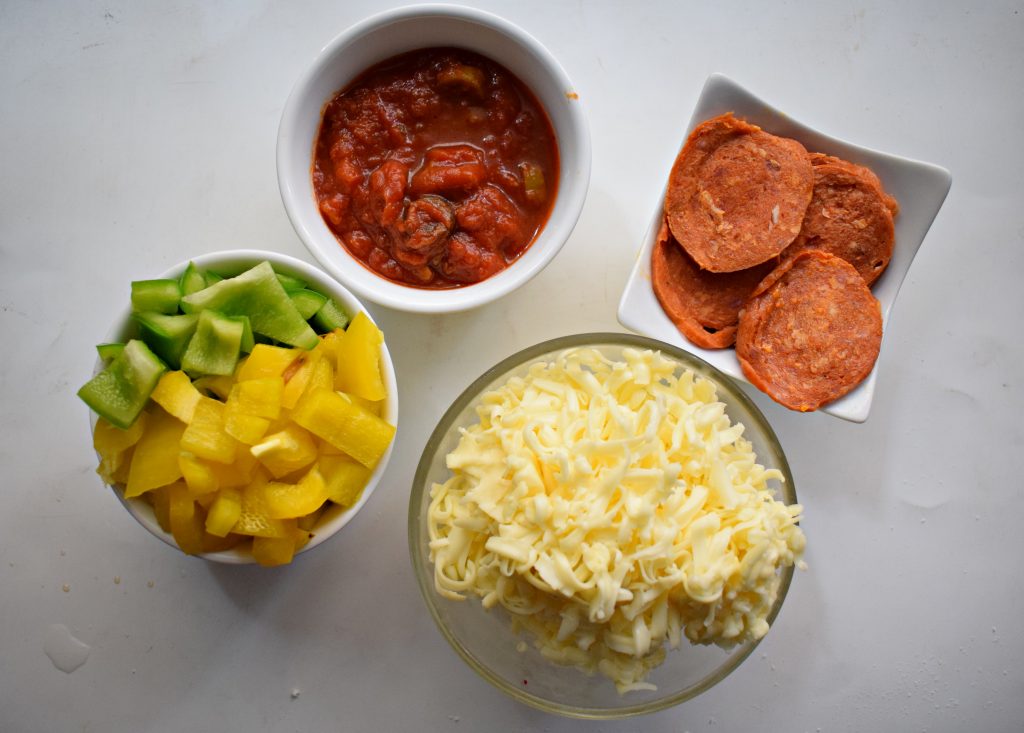 Since this recipe is such a winner, I went ahead and made one with seafood too. Such a great decision. I made sure to season the seafood well before adding to the pizza.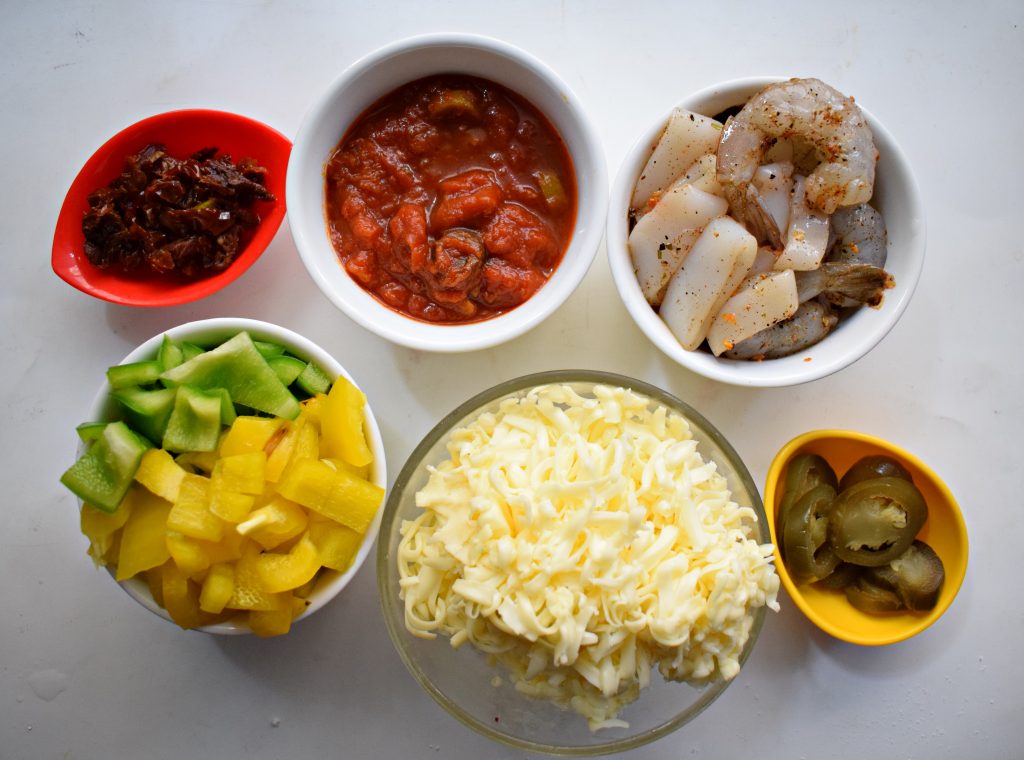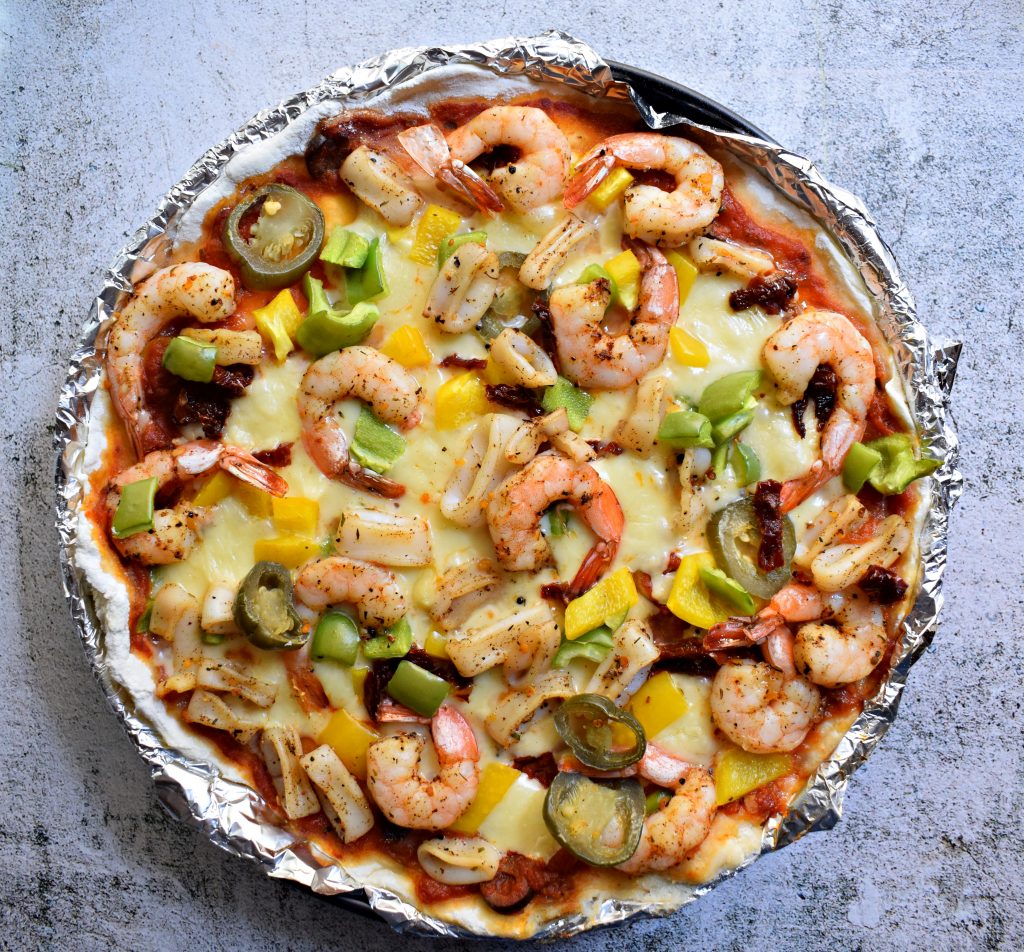 Using cheese for homemade pizza.
So, let's get real. Availability and affordability of gourmet cheese isn't easy. I like to be practical and keep it simple. I use whatever cheese I have on hand.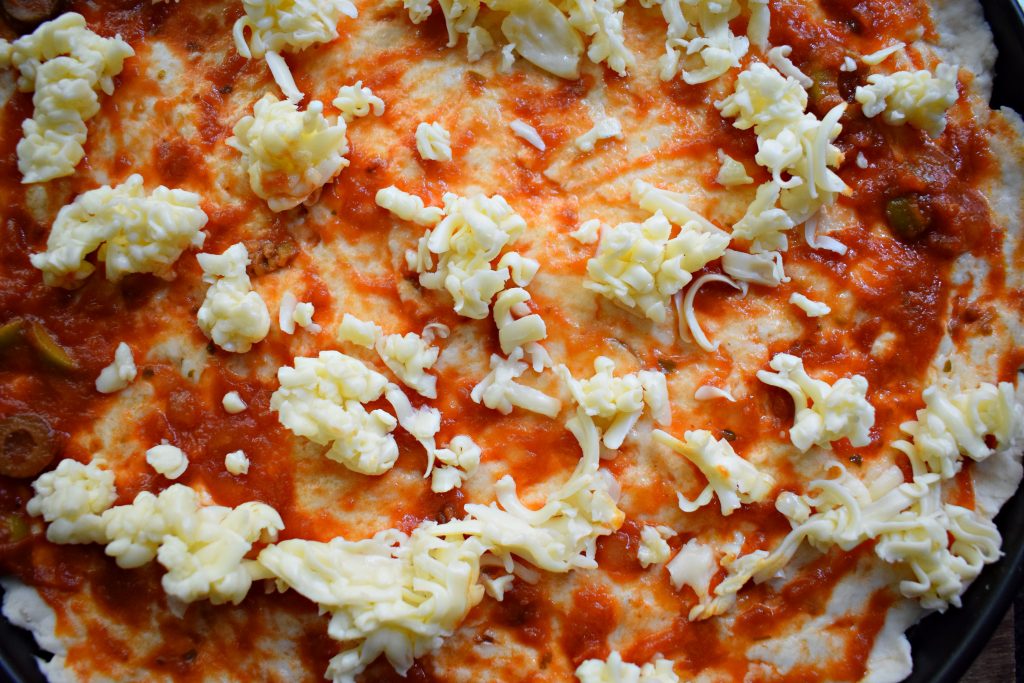 Mozzarella is always the first choice, but I've used regular Amul cheese cubes and I once found a packet labelled Pizza cheese, and that worked just fine. Don't worry too much about what cheese goes in the pizza, homemade pizza is exciting either way.
Follow me on Instagram for regular updates, baking tips and cake decorating videos.
Homemade Pizza :
For the dough:
1 1/4 cup flour
2 tsp baking powder
1 tsp dried herbs (optional)
1/2 tsp salt
3/4 -1 cup water
1 tbsp olive oil/vegetable oil
For the topping:
1 cup readymade pizza sauce
1/2 cup chopped bell peppers
10 pieces of pepperoni
1 cup grated cheese
Making the dough
Preheat the oven to 190 C
In a large bowl, mix the flour, baking powder, herbs and salt. Mix gently with a fork.
In a small bowl, mix the water and the oil.
Add the water mix to the flour mix.
Make sure to add the water little at a time.
Using your hands, mix the wet and dry ingredients to make a dough.
If the dough is too crumbly or dry, add water, a tbsp at a time.
The dough should be soft but not sticky.
Assembling and baking the pizza :
Grease an ovenproof pizza pan or baking tray with a little oil.
Lightly dust your work surface with a little flour.
Using a rolling pin, roll out the pizza into an 8-inch circle.
Transfer it to the greased pan or tray.
Spread the pizza sauce all over the base.
Add the veggies, pepperoni and cheese.
Bake the pizza for about 15-20 minutes.
Serve immediately.